Kids Crafts
20 Drinking straw crafts: Fun ideas for toddlers, preschoolers and adults
What can we do with plastic straws after use? The good news is that they can be recycled and reused in lost of interesting and creative art and craft projects. The bad news: you will need lots of them. However, drinking straw crafts are very colorful and create a cheerful mood. So you should definitely try these when crafting with your kids! Plastic straw arts and crafts are cool, fun and easy! Short or tall, colorful or traditional, regular-sized or giant – drinking straws have almost many styles as beverage glasses. For your craft projects you can use straws of various types and widths, as well! If you want to find out how to make drinking straw crafts, just keep reading.
Plastic drinking straw crafts flowers
The picture with bright asters can not leave anyone indifferent. The flowers can vary in size and colors, but the overall effect is absolutely amazing! Let's see how they have been made.
Drinking straw crafts tutorial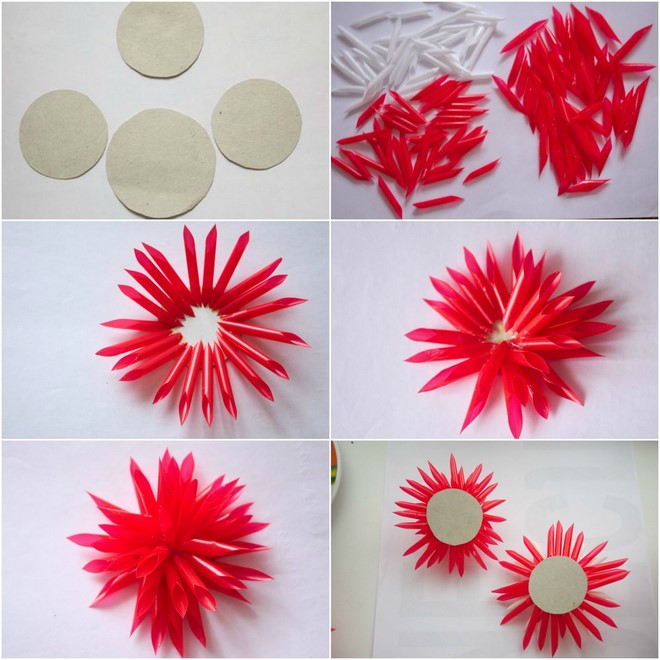 For this project you need: lots of plastic drinking straws in red and green, paper, scissors, universal glue, sisal fiber spider wrap (optional), picture frame in a contrast color (optional).
Cut the straws in pieces of different lengths at an angle of 45 degrees. From the cardboard cut out circles. Then, glue the first row of improvised petals along the perimeter of the circle. For this first row use the longest pieces of cocktail straws. Continue gluing the petals, arranging them from longer to shorter. A second row of a different color looks very beautiful.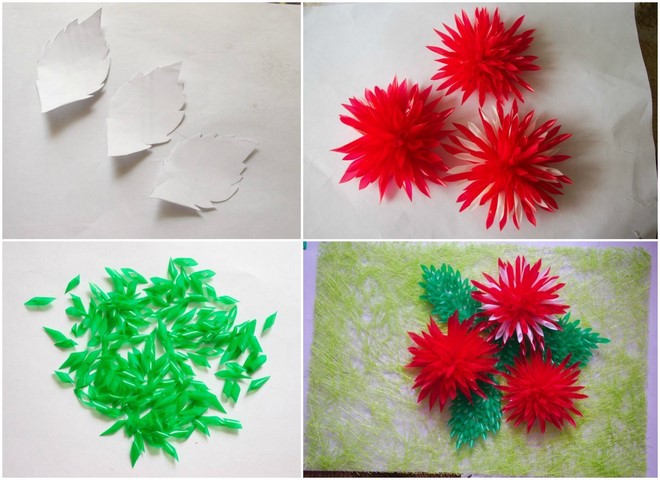 From paper cut out patterns for the flower leaves. Cut the green straws into 0.5 cm pieces, again at an 45 angle degree. Use the same technique to glue the straws on the leaf template.
Now you can compose your picture. In this example was used sisal fiber spider wrap as background. This material is often used in floristry and other types of decorative art. Choose a bright color that contrasts with the drinking straw flowers and let them stand out. Frame the picture and hang it on the wall!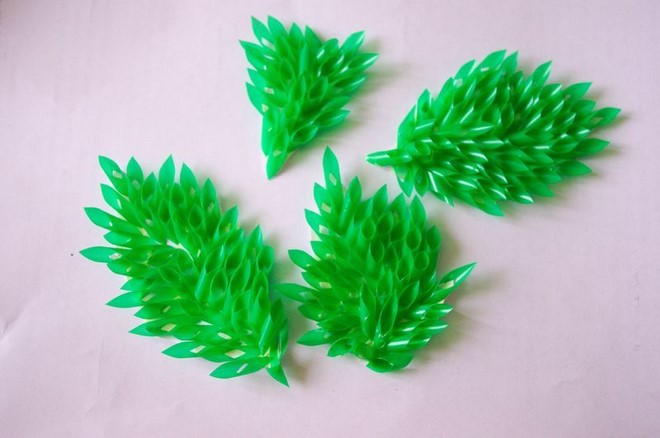 Drinking straw crafts for toddlers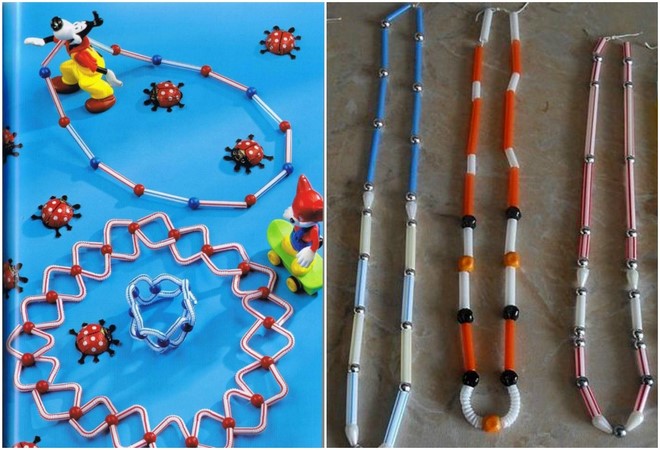 Little girls love crafting beaded necklaces and bracelets! Instead of buying expensive jewelry making supplies, you can just use some plastic straws and beads. Moreover, threading beads onto a string helps developing fine motor skills for young children. Preschoolers could also try this criss-cross beading technique.
Straw bracelet craft
Drinking straw crafts for preschoolers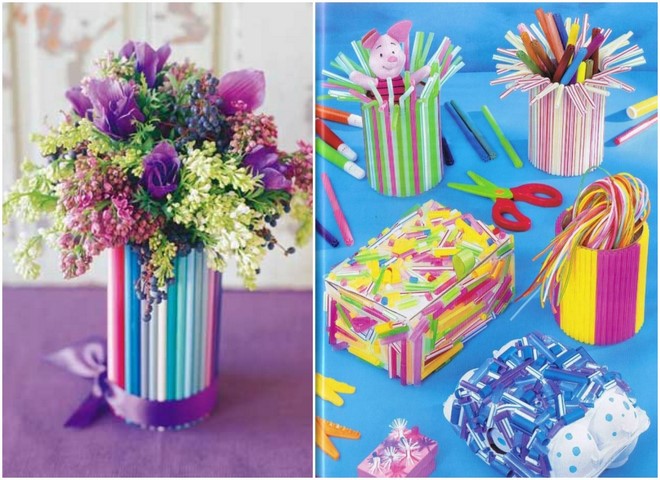 A wonderful multi-colored vase can upgrade a dull interior in less than no time. You just need lots of colorful drinking straws and an empty glass jar or a tin can. Just glue the straws around the outer walls of the container.  Leave about 1 cm or more above the edge.
You can also attach the straws around the table using a double-sided tape. Measure in advance how much tape you need and cut of two or three strips. Cut the straws to size and lay them flat on the table. Then, take a strip of double-sided tape, remove the protective film from one side and glue on the straws.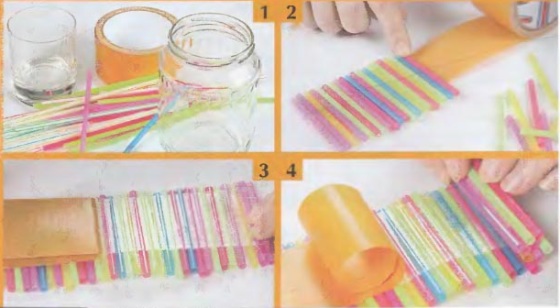 After that, we need to remove the film from the other side, turn it with the adhesive side inward and gently glue it to the glass or jar. You can decorate it with a ribbon in a suitable color.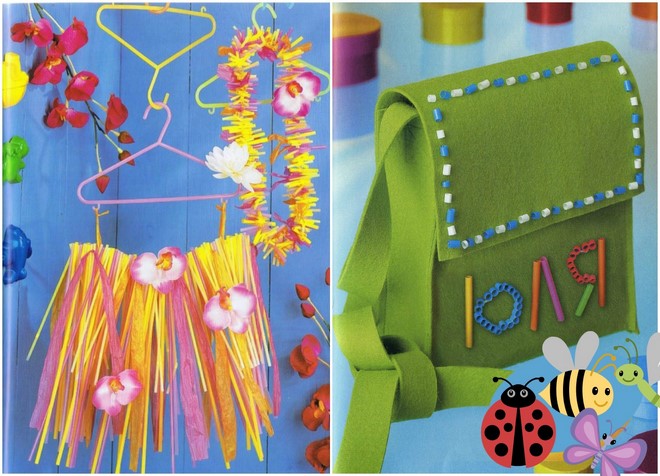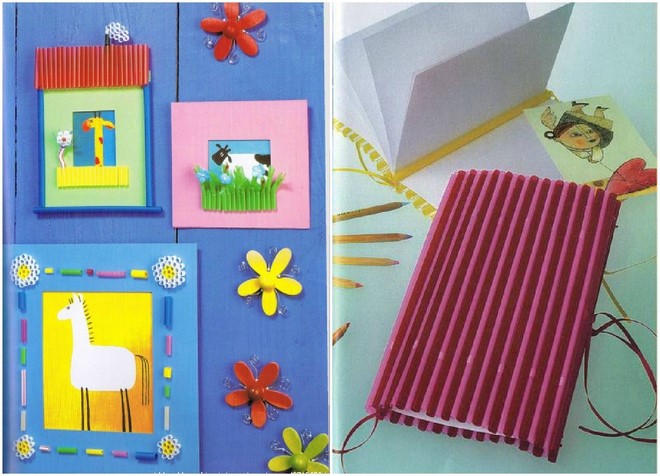 Drinking straw place mat craft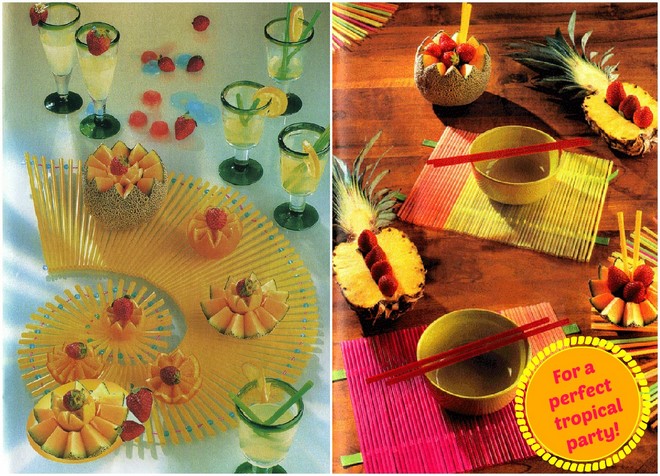 A simple but sensational table decoration for a tropical-themed party! Just consider that these place mats are not intended for hot dishes, because they can melt and leave stains on both tablecloth and tableware.
For the craft project on the right you need: 1 pack of flexible straws, a ribbon of light green color, a ruler, double-sided tape.
1. Sort out the straws by color and put them in a row on the table. Make sure that the flexible points on the straws are lined, so that the place mat has a rectangular shape.
2. Align the straws with a ruler. Tape the straws with a strip of adhesive tape in the middle.
3. Cut two strips of the light green ribbon about 10 cm longer than the straw mat. For each cut two double-sided tape of the same length. Glue the ribbons as shown in the picture above.
4. Remove the strip of tape located in the middle.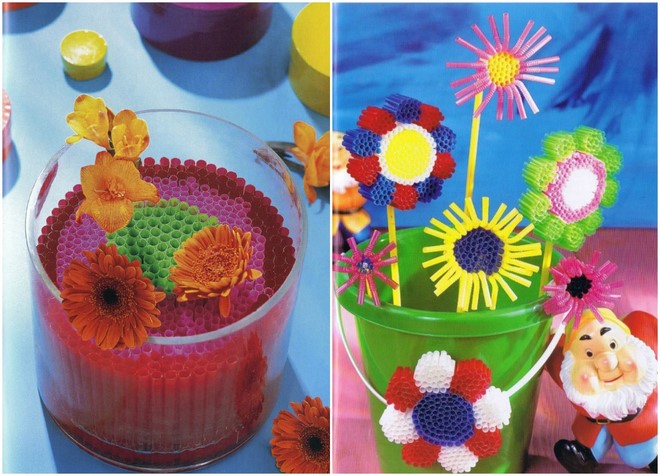 straw crafts for kids room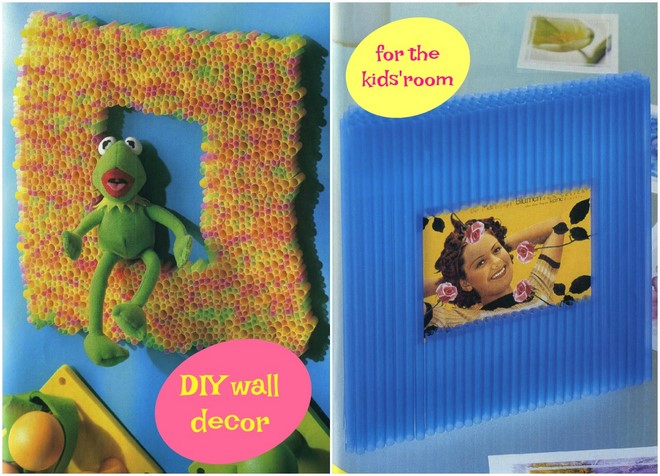 Side table or floor pouf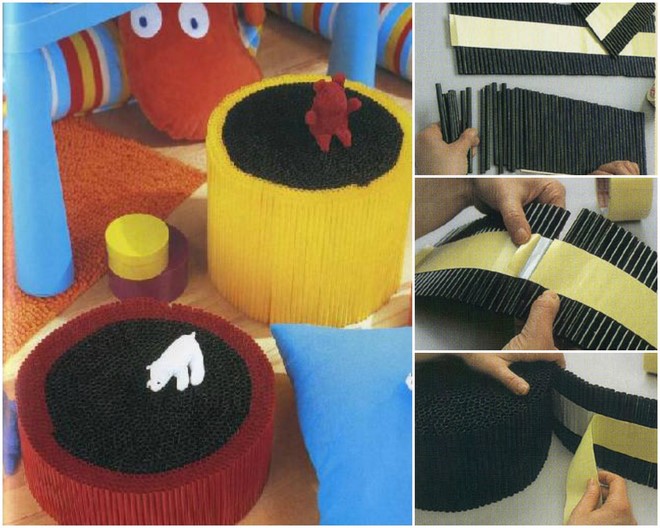 Updating a table lamp or a string of lights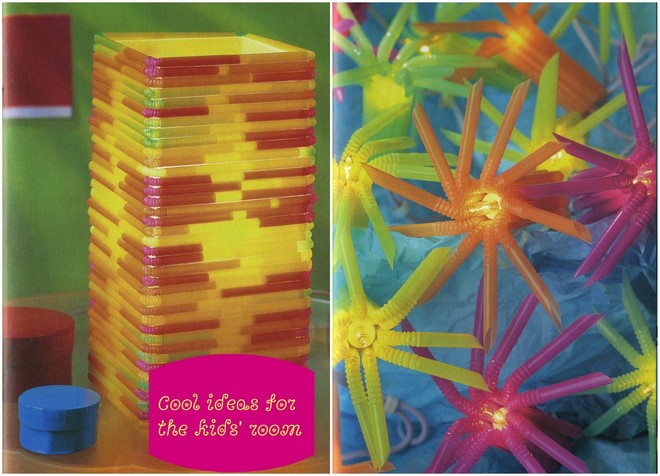 Crafting a recycle bin or a beaded straw curtain