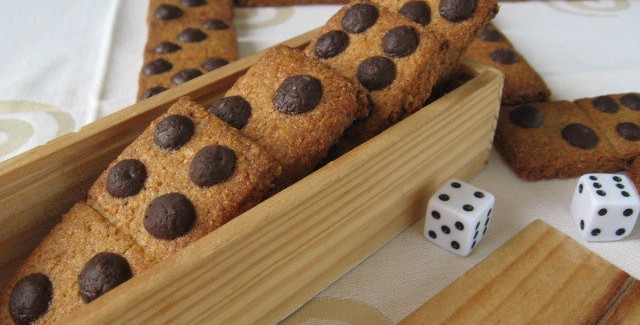 Food Fun
Sugar cookies recipe – How to make Domino cookies with chocolate chips
These Domino cookies with chocolate chips are fun, tasty and healthy!  The wheat germ may be found in large chain supermarkets on the shelves with healthy and organic food. This sugar cookies recipe is for 31 cookies, cut with rectangular cutter with side length of 5.5 cm. Depending on the size of the cookie cutter, you get a different amount of cookies. The measuring cup is compatible with 250 ml. The cookies recipe is with brown sugar.
Fun and tasty sugar cookies recipe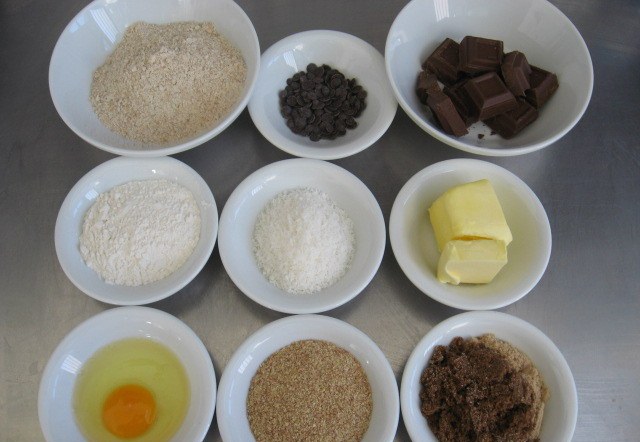 Ingredients
90g soft butter without salt
½ cup (110 g) brown sugar
1 large egg – 65 g
¼ cup (20 g) desiccated coconut powder
¼ cup (25 grams) wheat germ
¾ cup (120 g) wholemeal flour
1/3 cup (50g) self-rising flour
baking paper
about ¼ cup (45-50 g) chocolate chips to form a domino
150g melted dark chocolate
Sugar cookies recipe and ingredients
Preparation:
Mix butter and sugar with mixer. Add the egg to the mixture and after it's absorbed add the other products – desiccated coconut powder, wheat germ, both types of flour (sifted). If the mixture becomes hard for your mixer, finish it with hand mixing. The soft dough is prepared.
Cut two large baking sheets and roll the dough about 5 mm thick between them. Without unwrapping it, put it in the refrigerator for about 30 minutes. This is because the dough is soft and after that it can be easily cut and transferred to tray without spoiling its shape.
Preheat the oven to 180 ° C.  Take the dough out of the refrigerator and cut it using a square cookie cutter (1). Overlap the squares as in the picture, so that you do not need to re-roll the dough. Then, with a large sharp knife cut the squares in half (2). Using a knife or thin spatula, transfer the cut cookies on a tray covered with baking paper. With the back of a knife or a toothpick, for example, make an indentation in the middle of each cookie (3, 4). With chocolate chips form the dominoes (5).
Bake for about 12 minutes. Leave in the tin until they completely cool.  You can coat the bottoms with melted dark chocolate. That way they could become even more gorgeous!