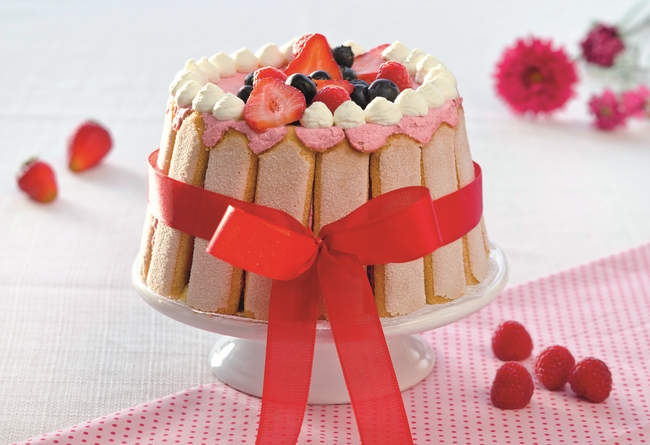 Food Fun
Easy Mother's Day cake recipe – A small raspberry Charlotte for mommy
On Mother's Day we like to make our mothers feel really special and one of the most common ideas for a cute surprise is the breakfast in bed for her. What about a Mother's Day cake that is not only delicious but looks impressive and elegant like your mother? The majestic Charlotte cake would be perfect!

Mother's Day cake idea
Ingredients for 8 pieces:
• 400 g raspberries
• Juice of 1 lemon
• 8 sheets of white gelatine
• 500 g crème fraîche
• 100 g sugar
• 200 g whipped cream
• 16-20 ladyfingers
• High cake ring or a springform pan
Mother's Day cake – Preparation of Charlotte with Raspberries
1. Set the cake ring to 16-18 cm in diameter and place it on a cake plate. Sort raspberries and wash them if necessary. Set aside approx. 10 pieces, puree the rest with lemon in a blender and rub through a wire wesh strainer.
2. Soak the gelatine in cold water for about 5 min. Stir crème fraîche and sugar using the whisk or electric mixer for 3-4 minutes. Mix with the raspberry puree.
3. Dissolve the gelatin in saucepan over very low heat while stirring – the gelatin must not boil, otherwise it loses its jelly power! Remove the pan from the stove.
4. To equalize the temperature pour only 4 tbsp raspberry cream in the gelatin, then stir the gelatin into the remaining raspberry cream. Refrigerate for 10-15 min until it begins to set.
5. Meanwhile make the whipped cream. Line the bottom of the cake form with parchment paper.  Line the ladyfingers upright around the perimeter of your pan and cover the bottom with the remaining biscuits so the bottom is fully covered.
6. Fill the cream in the pan leaving at least ½-inch of ladyfingers to act as a rim and smooth the top.
7. Leave the Charlotte cake at least 2-4 hours in the refrigerator. Remove the cake ring (springform of the pan) and decorate with the remaining raspberries. Tie the ladyfingers with a ribbon for support and attractive look.