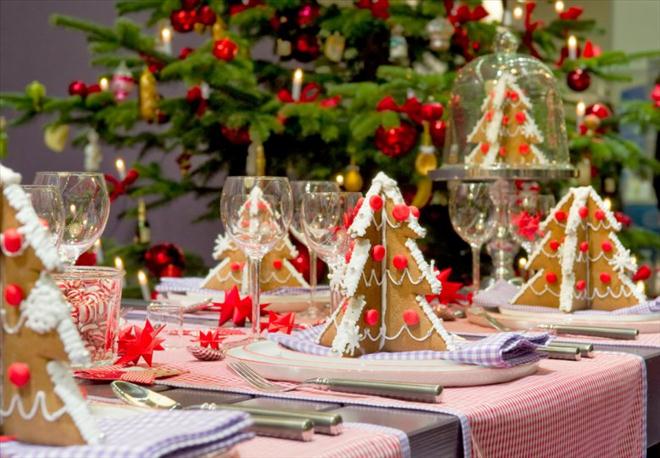 Food Fun
Homemade edible Christmas trees – Eye-catching and delicious treats
Do you want to impress your family and guests during the holidays? Then this ideas to decorate the Christmas table are just right for you! We don't mean napking folding or candleholders. We are talking about super cute homemade edible Christmas trees made of fruits, vegetables and cookies. They look very impressive, elegant, bright and beautiful at the festive table!
Homemade edible Christmas trees with fruits and vegetables
The first Christmas trees are made ​​of cucumbers, cheese, peppers, lemons, kiwi, grapefruits…They will take only 5 minutes! In half an hour you can "grow" a real forest! These Christmas trees can be also used as decoration for other meals. You can further decorate them with anything: pieces of other vegetables such as tomatoes, red peppers, carrots, corn, cheese, olives and others. Use a cut in half green apple and a wooden skewer for the base. Then start to stick the slices on the skewer in a circle. Start with the largest slices and move gradually to the smaller ones.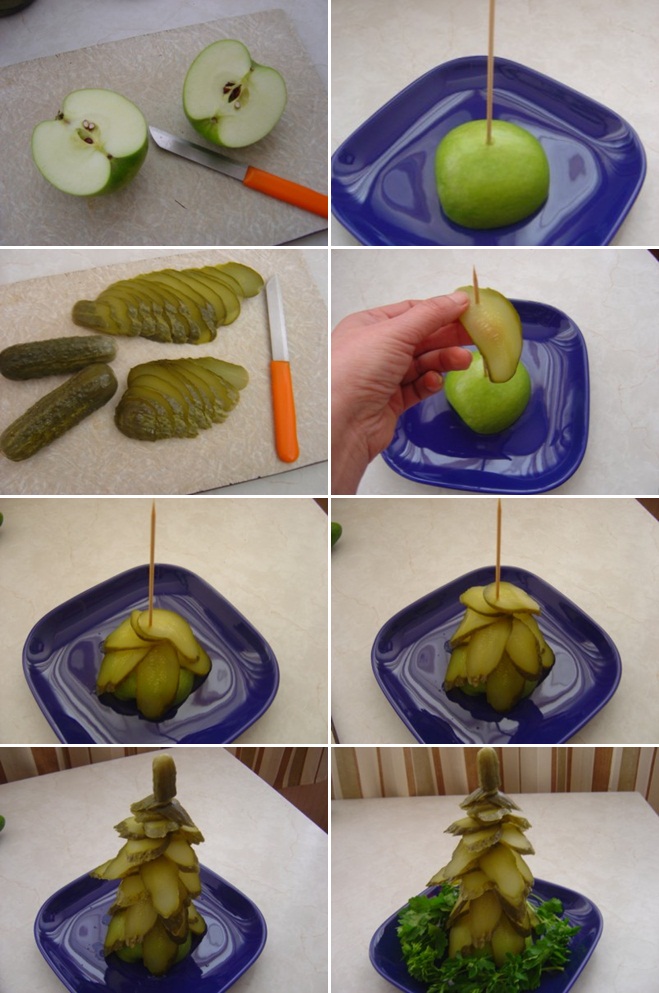 Sweet homemade edible Christmas trees
 If you love gingerbread cookies and their heavenly smell of holidays, then have a look at this sweet idea for a gingerbread Christmas tree. The ingredients for the dough you can find here.

Ingredients: dark chocolate chips, 70%,  200 g of coconut flakes for decoration
Pour  2/3 of the chocolate chips into a bowl and put it in the microwave to 1,5 minutes to melt. Chocolate can be melted on a water bath, but in this case, the finished product will lose its beautiful shine and will obtain a "gray" patina.  Stir the chocolate every 30 seconds. If during this time the chocolate doesn't become a soft mixture, it is possible to increase the time in the microwave with 5-10 seconds. The main thing is not to overheat the chocolate to mainatin its hardness, brittleness and shine after cooling.
While the chocolate is "dissolved", draw on a piece of baking paper circles of different diameters. The number and diameter of the circle depends on the size and height of the future tree. Stir quickly the melted chocolate (that it did not have time to harden), add the remaining 1/3 of the chocolate chips and mix well. Spread the chocolate on the baking paper and draw stars in the circles – the tiers of the future Christmas tree. Sprinkle the edges of the "stars" with coconut flakes. Separately,  draw a little chocolate triangle for the top. Gently lay the sheet with the chocolate in the refrigerator for about 15 minutes. The shaped "stars" are stacked on each other, gluing the middle with melted chocolate.
Pancake Christmas tree
 Christmas trees decorated with candy and meringue kisses
Piled up Star shaped cookies
 Decorate plastic bottle with chocolate candy