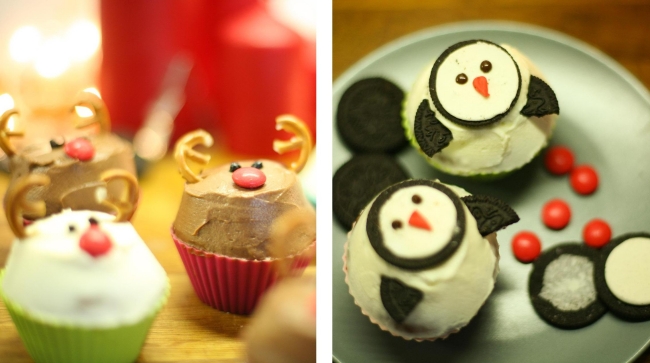 Food Fun
Christmas cupcakes recipes – Reindeers or penguins?
Christmas is a wonderful time for baking – cookies, cakes, gingerbread houses … There are so many great recipes that you could try this winter. Christmas cupcakes are very special and will look beautifully on the holiday table because they offer infinite opportunities in decorating. If you can't or don't have the time to bake them by yourself you can always buy some plain chocolate muffins from the nearest bakery and continue with the fun part – the cupcake decorating. It would be hard for you to decide whether the reindeers or the penguins are cuter so make both!
Chocolate Christmas cupcakes recipes
For the chocolate muffins:
250 g flour
25 g cocoa powder
2 tsp. baking powder
170 g caster sugar
1-2 tsp. vanilla extract
175 ml milk
2 eggs
100 ml sunflower oil
75 g chocolate chunks
Preheat the oven to 375 ºF. Line a muffin tray with paper or silicone muffin holders. Sift the flower, cocoa and baking powder together and add the sugar and the remaining ingredients. Spoon the mixture into the muffin cases and bake for approx. 20 minutes. Leave them to stand for 10 minutes before decorating.
Christmas cupcakes recipes with cute frosting
For the frosting:
heavy cream (36%)
mascarpone
caster sugar
vanilla extract
In a small bowl, mix the powdered sugar with the mascarpone and a little heavy cream (not too much, because it might be too thin). Put the frosting into a piping bag and decorate the cupcakes. If you want to make the brown reindeer, add a bit of dissolved dark chocolate or cocoa.
For the cupcake decorating you need:
for the reindeers:
pretzels
red M&Ms
chocolate chips or dried currants (eyes)
for the penguins:
Oreo cookies for the head and wings
chocolate chips or melted chocolate
red sugar paste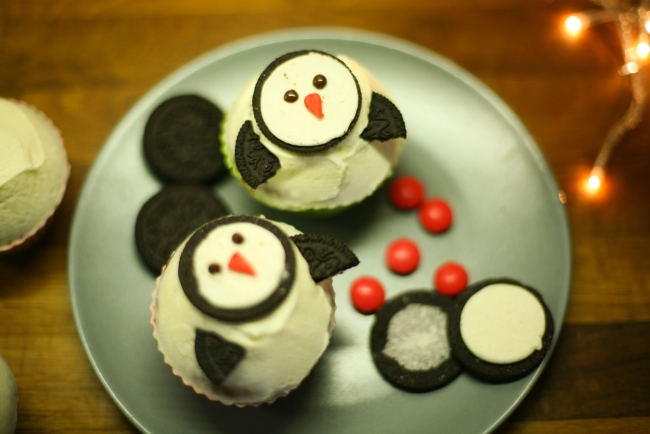 Source: klaudiahalejcio.com