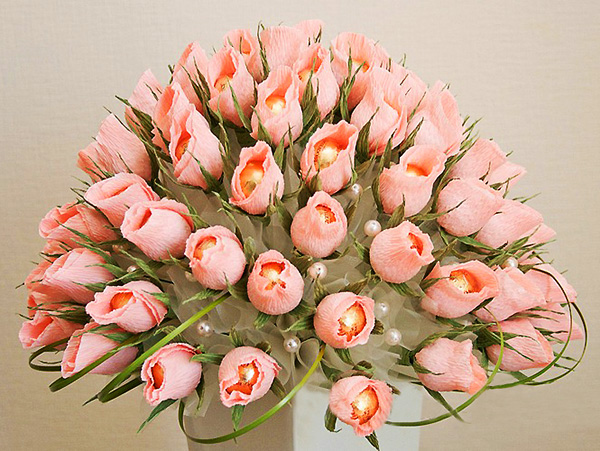 DIY Wedding
How to make a DIY Ferrero Rocher chocolate flower bouquet for wedding
A chocolate flower bouquet looks very impressive as home decoration but is just perfect as original gift for every occasion – Mother's Day, Valentine's Day or just a special friend. These two projects are presenting rose wedding centerpieces but with a little imagination you can easily customize your gift.
Chocolate flower bouquet – Paper rosebuds and Ferrero Rocher chocolates
These fantastic chocolate bouquets don't require any expensive materials but can make a great impression. Choose chocolates with gold foil like Ferrero Rocher or Chocoladorro and a suitable form. Except that you'll need: crepe paper (or tissue paper), golden thread, gold paper or cellophane, wood sticks, hot glue gun, scissors and fantasy. And here is the step-by-step tutorial on how to make these beautiful Ferrero Rocher rose bouquets.
Chocolate flower bouquet tutorial
 Make a candy flower bouquet – DIY idea with paper roses and chocolates
DIY Valentine's Day gift idea – Make heart-shaped chocolate bouquets