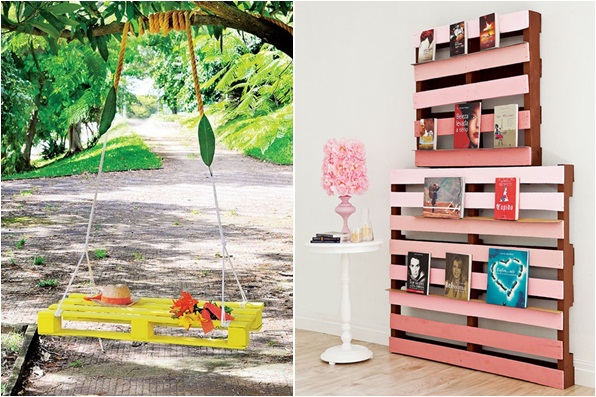 DIY Home
2 wood pallet projects for home and garden – A tree swing and a shelf
The wooden pallets used for transporting goods can be much more useful than that. You've probably already seen plenty of ideas for creating home and garden furniture. We're suggesting you two creative wood pallet projects for home and garden that look amazing.
Creative wood pallet projects for garden
The wood pallet swing is much better than these from tires (which have become quite popular in the garden). They are environmentally friendly and safe for the health of our children, because pallets are made of the best natural material – wood. Before you make that tree swing, pallets require some pre-treatment.
For painting swings choose soft or bright color that can turn unsightly pallets into a work of art like this shiny yellow. We need sandpaper, spatula, filler, shellac, white paint, decorative paint, varnish, roller, brushes and a rope.
Wood pallet projects – Materials for garden swing
 For starting we need to clean the wood pallets from dirt and burrs with sandpaper

Then cover the surface with shellac

Next, you need to spackle all the bumps and hollows
Once again smooth with the sandpaper
Paint the surface with two layers of white paint or primer. Do not forget to wait the the first layer to dry for about 30 minutes before starting the second one.
Well, now you can paint in any desired color. 2-3 layers
After drying cover with varnish
Look for a suitable tree in the garden, tie a rope and admire your DIY pallet swing.
You want a better display for your favorite books? If you have a very special corner, use pallets of different sizes to make a beautiful bookshelf. The steps for pallet treatment are the same with just a little addition.
Cut out 2 strips of laminate 4 cm wide and the same lenght as the pallet. With the glue attach the strips in some of the laths. Reinforce with masking tape and let dry for 24 hours. Remove the tape.