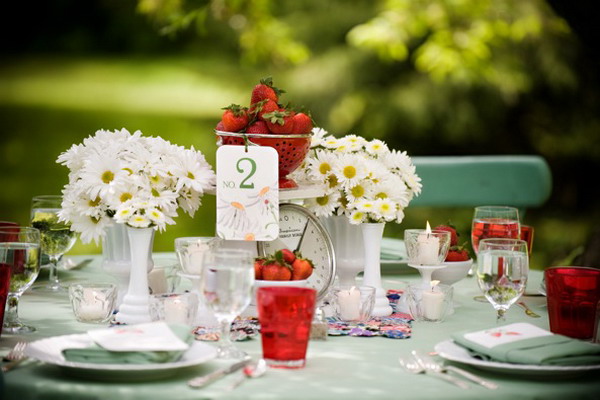 DIY Home
Summer garden party theme – Table decorating ideas with strawberries
A garden party is the perfect  idea  for a hot summer day. And because the strawberry season is from June to mid August, you can use them as an inspiration for a sweet summer garden party theme. With just a few decorating ideas you can get that beautiful berry look that will add originality and rich colors to your table. This strawberry party theme is easy to implement because you can easily find various accessories with berry tones. We offer you a few ideas that can stimulate your creativity and to help for your inspiration.
Summer garden party theme with strawberries
This sweet summer garden party theme is about the strawberries as arrangements made of fresh fruits and other berry items that can complement them. Use red and white stripes, polka dots and squares for the tablecloth or napkins. This cell pattern is popular in France and might call up associations with a country house look. You can also make "dresses" for the bottles, glasses and jars to continue the same pattern.
Summer garden party theme – Strawberries and daisies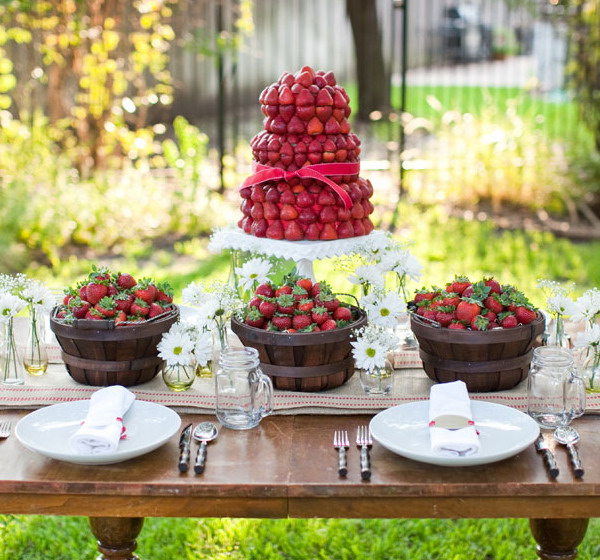 The similar effect have the "white polka dots on a red background" was popular in America in the 1950s. Do you remember these cute retro dresses and swimwear? They never go out of style, therefore you can use them for this summer garden party theme. Even though the red is the dominant color here, combine it with white, pastel pink and fresh green.
We should think also about the arrangement of the strawberries. They can swim in glass bowls, alone or in combination with tea candles or rose petals. We personally love this fruit bouquet with the lettuce. You can also add a beautiful big ribbon.
If you would like to achieve a beautiful country look, you can add wicker baskets and decorations with field flowers. If you prefer the classic look – look for glass vases and silk ribbons and silver napkin rings. Check out the images below and think of their implementation in your own home. Have a great and tasty summer garden party!