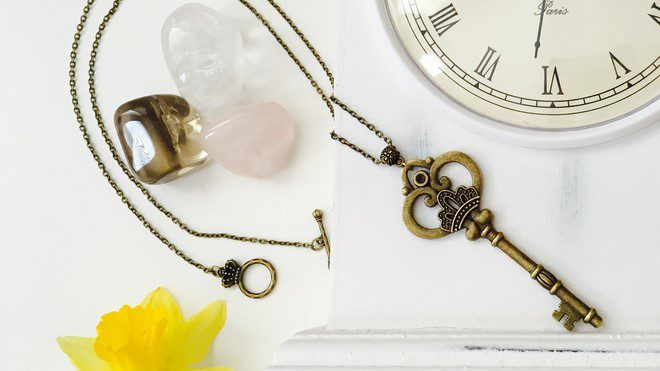 DIY Home
Ideas for using old keys in home decor, jewelry and more
The recycling of different items is not only fun, but also saves money and equips you with specific, and unique decorations that will be a real eye-catcher in your home. Today we would like to give you some ideas on how you can reuse old keys and turn them into an attractive home decoration. The ornate keys convey a nostalgic and romantic feeling. As it turned out, they can also serve both practical and decorative purpose.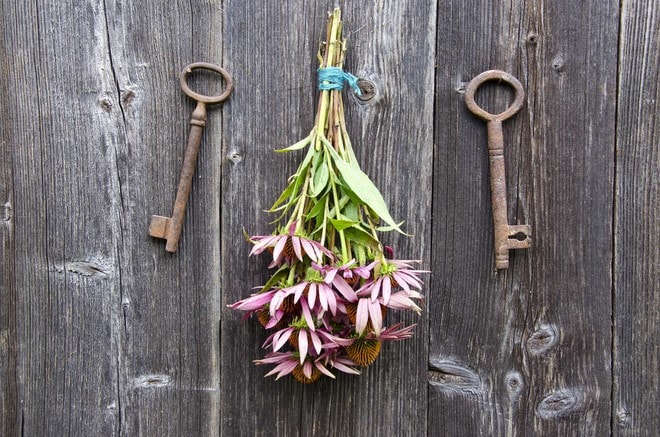 A key is not just a simple object that opens and closes doors, it holds a great symbolism. Especially in earlier times, it was a powerful symbol and an object that was sometimes richly decorated and particularly valuable. The symbolic power of the key is diverse. Keys have always been a symbol of power, because whoever has the keys usually also has access to many doors and gates that remain closed to other people. Behind locked doors is usually kept something important and valuable. Therefore, since the beginning of their history, keys have exerted a great fascination for people.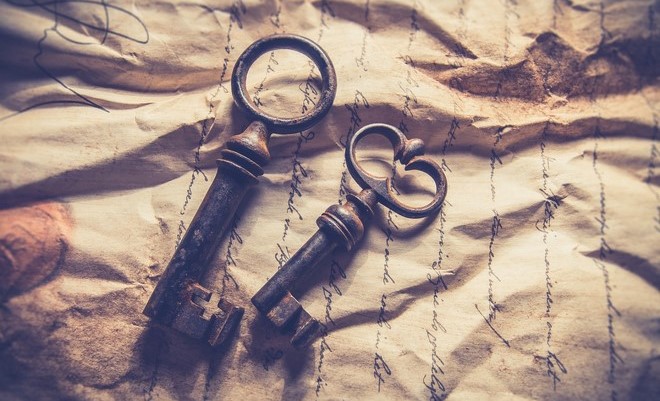 In earlier times the handle of the key was richly decorated, elegantly shaped or adorned with other elements. Today, keys are more functional than decorative, but the classic Vintage design is still loved by many.
First, you can browse the attic or basement. Maybe in your grandmother's drawer you will find a bunch of old keys that you can reuse. If you did not find what you are looking for, you can still buy old keys online or at the flea market. Many online stores sell antique keys.
Reuse old keys in home decor
Clocks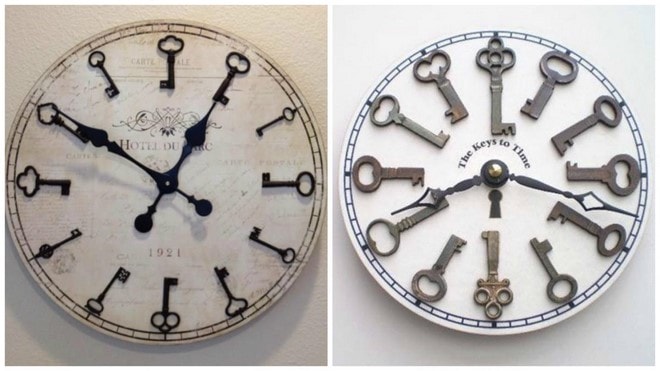 The idea of ​​replacing Roman or Arabic numerals with images or original objects is not new. You can see anything on the clock dials: signs of the zodiac, smileys, figures of people and animals, buttons from the keyboard… It turns out that old keys on the clock dial are also very interesting.
Lampshades and pendant lamps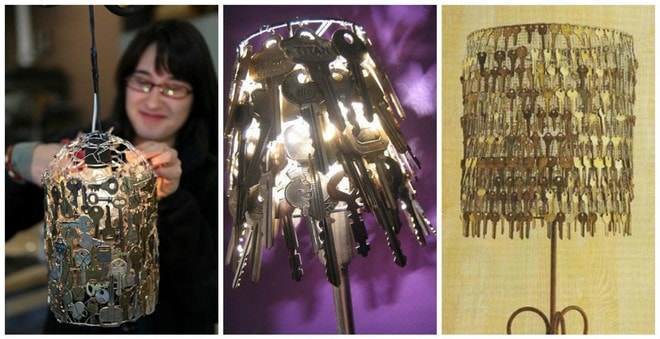 At first glance it seems that without special skills it is impossible to create such beauty. However, if you look closely, you can understand that there are no special difficulties in the constructions. In the photo on the left, the frame of the lampshade is made of wire mesh. The keys are simply tied to it with threads (or a thin wire) in random order. Having practiced on creating a simple lampshade, you can go to a more serious project and make a floor lamp. If you have enough keys on hand, of course.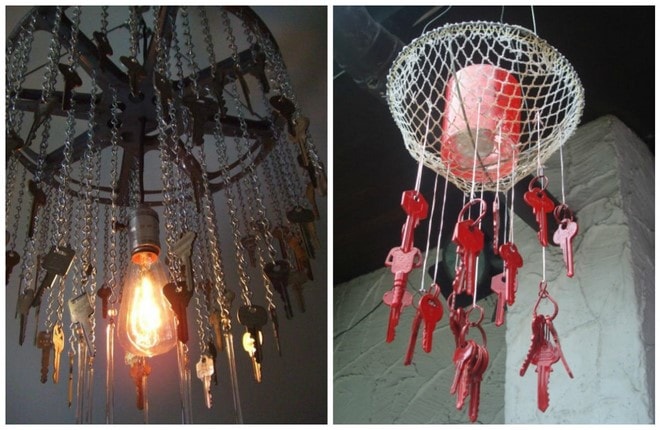 An old metal wheel rim, a few meters of chain and a dozen old keys, and you are the lucky owner of an unique chandelier. You don't have such a rim on hand? Give vent to imagination and the creative flight of thought – replace it with a bicycle wheel, or take the steering wheel from the car, or an old colander etc.
Decorate candle holders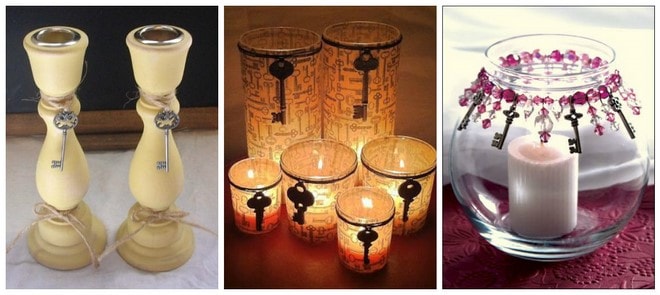 Lovers of romance also did not remain without attention: Candle holders decorated with keys convey a mysterious romanticism? The small keys were mostly used for locking closets and desk drawers. There were usually kept all sorts of goodies and even important letters.
Decorative hooks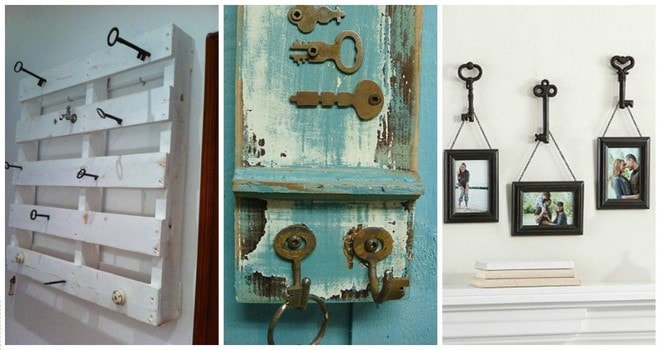 It turns out that the old keys perfectly handle the role of hooks.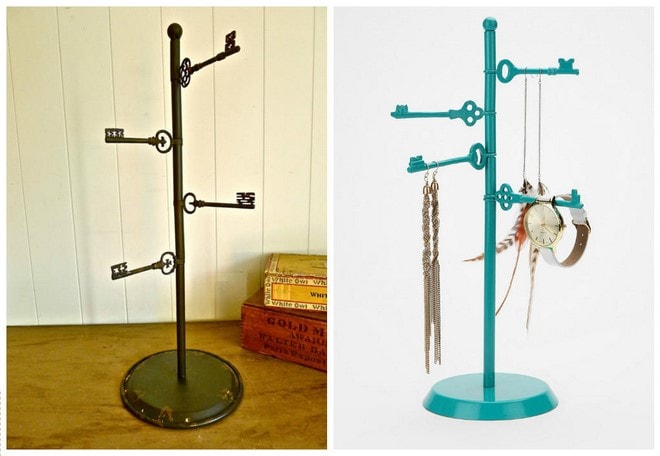 Holder for jewelry – beautiful and comfortable: bracelets and necklaces won't tangle.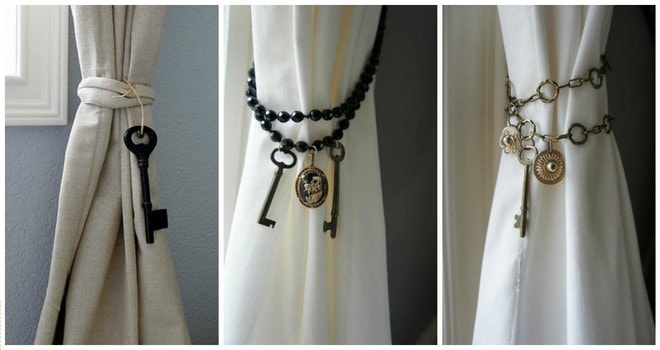 Original tie backs for curtains: if you do not like the chain, it can be replaced with beads, braid or simply with a pin – with each option the key and pendants will look different.

Keys can decorate sofa cushions. To sleep on such, of course, is not recommended, but as an interior decoration – a very interesting option.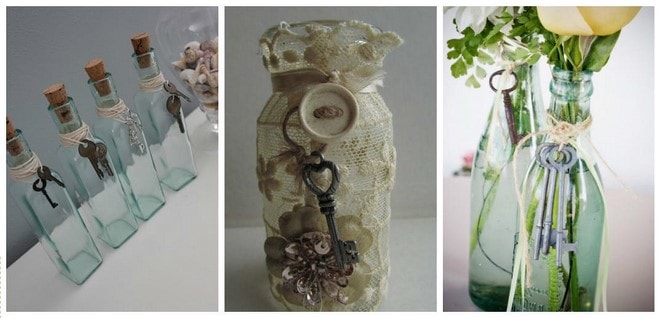 Ordinary bottles will look much more original, if you tie beautiful keys to their neck. You can additionally decorate the bottle with lace, paillettes, buttons etc.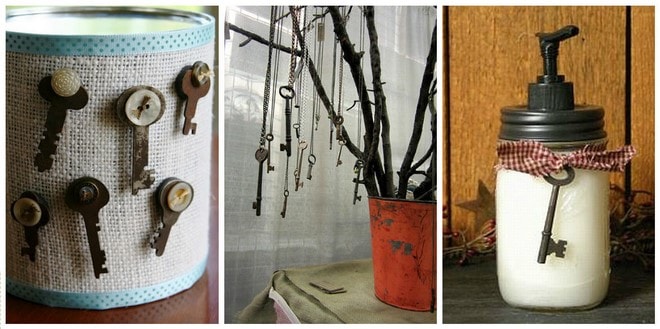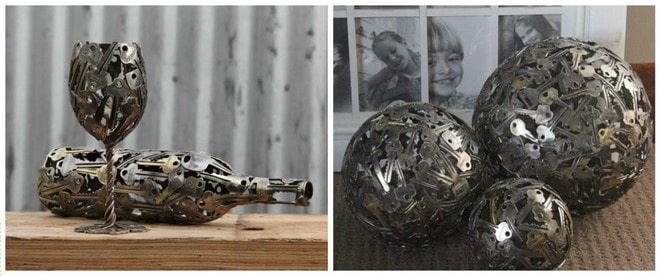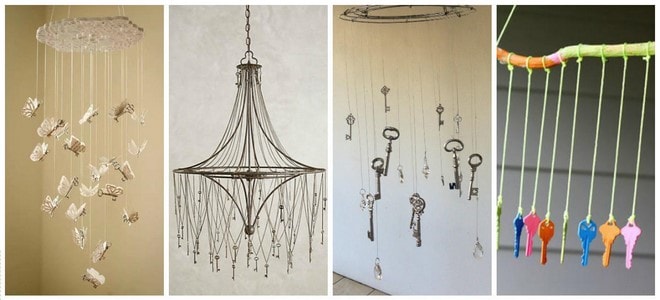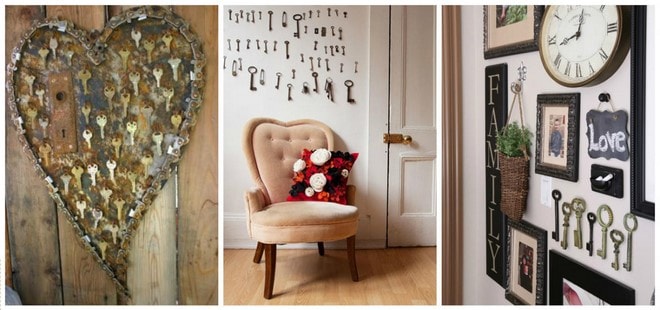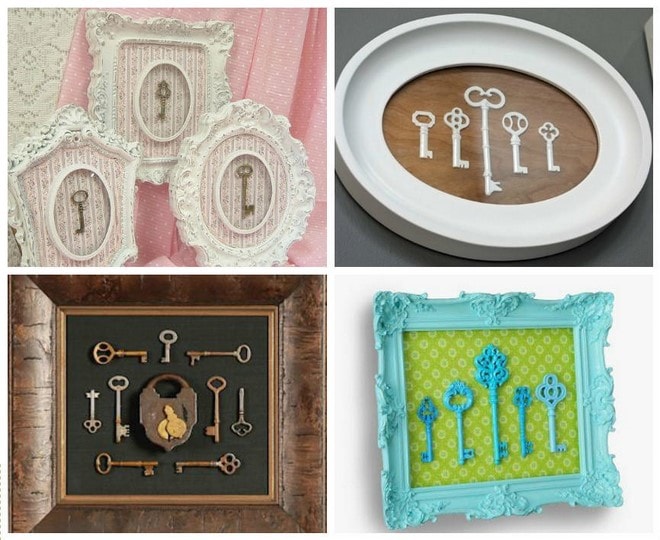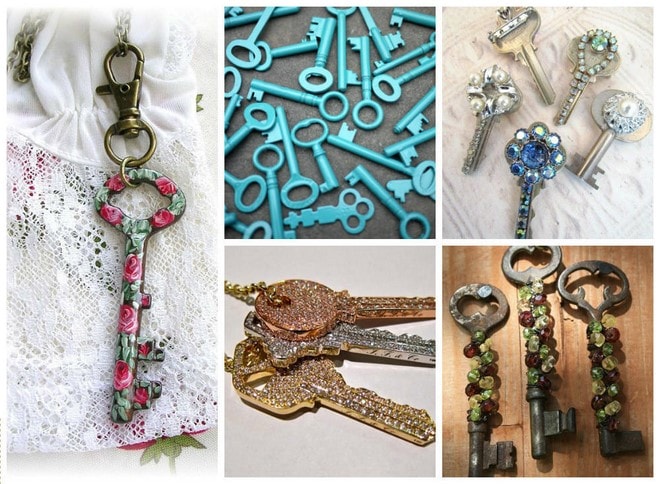 The keys can be used not only in their original look, but they can be painted and decorated with beads or rhinestones, as well.
Reuse old keys as jewelry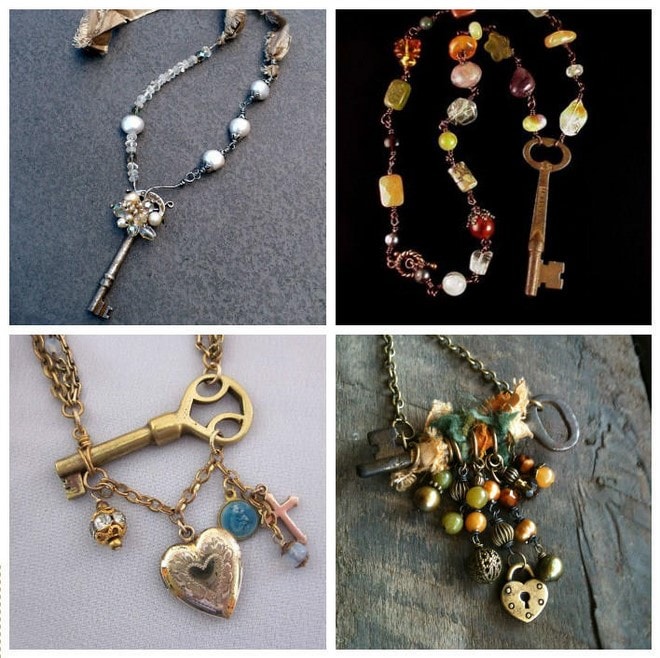 In the past keys were carried on fine chains or on a belt. Perhaps for that reason the most popular use for old keys is for making jewelry. The number of ideas is so huge that it was difficult to choose the best. It's wonderful that no piece of jewelry can be exactly repeated.
Necklace pendants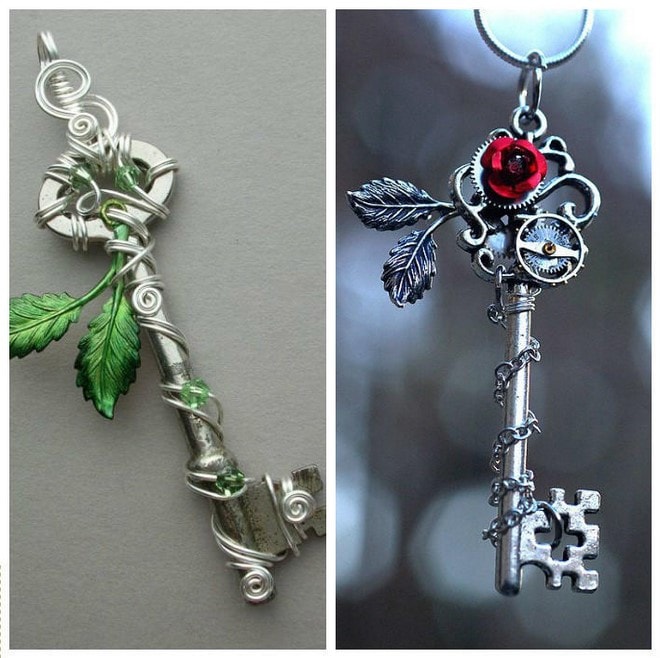 Bright, stylish, charming! And at the heart of the jewelry – an old key!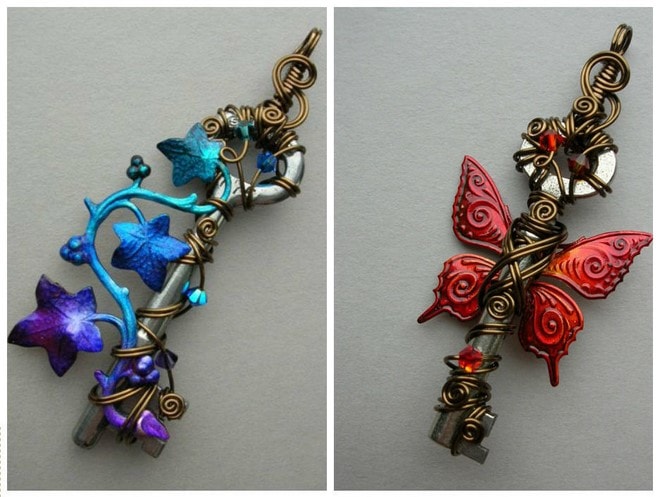 From the keys you can make these interesting bracelets.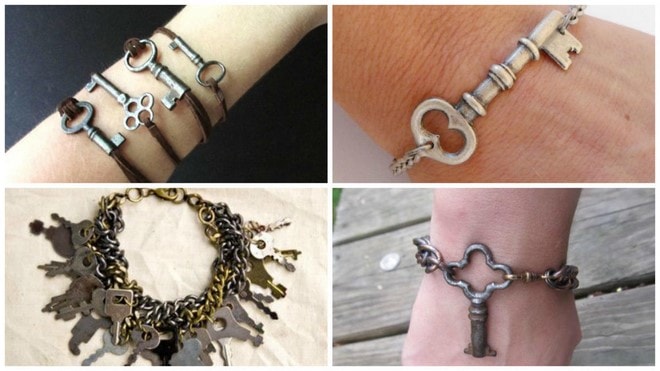 And earrings
And rings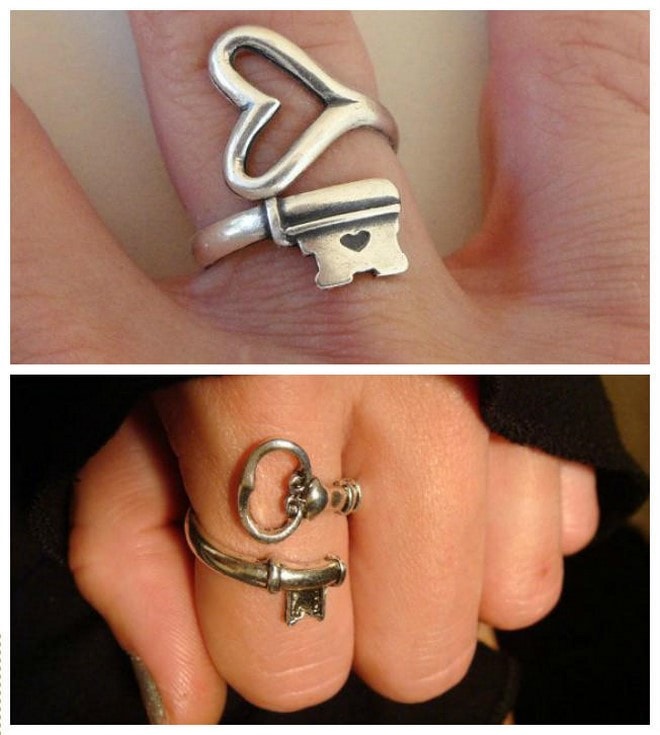 There are ideas for wedding fashion, as well. From the beautiful key you can create an exquisite boutonniere for the groom.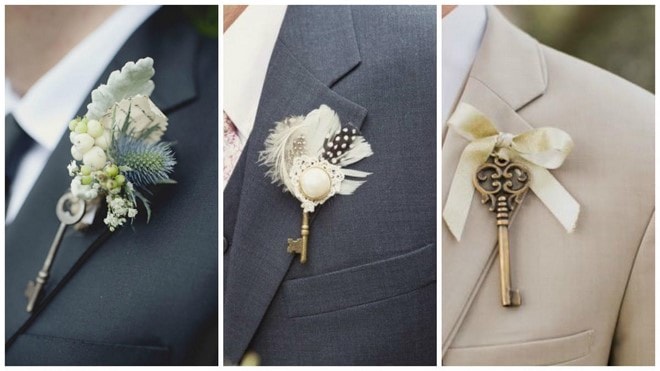 Christmas decorations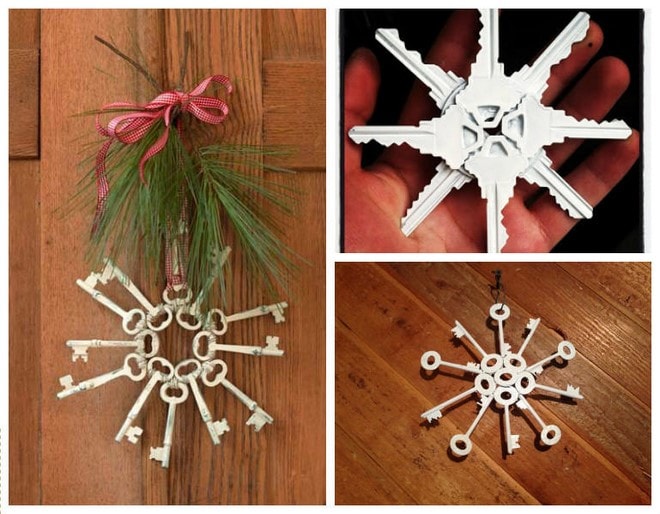 Ordinary keys can be even used for making Christmas decorations! For example, here are such original snowflakes. They can be a good alternative to Christmas wreaths and adorn the house door.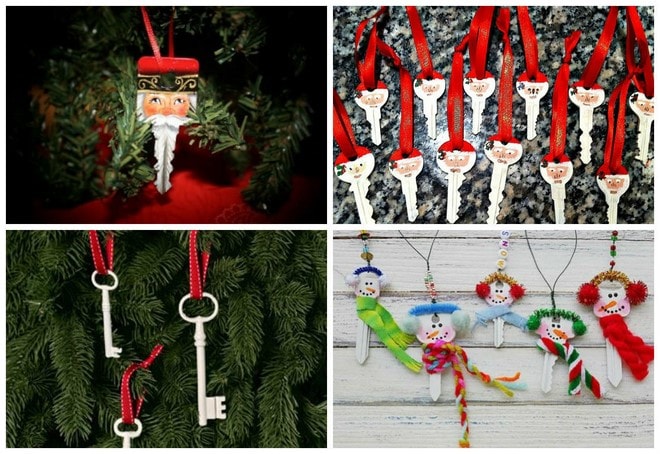 Or reuse them to decorate the Christmas tree! The easiest option is to simply tie a bright red ribbon to the handle. And if you want something more interesting, take a brush and paint and turn the key into Santa Claus or a funny snowman.
You can paint them "gold" and transform them into adorable dragonflies. Do you think it is difficult? Not at all. Take tracing paper, cellophane and paint the wing pattern using a black gel pen. When the pattern dries, crush it, then iron it with a warm iron (not hot, otherwise the cellophane will completely melt) to give naturalness to the wings, they are not perfectly smooth. Cut out and glue the wings to the key.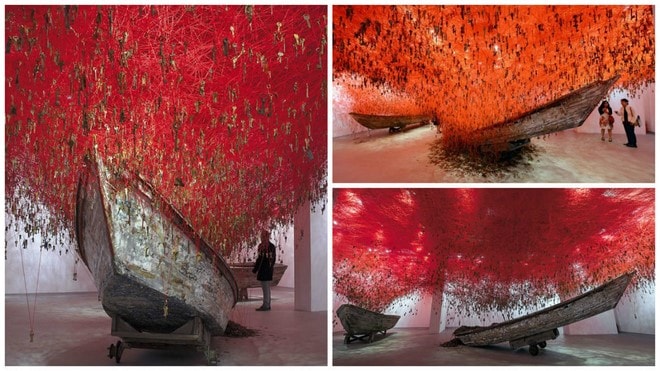 On a final note, take a look at this amazing installation called "Key in hand". To create it, the Japanese artist Tihar Siot needed about 50 thousand keys (professionals are working on a grand scale)).
Which idea seemed to be worth your attention? Or maybe you already have your unique experience of unusual use of old keys?