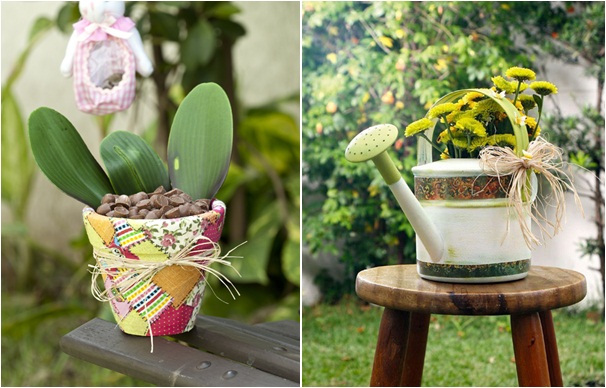 DIY Home
How to decoupage a clay pot with fabric and a watering can with paper
The decoupage is a very simple and beautiful technique. Once you learn it, you can transform any object in a work of art. It's already summer and we spent more time in the garden and on gardening work. Therefore we are going to show you how to decoupage a clay pot with fabric and a watering can with paper. In the spring-summer season you can proudly decorate your kitchen windowsill or any other place at home.
How to decoupage a watering can
First of all, you need a good watering can, then apply a primer. Wait the primer to dry for about 20 minutes.
How to decoupage and to make a patina effect

Then paint the watering with white acrylic paint. Lay another two layers after the first layer has dried.
Paint with a green acrylic paint the spout and handle of the watering can.

To give it a patina effect, paint with a dry brush, lightly dipped in green paint.
Add a darker green hue

Now glue stickers or printed decorative art pictures
Add some embellishments like this butterfly and raffia ribbon
With creativity, fabric scraps and a little paint you can turn a flower clay pot in a lovely decor piece. See how to decoupage with fabric in the next step-by-step tutorial.
You need: a clay pot, 4 x 4 cm pieces of fabric in the colors orange, pastel, colored pink and green, white paint, brush, sandpaper, white glue, marker for fabric, varnish, raffia ribbon, scissors.
Sand the piece to remove imperfections and lay a coat of white paint.
Glue the fabric scraps on the clay pot so that one piece overlaps the other. The inside could be fully painted instead of decoupaged.
With a fabric pen, make stitchings around the fabric scraps. Lay a coat of varnish.
Make a bow with a raffia ribbon and it's ready!