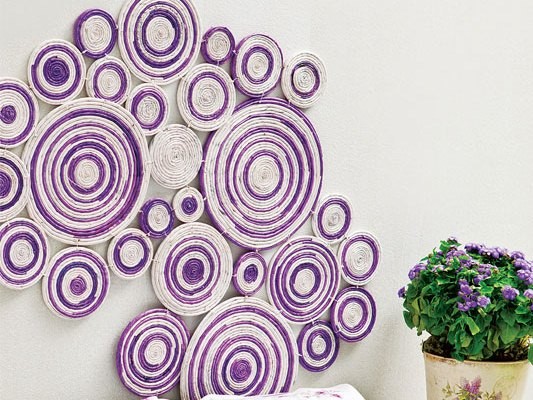 DIY Home
DIY wall art projects using newspaper – Kitchen and bedroom wall decor
If you've already learned how to make cornets from newspapers, you may try to make this creative diy wall art project and use it for decoration in your kitchen or bedroom. Paper cornets must be painted with colors similar to these in the room you will decorate.
DIY wall art project using newspapers
We need old newspapers, glue, paint, a knife or scissors and varnish. The newspapers as usual have to be cut into strips to make the cornets.
You can paint the cornets with acrylic paint, a different type of paint or food dye.
Cornets can be painted before or after that. Roll up the cornets, as shown in the picture, and smear with plenty of white glue.

In the process of rolling add cornets with different colors making them clump together.
Sew the paper rings together with strong thread. To obtain a large enough piece you must connect about 10 different large paper circles.
DIY wall art project – Kitchen wall decoration
Now i will show how to make an interesting wall art for kitchen decoration.
After completing the ring use a hammer to align the surface.
Paint edges in a dark color.
For this purpose we need a napkin with cheerful pattern. If you don't have a napkin, it can be replaced with a printed picture. Choose a napkin that we will use for decoupage.
Glue the napkin on the newspaper rings.
Cover with varnish. That is all!