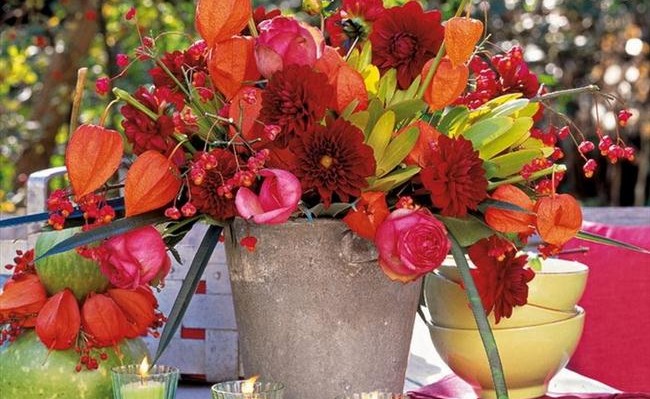 DIY Home
21 DIY Thanksgiving decorations and centerpieces savoring the fall
Thanksgiving is one of the biggest American holidays. Thanksgiving is savoring the beauty of the fall and the perfect reason create a lovely decor for your home. You can start making DIY Thanksgiving decorations for every nook in the house – from your front door up to the dining table. Celebrate this beautiful season and be grateful fo all that the life an nature gave you in the last year.
DIY Thanksgiving decorations with natural materials
Thanksgiving is a family holiday. So it's very important to set a rich table and decorate it with style. Use all Thanksgiving symbols like the cornucopia, pumpkins, corna and colorful autumn leaves. Apples, oranges, nuts, grapes not only serve as traditional decoration on the table, but they symbolize also the abundance of the nature and the harvest season. Don't forget the bouquets with gold, orange and red-brown chrysanthemums, complemented with sprigs of berries.

For Thanksgiving, a lot of people begin first decorating the porch. Use pumpkins or gourds, decorations of dried leaves and wreaths that are hung on the door and inside the house. Also, you can beautiful fall flowers arrangements with orange and brown leaves.
You can use fruits and vegetables as centerpiece on the holiday table. Fill glass candle holders with Indian corn and acorns to create a bright and cozy atmosphere. You can use dried autumn leaves for all DIY Thanksgiving decorations and centerpieces. The decor for Thanksgiving must also include live flowers and plants that will harmoniously fit into the festive decorations of red, orange and yellow colors that will give a festive tone in your home.
DIY Thanksgiving decorations for the fall table