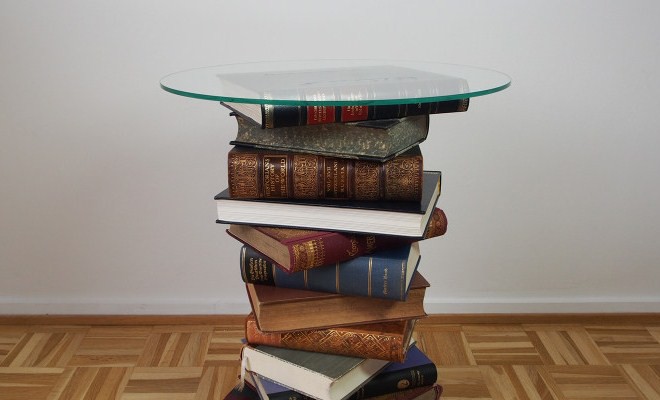 DIY Home
DIY side table made from old books + Tutorial
This DIY side table looks like a designer piece of furniture. In the shop this table could cost up to hundreds of dollars, if not more, but with this tutorial you can make it all by yourself and with much less costs. You just need enough old books and a round glass table top. With them you will create this original table, which will enrich your home decor. You do not need to use any special tools or skills and its construction is cheap and easy. Find out how to create this unique book side table!
What you need for this DIY side table:
Eight to twelve hardcover old books, a small round glass tabletop (10 mm clear glass), scissors, white and transparent double-sided adhesive tape.
DIY side table – Step-by-step tutorial
1. Find a selection of books preferably with hardcovers and a romantic vintage design. Clean the covers using  alcohol or dishwashing detergent (silicone-free).
2. Pile the books on top of one another to the desired height. It depends on the books thickness.
3. Apply 2 strips of double-sided adhesive tape to the first book cover at the bottom. Remove the protective film from the double-sided adhesive tape.
Glue the next book somewhat twisted on the top of the other one and continue so that they all are stuck together in a pile. Make sure that the books are centrally positioned one above the other, so that the table is stable.
4. At the top of the last book use transparent double-sided adhesive tape so that the only one you can see under the glass table top are only the books and no white adhesive tape.
5. Position the glass table top and press gently to five seconds.
And your unique DIY book table is ready!
Source: tesa