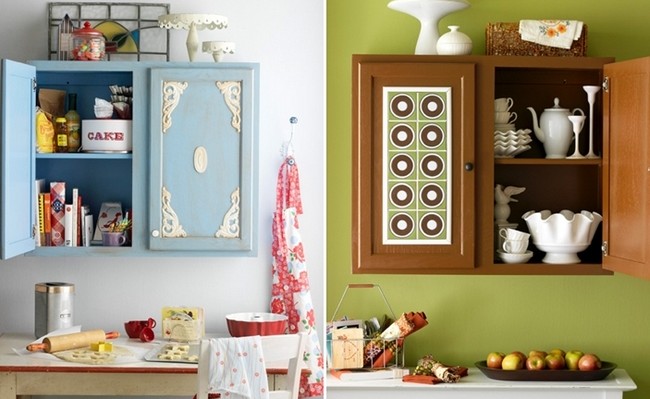 DIY Home
DIY kitchen cabinet ideas – 10 easy cabinet door makeovers
Do you want to redecorate your kitchen without a high-budget makeover? One of the best ways to breathe new life into your kitchen is to refinish the old cabinets instead of replacing them. See these creative and cheap DIY kitchen cabinet ideas! 1 kitchen cupboard, 10 different cabinet door designs on a budget!
Kitchen cabinet ideas – Easy design projects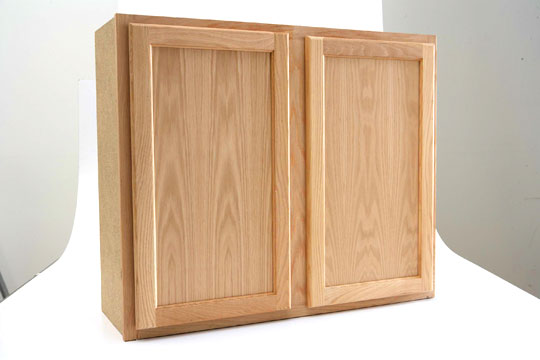 And here is how the kitchen cupboard looks at the beginning – with plain wooden surface and no character. You can use your old kitchen cabinets as well after you've cleared their coating (paint, stickers, etc.).
1. Modern tiles
If you have some spare tiles, you can place them on the kitchen cabinets. It would be even better if they come in bold, saturated colors that goes well with the wall color. For this design you need just a few tiles lined in the middle of the cabinet door front. Paint the whole cabinet in a desired color and let dry. Position the tiles in the middle of the door and glue them with a suitable adhesive or a mastic. Allow to dry and treat the tiles with grout. For even more decorative effect and tidy look wooden slats are placed around the tiles such as picture frame and glued with wood adhesive.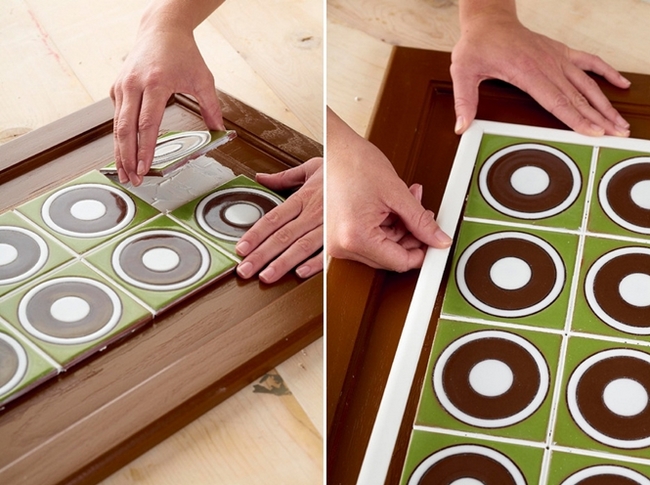 2. Bamboo mat
A cabinet door design inspired by Asian culture. It requires a bamboo mat that can easily be found in stores. Remove the cabinet door panel using a suitable tool and paint the frame in dark brown. Cut the bamboo mat to the required size and glue it on the back side of the frame with a wood adhesive.
3. Openwork screen
This semi-transparent metal screen resembling a mesh reveals partially the contents of the cabinet, while looking very elegant. Remove the door panel of the cabinet using a suitable tool and paint the frame in a light color for example Eggshell. Glue black painted wooden slats ( width – 2-3 cm) on the back side of the frame, so that only the half of their width is visible. These slats serve as a base for the metal frame, that was cut to the required dimensions and attached with a suitable adhesive.
4. Shabby Chic Design
Give your kitchen cabinets a vintage look with a suitable paint technique. Paint the entire cabinet light blue and treat the top surface with a caramel colored enamel. Wipe it with a dry cloth to attain the old-looking patina. You can also check online the dry brush painting technique. It looks pretty impressive as well. At the end glue some decorative mouldings or embossed ornaments in the corners of the cabinet door.
5. Geometric shapes
This bold kitchen cabinet door design can be achieved with just a little paint and adhesive tape. Paint just the door fronts with brilliant white paint and create with the tape a desired pattern. Then paint the whole cabinet door in light blue and remove the tape. You see that after removing the tape the blinded parts remain white.
6. Cork board

This option is perfect for the kitchen, where as we can assume is the heart of the home. Family members go in and out of the kitchen more often than in any other room of the house. Here you can hang kids drawings, photos, notes, recipes and others. Use a cork contact paper or a real corkboard.
7. Embossed wallpaper

Jazz up your dull kitchen cabinets with something very simple – a piece of embossed tin panel in the door frame. You can paint it in a desired color as well. The same effect can be achieved by using a tin ceiling tiles.
8. Chalkboard paint
Another functional idea for the kitchen. With a layer of chalkboard paint your cupboard doors can become cool organizational boards for notes, shopping lists, recipes and more.
9. Monogrammed design with stickers

Beautiful and elegant idea that is also cheap and easy to implement. Paint the cabinet with a saturated blue color and apply a sticker decoration in sparkling white (or use a stencil and a brush).
10. Decoration with a stencil

Our DIY kitchen cabinet ideas end with this simple decoration using a damask stencil in bright turquoise. The color is bold and creates immediately an interest, but is also delicate enough to harmony with the white surfaces.