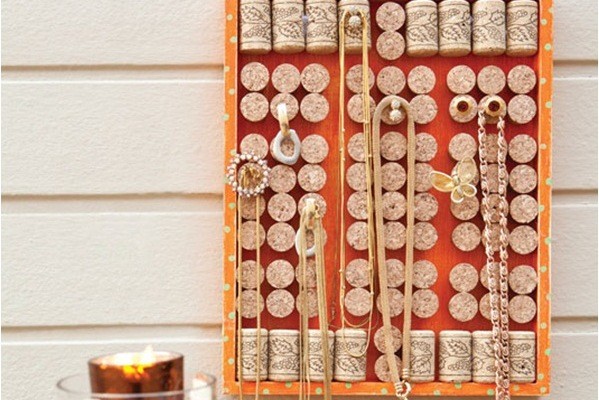 DIY Home
DIY jewelry organizer – 3 ideas for hanging and display your jewelry
If you throw all of your necklaces, bracelets, and earrings into one small jewelry box, then you've experienced the mornings when you are in a hurry, but you are desperately trying to untangle your favourite necklace that goes best with exactly that outfit. It's frustrating and sometimes you might also damage the jewelry in the process. When earrings lie in a pile, you can also easily lose one of them and can't seem to find a matching pair. Considering all these problems, we're offering you 3 DIY jewelry organizer and storage ideas made of materials found at home or at a local craft store. Forget the traditional jewelry box and think vertical.
DIY jewelry organizer made of clothes hanger
The first ideas is a clothes hanger, forgotten at the bottom of the wardrobe and turned into a  practical jewelry holder. Attach some hooks or eye bolts and decorate the clothes hanger with a beautiful floral stencil. This is very practical solution especially when the horizontal space is scarce.
It may sound crazy, but the night lamp is great for storing earrings! Besides the bold design organizes and displays perfectly your jewelry.
DIY jewelry organizer for your earrings
Using recycled materials in the home decoration is no longer just ecological but also a budget-friendly solution. In this case, instead of buying a cork board you can use some corks and an old tray to create this beautiful jewelry holder.