DIY Home
Unique DIY home garden decor with a shoe planter and succulents
If you have a passion for gardening and love unconventional ideas for decorating, we'll use the opportunity to show you how to create an unique DIY home garden decor. Probably the easiest way is to just go to the store and buy all kinds of garden decorative items, but for us and I hope for most of you, the easiest way is not so interesting. Quite often we look at our old items and ask ourselves "Should I throw this away?!". An useless item on which you breathed a new life would cause much more positive thoughts and emotions. You can use for a long time and to enjoy its beauty and unique design.
How to create DIY home garden decor with a shoe planter
For this purpose we will use:
– old shoe or boot;
– garden soil;
– silver paint;
– suitable flowers and plants like succulents
– cement, sand and rubble;
– solar garden lamp;
An old shoe serves as a flower pot.
Сut the holes in various places and paint the shoe with silver spray. The paint dries quickly, so after a few minutes we can fill it with garden soil.
The plants that we use in this tutorial are succulents, in particular – stone roses. If you have other plants in your garden or other ideas you can apply them in your case.

Now plant the succulents. Put them in all holes of the shoe. Our garden shoe planter is ready.
It remains to decide where to put this DIY home garden decor idea, so that none of the guests should not miss this decorative beauty.
For this purpose, we are going to make a concrete pedestal. Using cement, sand and rubble to pour a concrete hemisphere.
We can decorate with shiny stones. Wait a few days to harden.

In addition, you can decorate with solar garden lamp, which makes our garden decoration more pleasing at night. Beautiful isn't it!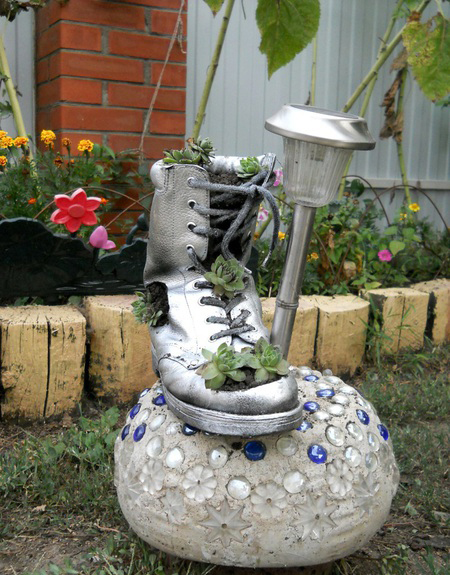 Another DIY home garden decor idea – make a picture of plants
For this purpose we are going to use a variety of succulents. You can use unnecessary box, in general, or for example, an old clock.
Disassemble the clock parts and remove the glass.
– Take a net;
– garden soil;
– plants;
– screws and a screwdriver.
Fill the clock with garden soil and fix  the net on the top.
You can also hang it on a hook to create a beautiful succulent wall.