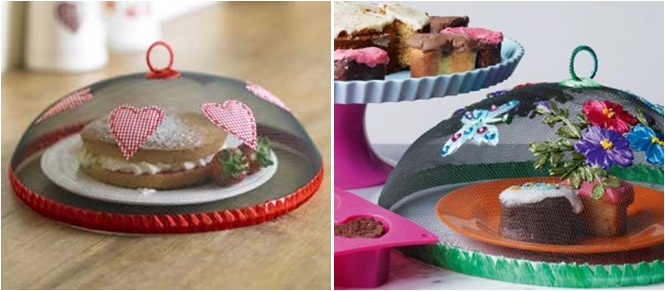 DIY Home
How to make a decorative mesh food cover- Practical kitchen craft idea
With a little imagination and the right materials, you can create very practical things for your home. In this case for the kitchen. So do not miss the tutorial that follows to make a decorative mesh food cover. A kitchen craft idea that you can do in a few simple steps by recycling all the materials you have at home and you didn't know how to reuse.
How to make a decorative mesh food cover
For this diy project you will need only a few ornaments, hot glue gun and an old mesh colander. Clean the colande and remove the handle by cutting it with a hand saw. Start decorating it with the hair pins and ornaments you want.
For the second project you'll need to cut 9 gussets of a plastic mesh. Sew them together and streghten the tent with 35 cm long piece of wire. Secure the wire ends into a beam on the top. Twist the lower ends in spirals. Make a beautiful decorative bow on the top of the food cover.
Decorative mesh food cover – Other ideas
You can decorate your plate covers with all the decorations you have at home and do not know what to do with them. Flowers, ribbons, beads, sequins, buttons and all ideas that come to your mind. A craft ideas with hundreds of creative possibilities. Dare to be innovate and have fun.
 DIY kitchen storage ideas – 6 cutlery and utensil storage solutions