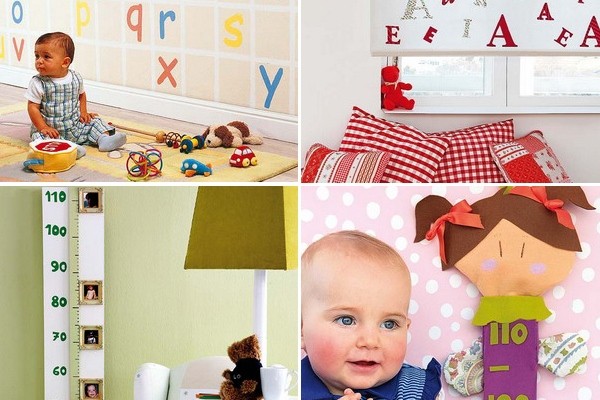 DIY Home
Creative DIY nursery projects – Wall decoration and growth chart ideas
You can inexpensively decorate the baby's nursery. We offer you here 4 DIY nursery projects that are not only creative but will be good for his development too. They are focused on the alphabet and growth charts. Easy tutorials on how to decorate the walls and  the roller shades with letters and to create funny stadiometers.
Creative DIY nursery projects – Wall decoration
For the first DIY project you will need: letter stencils, paint (base + 3 different colors), masking tape, pencil, ruler, paint brushes.
Creative DIY nursery projects – The materials
Pick one wall in the room at a height of about 120 cm from the floor. Mark with a pencil squares with the same size and  seal these lines masking tape. In some squares (in no particular order) mark the outlines of the letters and paint the inside in different colors ( red, blue, yellow). Remove the tape after the paint is completely dry.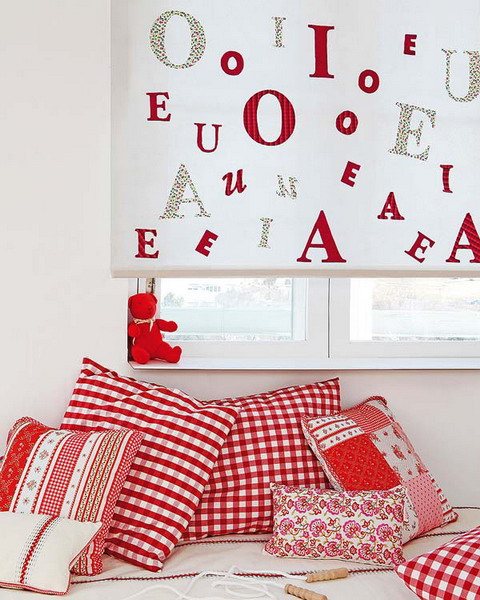 For the second DIY project you need: roller shades, vinyl stickers with the letters (of various sizes), two types of fabric (plain and flowered), ironing tissue paper.
Peel off the sticker and front part on the back side of the fabric, trace the contour with a marker, and iron it smootly. Cut along the contour of the letter, remove the protective layer, and stick with the iron onto the roller shade. Repeat with the other letters, changing the size and fabric. This decoration can be done in two ways:  a lot of different characters + the same cloth or 3-4 letter styles + different fabrics.
For this growth chart you'll need sewing skills and applications on the fabric, fabric of different colors, thread, scissors, a marker, a sewing machine, a bit of glue.
Draw a doll growth chart on a sheet of cardboard. You don't have to be a super-artist. The main thing is to outline the main contours of her. For the letters the best suited material is felt. Connect them to the base with glue.
For the last one of our  DIY nursery projects  you will need: a piece of plywood (or MDF), a ruler, several small picture frames, pictures of the baby at different ages, stickers with numbers, pencil, glue, paint brush.
Paint the base in a light tone. Note that the edges must be absolutely smooth. On the right side mark the position of the picture frames, and then glue them. Place in the middle a ruler and on the left – the numbers, indicating the child's growth.
This DIY growth chart can become a part of family history, if you change regularly the pictures in the frames.