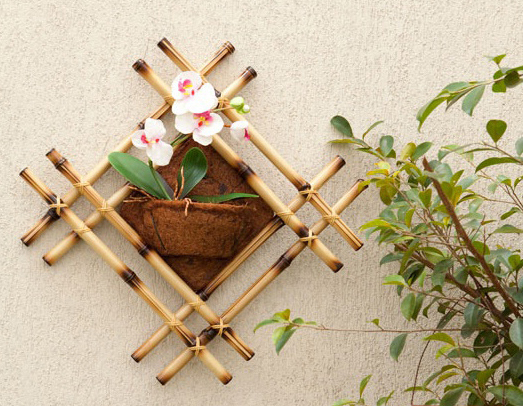 DIY Home
DIY bamboo wall decor ideas – 2 craft projects with bamboo sticks
We bring to your attention an interesting bamboo wall decor ideas for your home. This amazing decoration is made of bamboo sticks.
Bamboo wall decor ideas with bamboo sticks – How to assemble it
Materials used in the tutorial:
• 2 packs of 150g coconut coir
• 1 liter of natural coconut adhesive
• aluminum form 20×20 cm
• scissors
• 1 m wire
• needle-nose pliers
• cutting pliers
• pair of rubber gloves
• 8 bamboo sticks with a length of 50 cm and 3 cm in diameter
• 4 pieces 6cm vulcanized or copper wire (1.5 mm 25 cm)
• hammer
• burner
• drill
• white glue
Cut the bamboo in the required dimensions. Burn the sticks in your desired tone of brown to create an ineteresting effect.
Cross two sticks of bamboo, leaving 10 cm from each end. Make a hole where both sticks overlap. Make another hole – 5 cm from the first. Then use cutting pliers to cut pieces of 3 cm in the form of bolts.
Put glue into the holes and insert the bolts to hold the sticks together.

Use rubber bands to tie the rods as shown.

Mix coconut fibers and natural glue. Before you start, put the rubber gloves to protect your hands. Leave the fibers for 2 hours to absorb the entire quantity of adhesive.

First you need to make coconut coir in a square shape. Use the appropriate container /aluminum form/ 20×20 cm. Then make a pot, which we will cut into two parts. Leave the made forms to dry for 48 hours.

Cut two 20 cm pieces of wire and use them to put together the two parts. Make a hook on the back for wall mounting.
Bamboo wall decor ideas with a sunflower
This is another version of the project. You can make the sunflowers out of polymer clay or just to buy one.