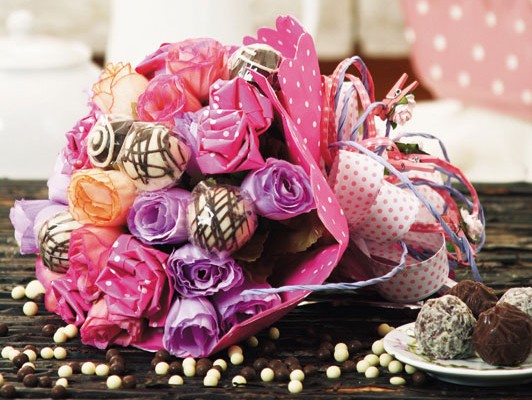 DIY Gifts
Make a candy flower bouquet – DIY idea with paper roses and chocolates
Women in general love chocolates and flowers, so combine these two passions and make a beautiful candy flower bouquet. You'll surely become plenty of compliments and the beautiful paper roses will last longer than the others,
Candy flower bouquet – Materials
To make this bouquet you will need: cellophane bags; craft paper in pink, raffia or other ribbon in  lilac and pink, decorative small roses and mini clothespins, sprig of faux roses, scissors, hot glue gun, tape, and candy.
Candy flower bouquet – How to make paper roses
Start by cutting a strip of pink paper with a width of 8 cm. Fold the sides inward and bend the end of the ribbon forming an "L".
 After the "L" is already done, keep winding the paper to form the rose and twist the end to form the stalk.
Wrap the rose stalk with green paper and secure with hot glue. Repeat this until you make seven paper roses.
With tape attatch the paper rose to a sprig of artificial flowers. Do this with all seven paper roses.
Wrap the sweets with foil or cellophane bags and close it with a tape. Glue some of the foliage of the faux flowers to look like a rose itself.
 With tape join all made sprigs (of flowers and chocolates).
Cut a square of approximately 30 × 30 cm of pink paper. Fold the paper into triangles, always in the same direction. With scissors, round the upper end of the triangle.
Now see how to make the ribbon and give the last touch to our candy bouquet.
How to make a DIY Ferrero Rocher chocolate flower bouquet for wedding
Creative gift wrap ideas- Disguising a champagne bottle like pineapple