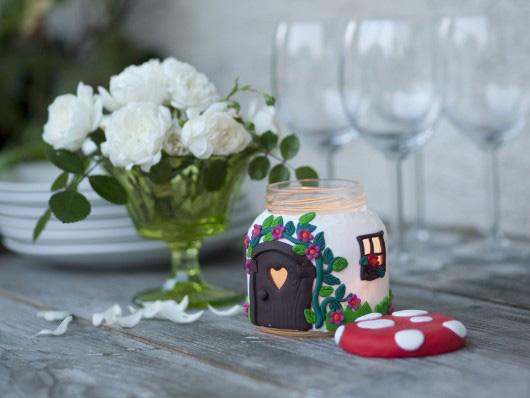 DIY Gifts
Glass jar craft – Candle holders decorated with polymer clay
Today we want to show you how a glass jar can become a candle holder looking like a little mushroom house. This glass jar craft idea could be the perfect gift for teachers and educators the end of the school year. With skilful fingers and a lot of imagination you can make this lovely craft project.

Glass jar craft idea – candle holder decoration with polymer clay
What you need for this glass jar craft idea :
• An empty jar with a lid
• polymer clay in different colors
• wax
• a wick
• molds for cutting, maybe some knife or roller.
Wrap the walls of the glass jar from bottom to edge with a thin layer of white polymer clay and smooth the surface. Working with this polymer clay is like kneading plasticine.
Using rectangular cookie cutter (if we do not have one, we can use a knife) cut out two or three openings for windows. Cut out the opening for the door.
From brown clay design the window frames and door. To make it more realistic make a door hinge and a ball knob. The entire surface is grooved to imitate wood.
Using knife or a cookie cutter make a cut in the shape of a heart.
With a light green clay form a grassy edging and attach it to the bottom edge of our house. From a dark green clay make a thin roll and fit it at the edge of the door frame – this will be our climbing plant. From the left green pieces shape twigs and leaves, and from pink and orange clay – small petals.
Decorate the window sill and the grass edging with some flowers as well.
Coat carefully the jar lid with red polymer clay.
Glue on the lid circles of white clay in different sizes so that our glass jar craft will look like a mushroom! Then put the glass jar and the lid in an oven heated to 130 °C and bake at that temperature for about 30 minutes.
Once the glass has cooled, pour the melted candle wax in it and insert the wick. Hold the wick between two wooden skewers placed over the jar neck to prevent the wick from sinking into the wax.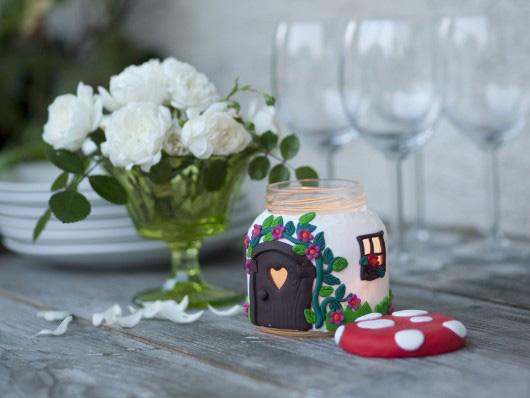 What a beautiful mushroom house! Lighted windows and doors that invite you to knock on them! Tie a red ribbon around the neck of the jar and write a lovely card for your friend.