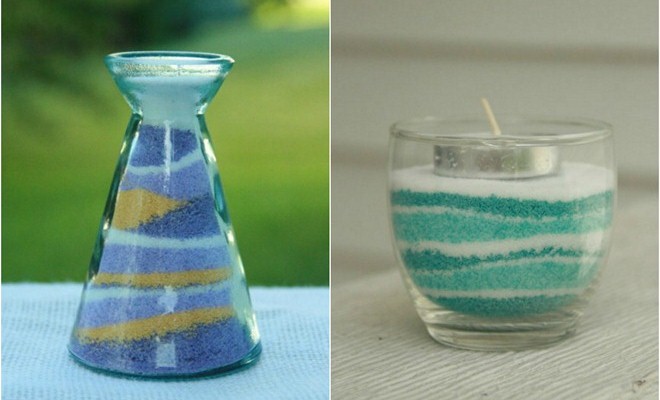 DIY Gifts
DIY colored salt to decorate glass candle holders
We decided to offer you a great idea how decorate glass candle holders filled with DIY colored salt. Colored salt is used mainly for decorating glass vases, bottles, fish bowls etc. If you can not find colored salt in stores, you can dye it at home. Colored sand can be made in various colors suitable for lots of seasonal decorations. For spring – green and pink, for summer – yellow and aqua blue. Furthermore, children can also be part of this craft project because it is fun and safe adventure.
DIY colored salt – great idea to decorate candle holders
You need: average household salt, a plastic container, colorant such as acrylic paint or food coloring, a paint brush and a glass candle holder.

Pour salt into a container for example a plastic food container. Squeeze a little acrylic paint in the salt.

Stir with a spoon or a paint brush until the salt and the paint merge completely with each other.
Let it dry overnight before using it for your craft.

You can make as many colors as you want. To make a darker shade add a little more paint, or add salt to make the mix lighter.
Art ideas with DIY colored salt