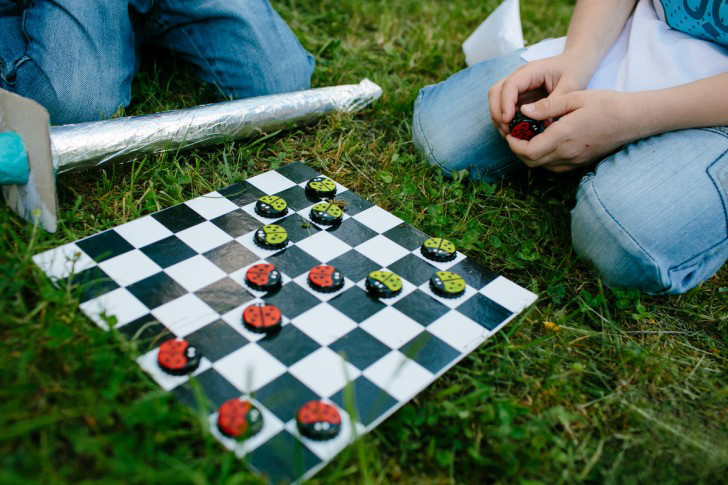 DIY Gifts
DIY board game for kids – How to make bottle cap Checkers
When was the last time you played together with your children? Show your kids that there are other super-fun entertainment opportunities that video games and Facebook. Board games allow you to spend quality time with your children and teach them how to be a good sport. They will learn how to handle the joy of the winning and the disappointment of losing. And you can also encourage their creative side by crafting your unique board game by yourself. Today we're going to present you an idea on ​​how to make a DIY board game for kids and find a playful and creative way to reuse metal bottle caps. We will make a Checkers game. It's played on an ordinary chessboard, but it is much simpler than chess and can be played from younger children as well. Are you familiar with the rules?
DIY board game – Make bottle cap ladybug checkers
Needed materials:
– 16 metal bottle caps
– acrylic paint,
– A piece of cardboard – size 27×27 cm.
– a chessboard or a template that you can print out in a desired size (A3) and tape on a cardboard.
First, paint the bottle caps black. This can be done with acrylic paint and black spray-paint. Due to the spraying effect do this in a well-ventilated room or outside.
When the black paint is dry, mark 8 bottle caps red and 8 in yellow. Allow to dry. Apply several layers in order to create a good, thick coating.
Then draw the remaining ladybug details – make a line in the center and several dots around it.
Use white color to draw the eyes of the ladybug. And we are ready!

Let the games begin! Who will bring more ladybugs on the other side? Board games encourage strategic thinking and helps fight the boredom during the hot summer afternoons. A great way to keep kids engaged!