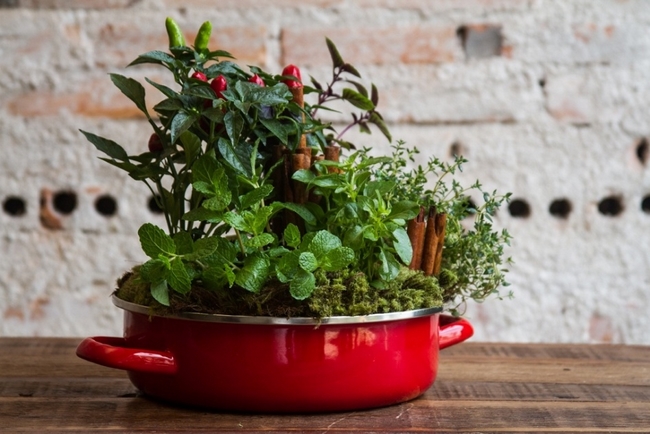 DIY Garden
Creative indoor herb garden – Grow herbs and vegetables in the kitchen
Want fresh herbs at hand, but you don't have space for gardening? Make your own indoor herb garden and grow your favorite herbs like mint, thyme, green and purple basil as well as mini peppers. This decorative and "tasty" arrangement is placed in an red enamel pan that contrasts wonderfully with the green herbs. Let's see how you can make this lovely centerpiece for your kitchen or balcony.
Make your own indoor herb garden
Materials: an enamel pan, cinnamon sticks, moss, pots (size 11) with thyme, mini pepper, mint, green and purple basil.
This indoor herb garden is very simple and the herbs can be replaced individually or replanted if necessary because they will be kept in individual containers. Make sure that the pot is large enough to accommodate the five small containers and is low enough so that the pots will remain at about the height of the edge. To begin the arrangement, place the pot of chili peppers in the pan.
Then proceed with the purple basil … and then the green basil. Taller plants should be the guide line for the composition They will indicate the threshold for balancing the proportions.
Now add the mint and, finally, thyme. To give it a proper decorative finish, add some cinnamon sticks. Insert them in the spaces between the herb pots.
Hide the pots with the herbs by laying moss over them. Spray the plants with water to keep them fresh and slightly moist. Remove periodically the water that tends to be stored in the bottom of the pan. This precaution prevents unpleasant odors and rotting plants.
indoor herb garden arrangement