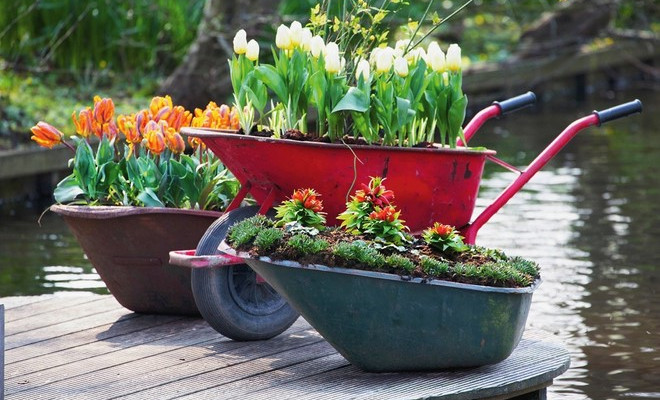 DIY Garden
12 ideas for cheap and simple homemade garden decorations
Your backyard is the place, where you can show all your creativity. Instead of buying expensive gizmos that won't stand up the weather conditions outside for long, experiment with old tools and household items to create amazing homemade garden decorations. Even if something seems no longer necessary to anyone, you can try to give it a new life!
Homemade garden decorations – backyard door from old shovels and scissors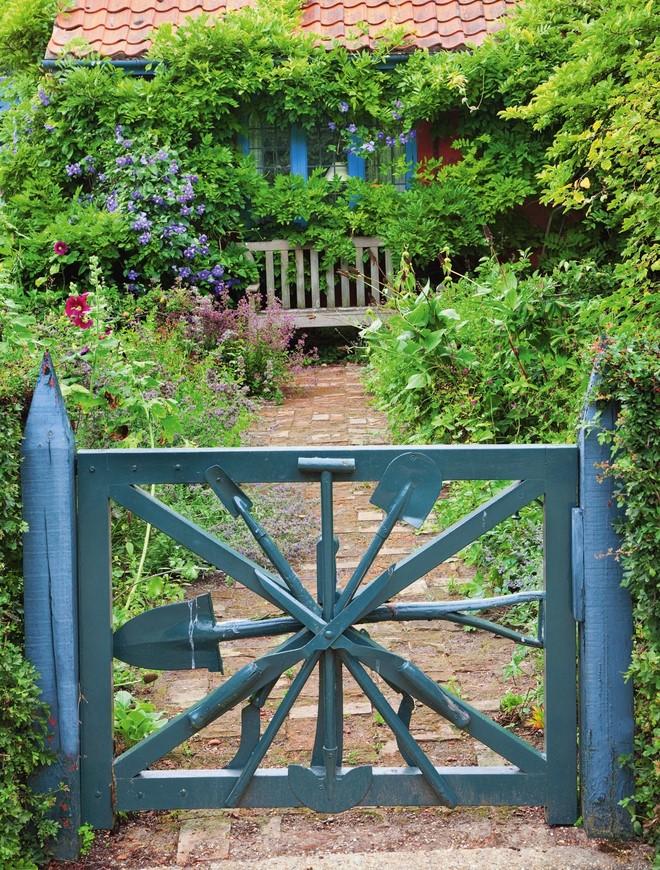 Do you have old shovels, spades, digging forks and other yard work tools that no longer work? They can be recycled for example as decoration your garden door. However, there is one thing: to protect the tools from further corrosion, they need to be varnished to be resistant to unfavorable weather conditions.
Old garden scissors, vine pruning shears and hand shovels hanging on a decorative hook are suitable for a rustic themed wall decoration. Against a white painted wall the dark metal will definitely stand out.
DIY garden mini fountain – garden decorations from junk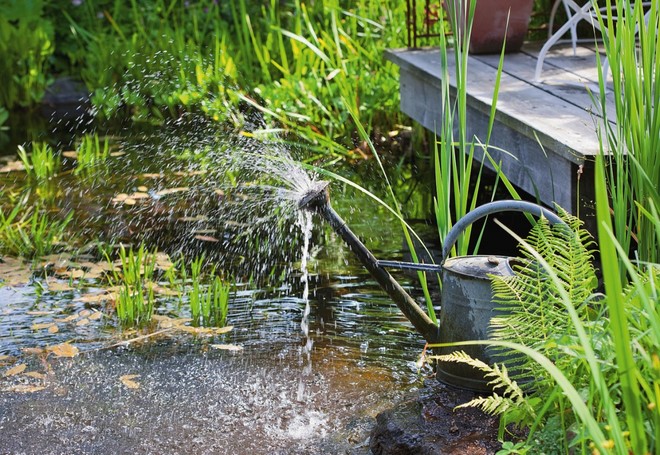 A galvanized watering can in no time become a mini-fountain. To do this, you need an electric pump that is usually installed in the pond. The water will be pumped through the hose in the can and then pumped out through the spout.  The cap at the end of the spout breaks up the stream of water into droplets creating even better fountain effects. To turn the fountain on and off it is more convenient to use a remote control. In winter, it is necessary to remove the pump from the water, rinse it thoroughly and store it in a dry place. There is no danger of freezing.
Homemade garden decorations – DIY mosaic stepping stones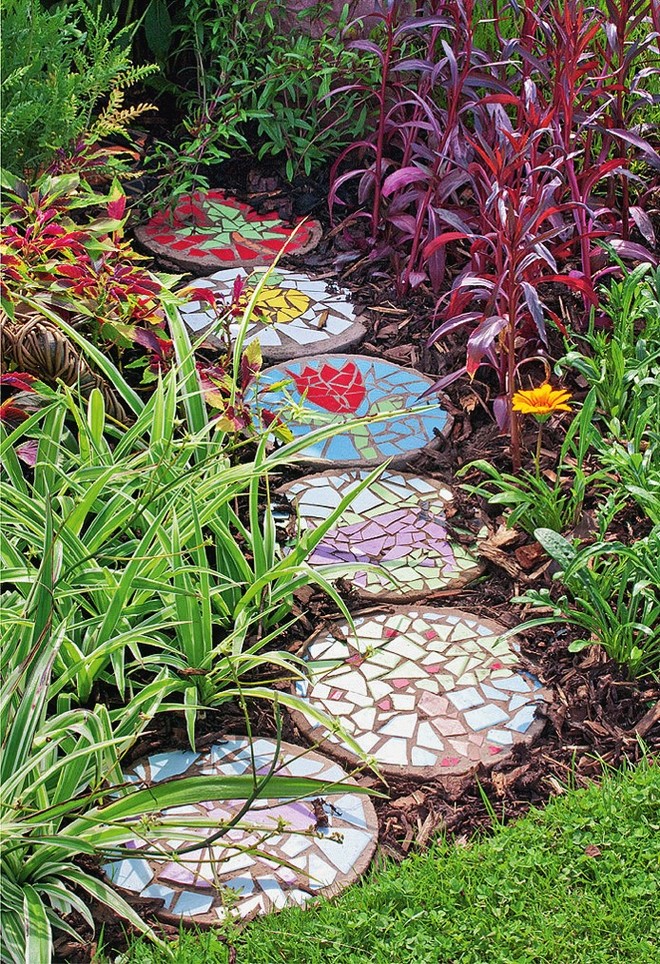 Old ceramic dishes can be upcycled in various ways. You can break them apart and use the pieces to embellish round concrete stepping stones. To do this safely, place the plates in a shallow box and cover with a cloth. This will prevent shards from scattering. Using a hammer crack the ceramic into large pieces. For this project you can either use ready-made cast concrete stepping stones or create your own using a mould and concrete mix. The concrete stepping stones should be at least 4 cm thick, otherwise they will  get quickly broken. Arrange pieces as desired and combine several colors.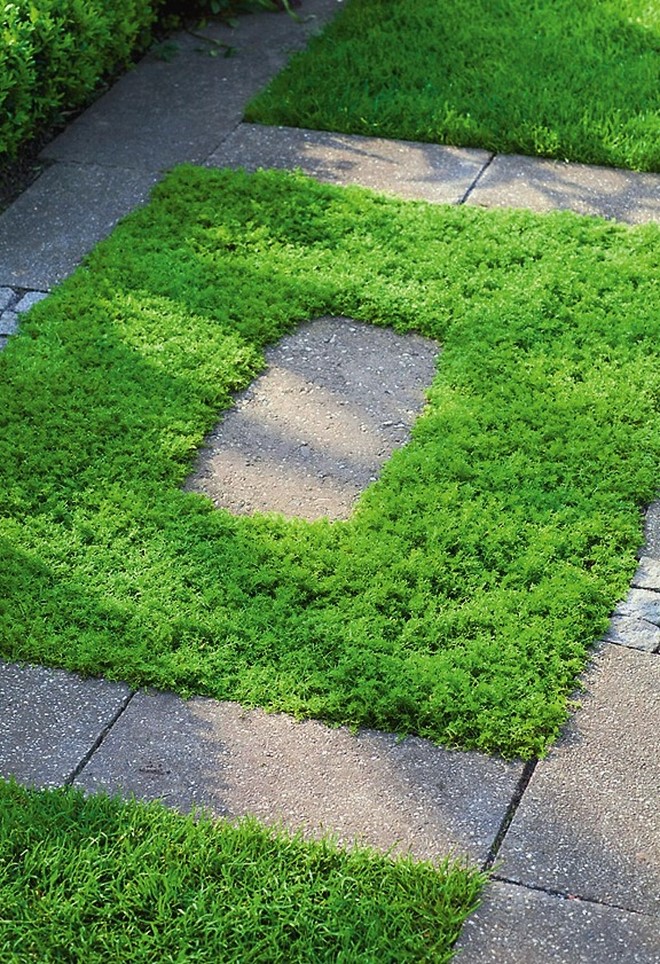 Are you tired of the old gray color of your walkway? Add color by planting decorative ground covers between the pavers or stepping stones. Roman chamomile or creeping thyme are often used because they are a low, spreading plants that hold up well to food traffic. Another excellent carpet-forming evergreen perennial is Chamomile nobile 'Treneague'.
Backyard decor ideas – Firewood storage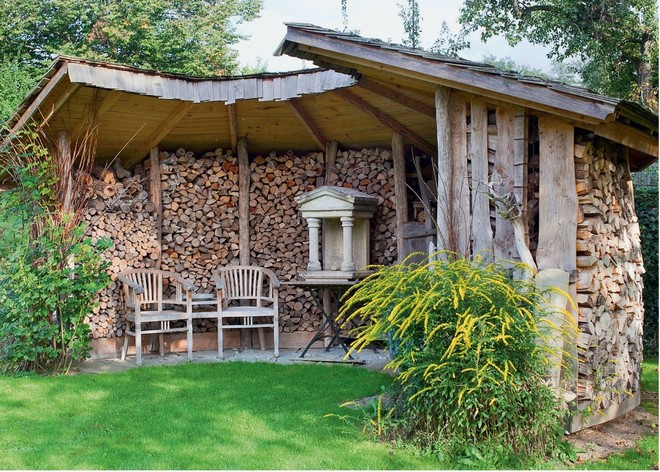 If you want to sit outside next to the fireplace or the campfire, then plan a firewood storage. Most often the logs took a large area of garden property and can spoil the tidy appearance of the yard. A good idea would be to build a wood shed that functions as a seating area shelter. Like this one in the form of a semi-circular pergola. There are many other creative outdoor firewood storage ideas that you can try as well.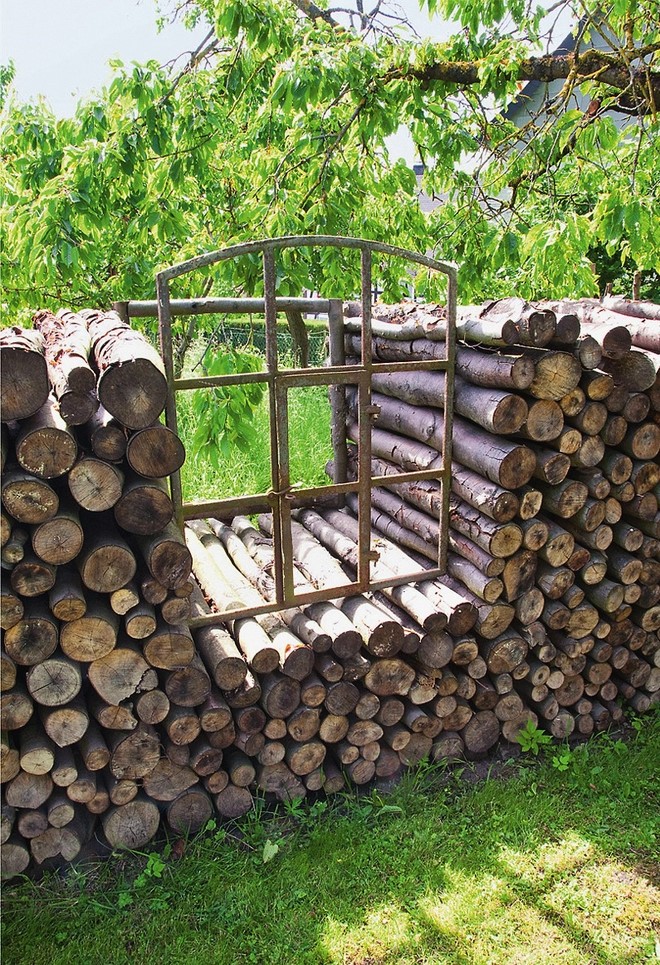 DIY garden ideas on a budget – Living succulent wall art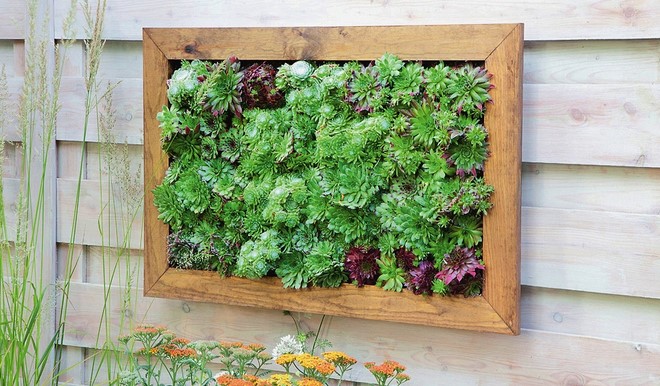 Sempervivum – a low maintenance plant that grows even on a vertical surface without any problems. Take a picture frame and remove the glass. Next, cut a wire mesh to fit the opening on the back of the frame. Attach the mesh onto the back opening of the wooden frame using a staple gun. Then, secure the frame to a wooden box by using nails or wood glue. Fill the box with a damp cactus potting mix, shaking it side to side and pressing the soil down through the mesh. Use a chopstick to create a small hole for the succulents in the soil and gently press the plant in place. If the hole is too small, you can use tin snips to cut a bigger opening in the wire mesh.
Hang the masterpiece in a sunny place and water the plants using a spray bottle.
Garden decorations with waste material – decorative garden edging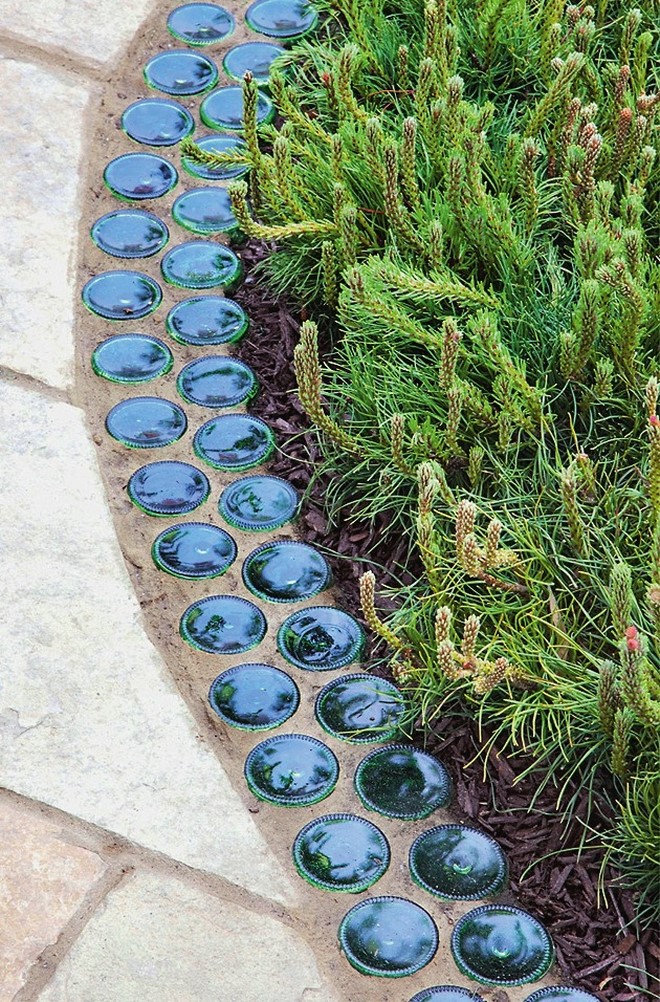 An unusual border edging for a flower garden can be made from bottoms of glass bottles and concrete. There is an easy way for cutting glass bottles: with a string and fire. Take a thick yarn or a cotton string and soak it in a flammable liquid (eg alcohol or acetone). Wrap the string around bottle, in the exact location you want it to break. Light the yarn on fire and begin rotating the bottle slowly so that the yarn burns around the entire bottle. Wait until the fire has burnt out and then stick the bottle in ice water The bottle should break cleanly off. Important: do it in the water, so the fragments do not scatter in all directions. Sand the edges using fine grit sandpaper.
Old construction trolley like mobile flower bed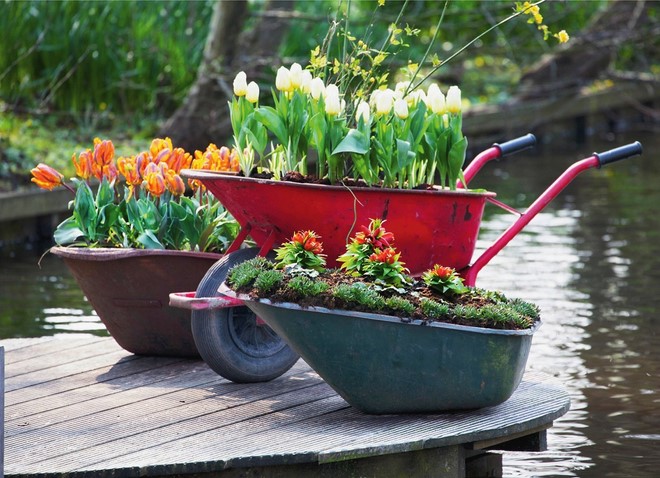 Large flower pots can be quite expensive. A good alternative are old containers such as wheelbarrows and zinc tubs. Make a drainage layer at the bottom using pebbles, gravels, shards of broken pots etc. Then, pour a layer of fertile flower potting mix and plant the flowers. The flower garden can be moved from place to place, if desired. This is perfect for annuals that should be moved indoors during the winter months.
Homemade garden decorations from old ceramic door knobs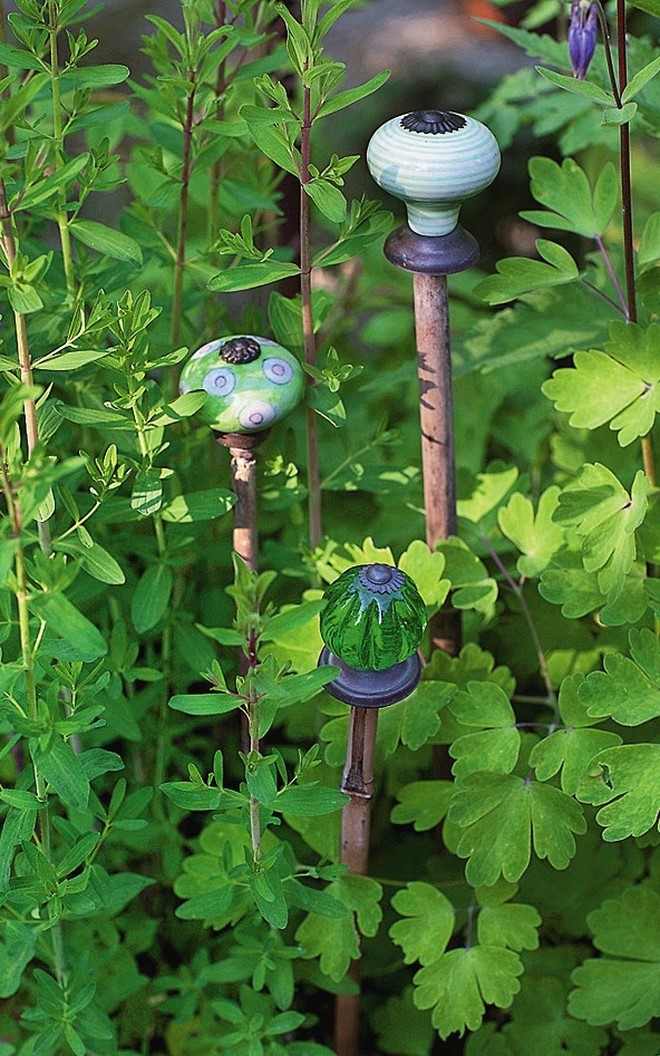 From the ceramic door knobs you can easily make a decorative plant stakes to add a pop of color to grassy perennials. Secure the knobs to copper pipes and stick them into the ground. Glass knobs are great idea because they will break the sunlight creating lovely effects.
Simple garden decorations – DIY vertical landscaping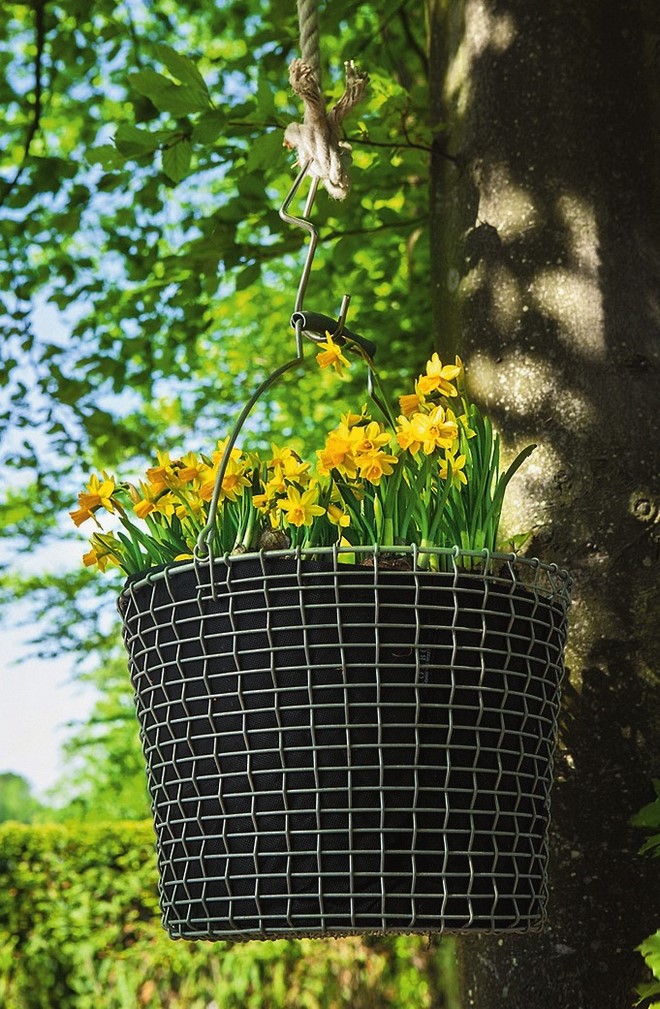 To optimize the vertical space, it is not necessary to buy hanging flowerpots. There are many other interesting options. For example, you can hang a basket filled with plants from a hook on a tree branch. All you need is a thick wire hook and a strong rope. Just do not forget to line the container with non-woven material.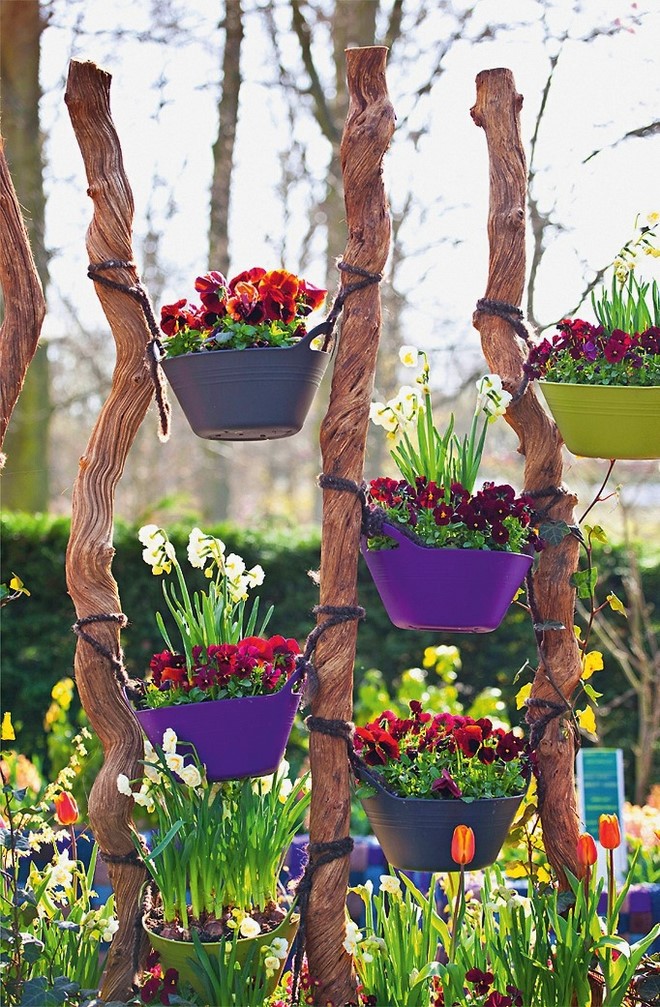 Another unusual solution is to hang the plastic containers between the tree trunks stuck in a row (always dig deep for better support). Important: do not forget to make drainage holes in the containers.
Rustic furniture from wooden pallets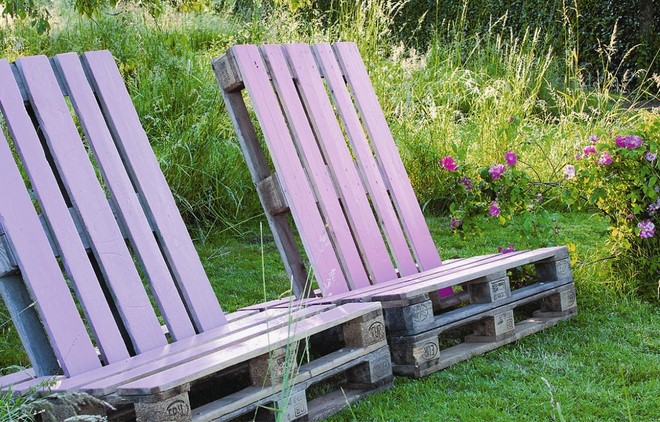 Previously, they were used only to transport goods. Now, creative designers are increasingly making all kinds of furniture from them. One of the options: lounge garden chairs. The seat is made of two  pallets stacked upon each other. Measure the width of the third pallet and saw out one of the boards in the seat. Insert the backrest – it's ready! Do not forget to sand the pallets and remove any bent nails. Paint the newly made furniture in a bright color, and it will become even more attractive.
Homemade garden decorations – Trash can makeover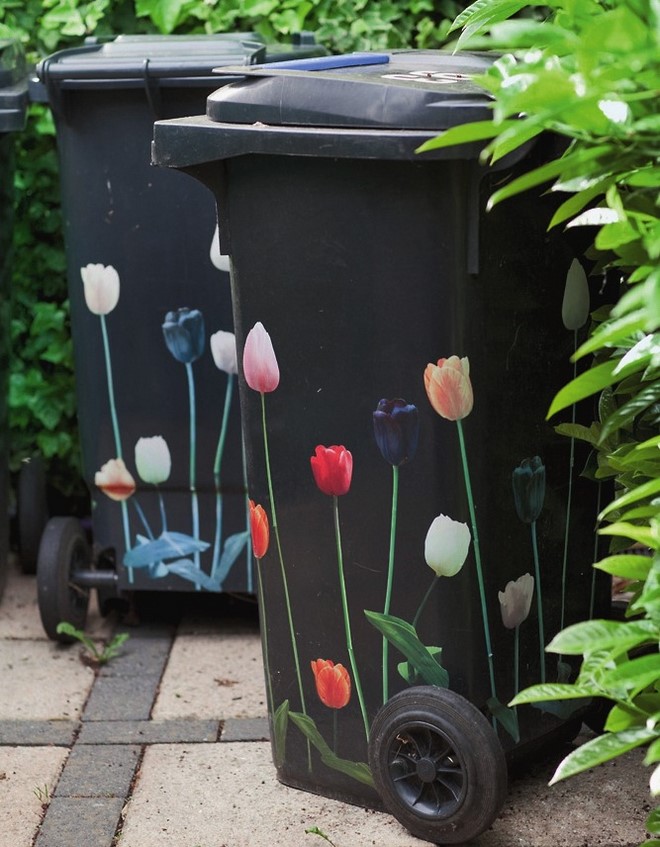 If you do not have a place where you could hide your trash cans, just make them more presentable with floral stickers. Sunflowers, ivy, poppies, daisies or lavender – the choice is totally up to you. To prevent the stickers from falling off, cover them with a clear varnish.
Homemade garden decorations from old wooden ladders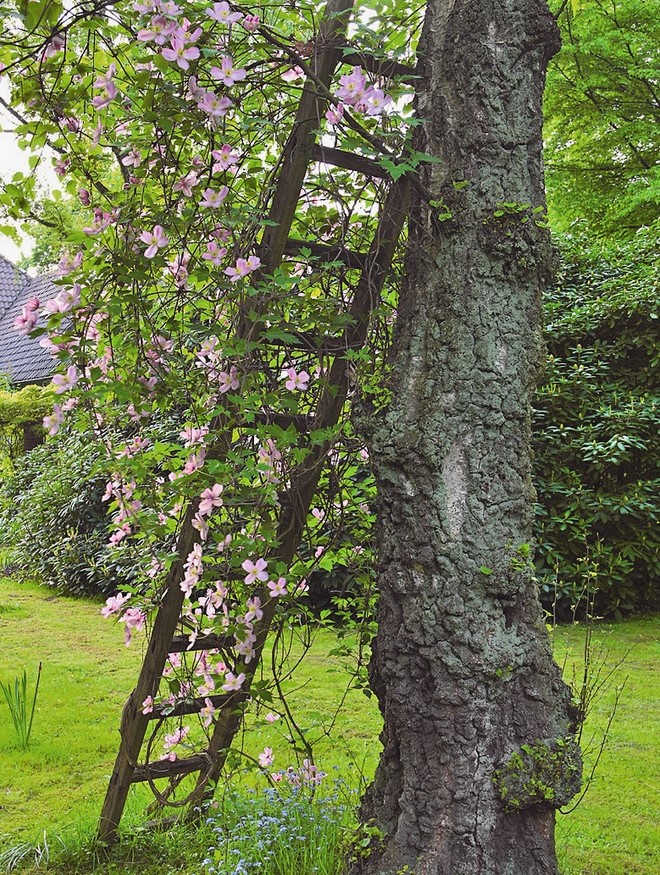 Despite the fact that the old wooden ladders have been recently replaced more and more with aluminum ones, this doesn't mean that you have to get rid of the first. The old kind wooden assistant will serve as an excellent support for climbing plants. If you lean it against a tall tree, soon the "climber" will decorate the "giant" with his flowers.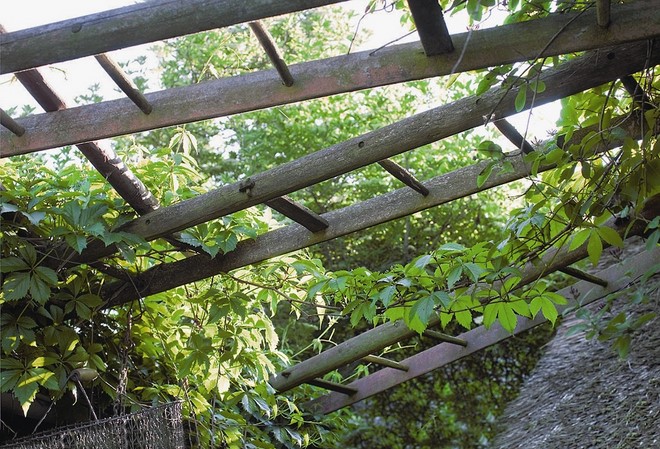 If you do have several wooden ladders left at once, build a pergola or a covered walkway from them. The main thing is that such building elements should not be rotten. In fact, even girlish grapes or other climbing plants, such as a climbing roseс, akebia or wisteria, are not so lightweight.