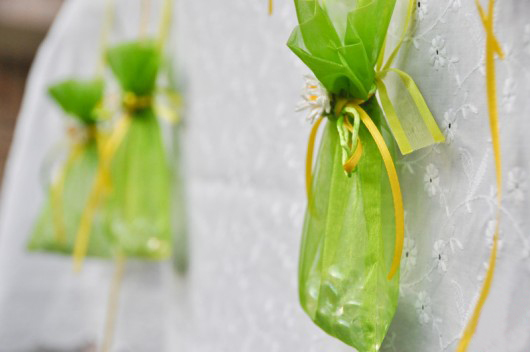 DIY Garden
Cute DIY tablecloth weights for your sunny summer garden party
If you are planning to throw up a summer garden party, you'll have to think of every detail. If the weather is windy, what can you use to keep your tablecloth from getting blown off the table? These DIY tablecloth weights will solve the problem while adding a bit of color and style to your table decoration. Craft your own weights easily and inexpensively.
DIY tablecloth weights that won't get blown around
We need :
– organza pouches
– organza ribbons of different widths in coordinated colors ( for example green and yellow combined with white)
– decorative gem stones (vase fillers)
– decorative clips such as butterflies, flowers …
– scissors,
– a tablecloth
Place your tablecloth on the table and adjust it so that all sides hang evenly. Weave the ribbons over the tablecloth as shown.
 The end of the ribbons should extend beyond the edges of the cloth. We will attach there the tablecloth weights.
You can add a variety of decorative items such as gems, daisies, butterflies or a vase of flowers.
The final decoration of the table top should look like this:
Then we start making the tablecloth weights. Fill the gift pouches with clear glass gem stones so that it is heavy enough.
First tie the pouches and then attach them to the ends of the ribbons that hang from the table.
Add a silky narrow yellow ribbon.
Decorate with faux daisies or fresh flowers.
Place the hanging purses over the edge of the table to serve their purpose and give a playful and fresh look to your outdoor decor.