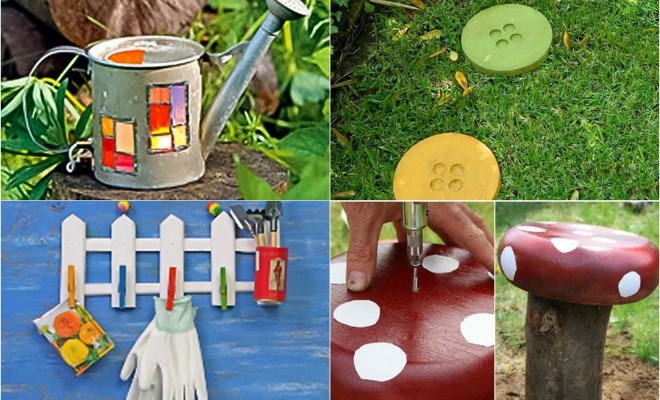 DIY Garden
DIY garden decor ideas – 6 projects for yard and patio
Garden ornaments can give a personality to any home yard turning it into a special place with character and style. Instead of spending money on expensive mass-produced decorations such as statues and figurines you can create decorative objects only by using a few simple supplies and recycled junk. The following creative DIY garden decor ideas will brighten up your outdoor space!
DIY garden decor ideas – handmade watering can lantern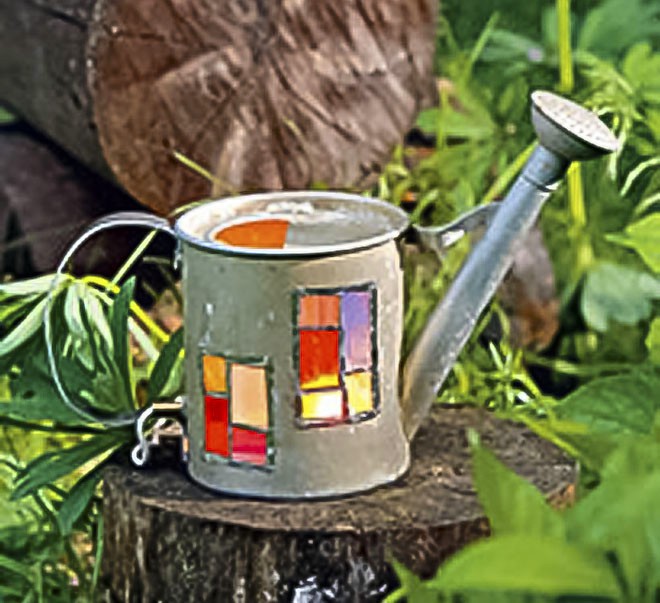 Soft light illuminating the garden pathway – it's functional and enchanting. There are all types of lamps available on the market – with different shapes, sizes and with different power sources but only you can own this unique watering can lamp. You can use it as candle hurricane, as well.
Materials: watering can without a handle, colored glass, copper edging tape, solder, soldering acid, light bulb 40 W, power cord, aluminum strip, rivets
Instruments: metal shears, electric drill, soldering iron, awl, drill bits for metal, needle file, glass cutter, riveter
1. Clean the watering can from dirt. Using a cutter cut out small windows. Smooth the sharp edges of the openings with needle files removing irregularities and making them safe for comfortable handling.
2. Take pieces of colored glass or cut from a large sheet using a glass cutter. Work carefully and mind the sharp edges.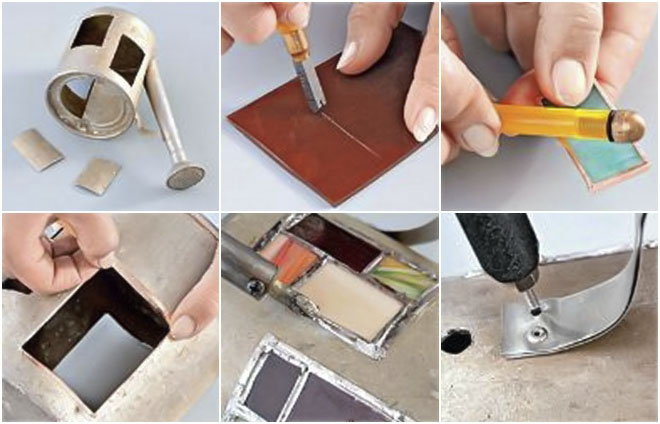 3. Tape the edges of the glass pieces and line the window openings on the watering can with copper tape. Solder the glass pieces together and to the watering can walls. Given its curved body, they will have be placed at an angle.
4. Drill hole for the electrical part of the lamp. Make new handle out of aluminium strip, drill suitable holes on the body and secure with rivets. You can skip this step, if you prefer to use just a group of pillar candles.
DIY garden decor ideas – wooden fence hanger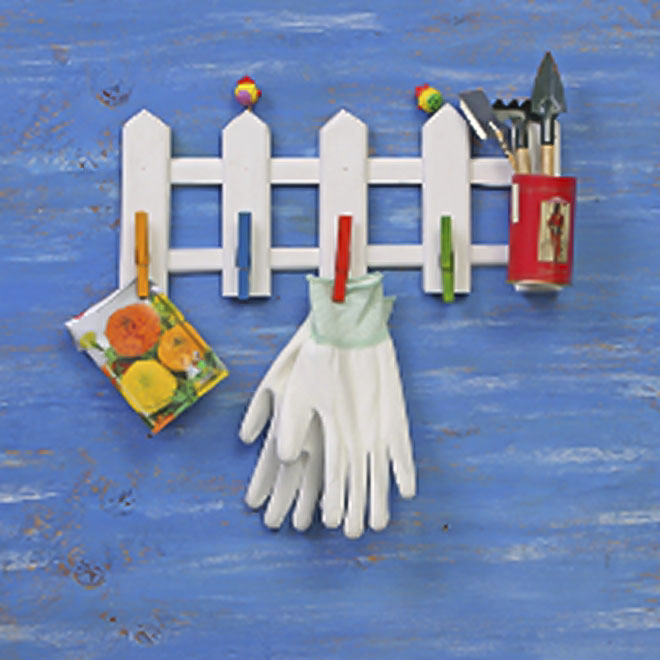 If after reconstruction or renovation of the house you have some remained wooden slats, do not rush to throw them away or burn. With these you can make a simple and convenient hanger for all kinds of little things that should always be at hand for every gardener – gloves, keys, bags of seeds, garden tools and others.
Materials: wooden slats (2 pcs. 2cm x 40 cm, 5 pcs. 5 cm x 17 cm), hot glue gun, 10 finishing nails (1.2 x 20 mm), 4 wooden clothespins,  small tin can, 1 screw for wood, acrylic paint in white, yellow, blue, orange and green.
Instruments: sandpaper, a hammer, a ruler, a screwdriver, a pencil, a fretsaw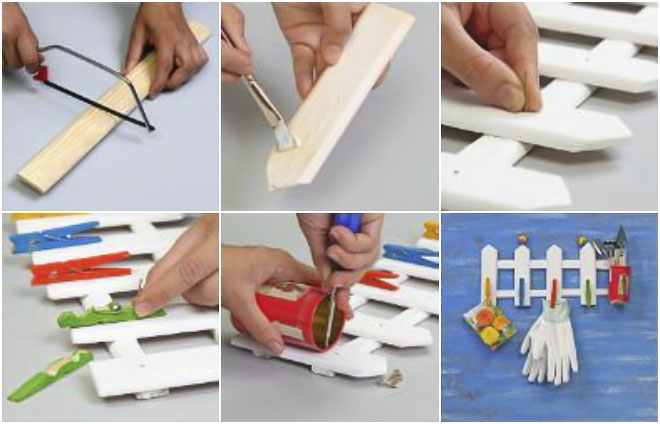 First, you have to create a small picket fence. You need 5 wide slats with a length of 17 cm and 2 narrow slats – 2 cm wide and 40 cm long. Cut the pickets by using a template to ensure a consistent look. Clean all irregularities using a sandpaper. Paint all parts of the fence with white paint and for a clothespins use bright colors. Attach short to long slats at equal distances using nails to assemble the picket fence. Glue one clothespin on each picket. With a screwdriver make a small hole measuring about 0.5 mm. Attach the tin can to one of the pickets using a self-tapping screw.
DIY garden decor ideas – red mushroom wooden stool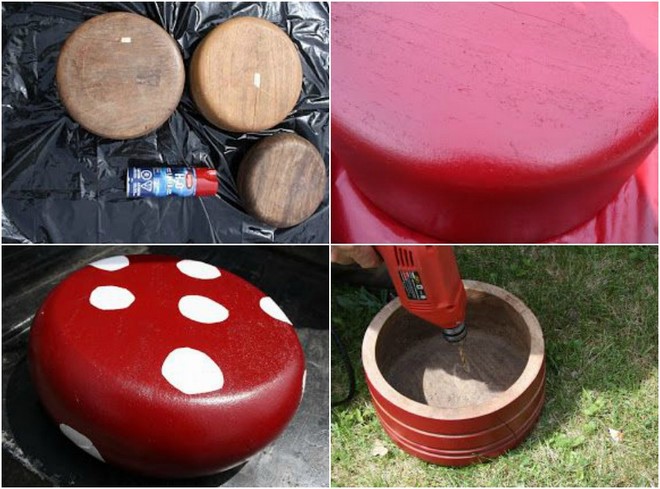 What better way to decorate your garden than making some cute stools shaped like little mushrooms with white spots.
Materials: wooden bowls with flat bottom, wooden stump, red exterior paint, white tape
1. Clean thoroughly the bowls, paint them red and let them dry.
2. Cut circles from the white tape and glue them on the bowl. You can also use a different technique: paint the bowl white, glue the tape circles, apply red paint and peel off the tape to reveal the white surface underneath.
3. Drill a hole in the middle of the bowl.
4. Place the bowl on a wooden stump facing down and fasten it with self-tapping screw.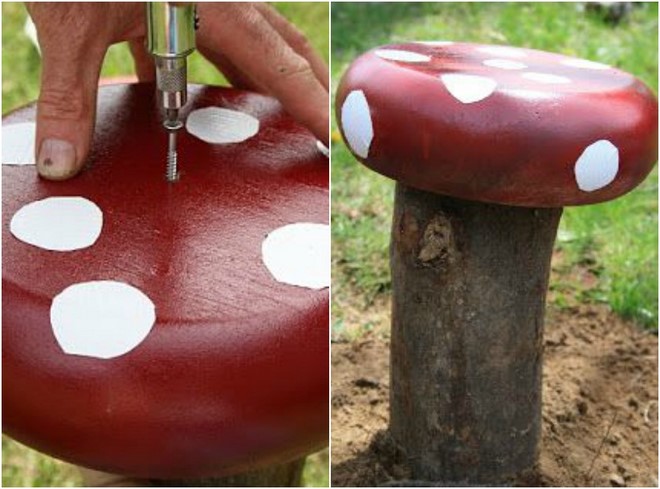 DIY garden decor ideas – PET bottle butterfly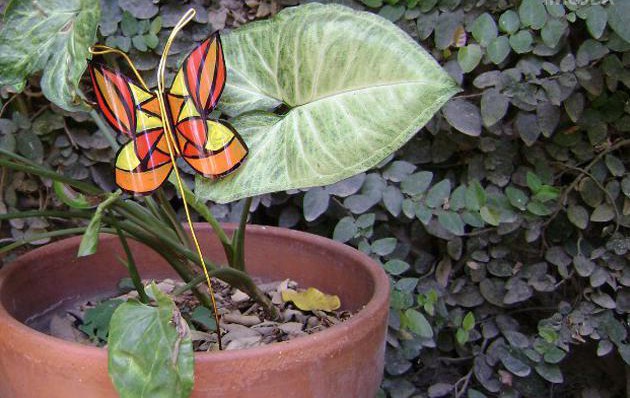 Materials: a plastic bottle, black marker, acrylic paint in red, orange and yellow, 2 mm wire, a paint brush, scissors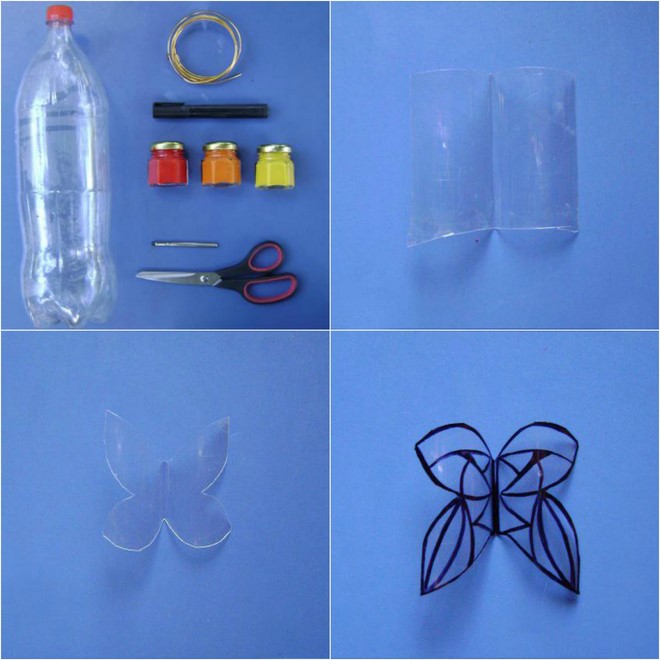 Use only the central part of the plastic bottle. Cut out a rectangular section of the cylinder – 9 cm x 12 cm. Fold it in half and cut a figure in the shape of half a butterfly so that once expanded you will become a symmetrical butterfly. Draw very thin lines using a permanent marker to represent the spectacular patterns of the butterfly's wings.
Paint different parts of the wings with acrylic paint in different colors. Allow to dry. Cut a piece of wire and fold in half. Use the one end to form the antennae and the other one will be the part that will be stuck into the pot soil.
DIY garden decor ideas – glass jars lanterns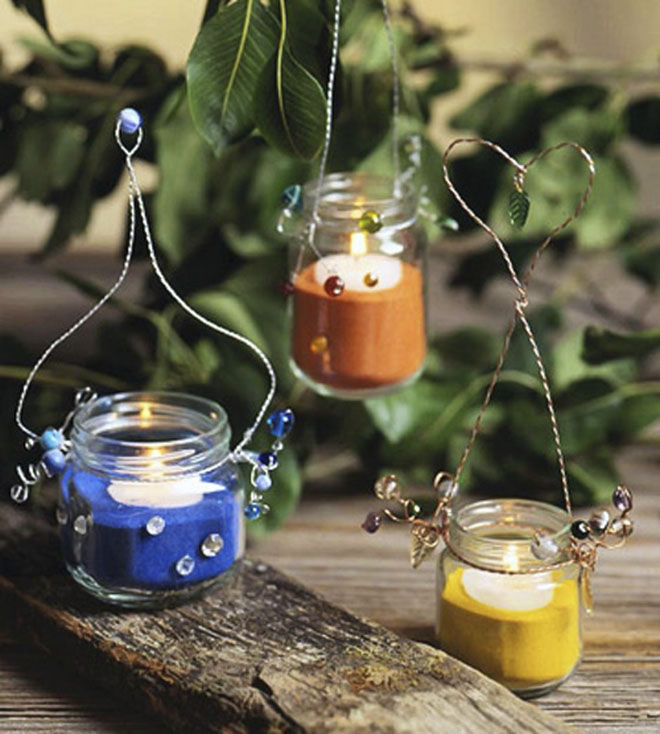 Wonderful mini chandeliers for your garden. By recycling these glass jars you can turn them into gorgeous decorations for your garden.
Materials: small glass jars, colored chalk, tealights, universal glue, thin wire, items for decoration such as beads and adhesive gem embellishments.
Take the old grater and begin to scrape the colored chalk until it becomes powder. Clean the jars with a cloth and fill each with a different color from the grated chalk powder. Decorate with universal glue and decorative items. Finally, use a thin wire for decoration, as shown in the image. Place the tealights in the jars.
DIY garden decor ideas – garden stepping stones shaped like buttons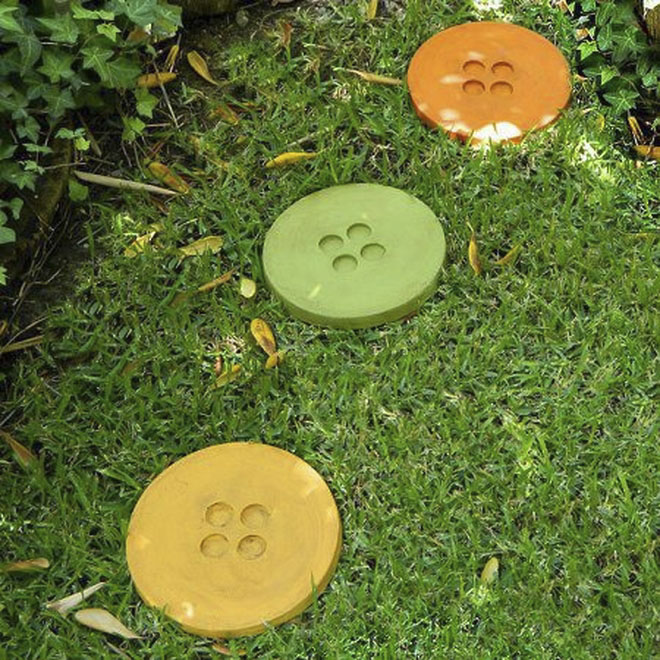 Concrete is the perfect material for DIY outdoor projects – it's easy to handle and extreme sturdy. Therefore we're going to show you several interesting ideas. The first one is presented from Mark Montano and in addition to the photo tutorial there is a video with instructions, as well.
Materials: waterproof varnish, quick-drying cement, non-stick cooking spray, large plastic lids of various sizes, 4 plastic caps, a craft knife, a paintbrush and paint.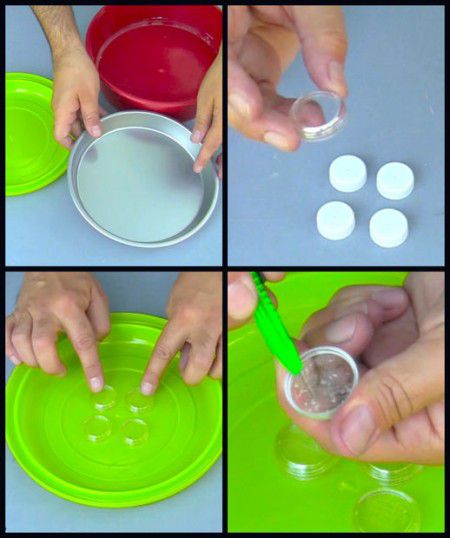 1. A round plastic plate is used for the button mold. Four plastic caps will serve as the holes of the button. Score the inside of the caps using a craft knife, fill them to the rim with hot glue and glue in place on the plate.
2. After the glue has dried, spray with cooking spray to remove easier the buttons from the mold afterwards.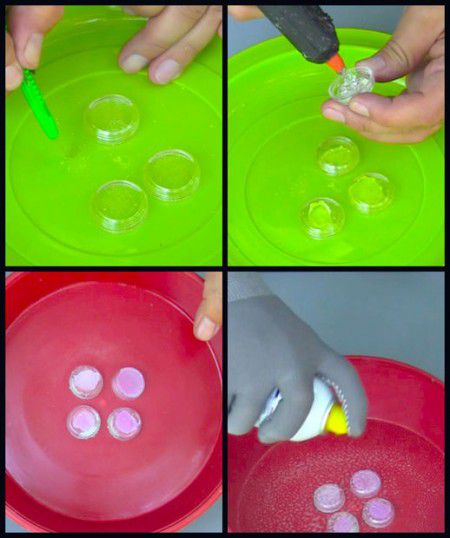 3. Prepare the cement mixture following the instructions on the packaging, fill the mold and let it harden for 20 minutes.
4. Remove the cement button from the mold and paint in the desired color. After the paint has dried, varnish all buttons.
Using the same method with molds and concrete try the other
DIY conrete projects
, as well!
Small concrete garden pond
Cute concrete bags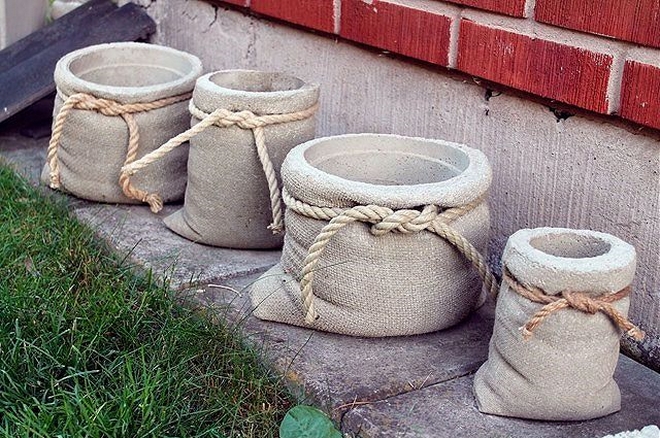 Idea for sea-inspired garden decor