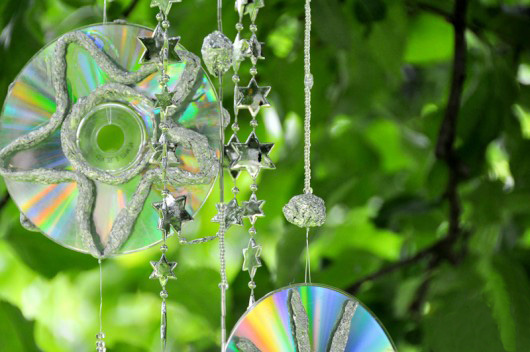 DIY Garden
Cool wind chime craft project for your garden reusing old CDs
Do you have a stack of old CDs that you don't use any more? Reuse them again by making this fun wind chime craft project with your kids. With these shiny ornaments you can decorate your porch or the trees in the garden. They will reflect magically the sun light and play with the wind all summer long.

Wind chime craft project – how to reuse old CDs and DVDs
What we need for this wind chime craft project:
– Old CDs and DVDs
– aluminum foil for wrapping food
– A strong adhesive (such as glue for wood and fabric)
– Colorless cord
– Scissors
– A needle
– Silver or decorative items made of clear glass such as beads, pom poms, mirrored mosaic tiles, a wire and pliers.
Form pieces of aluminum foil in the shape of elongated strips and balls. Glue them on the bottom side (the shiny one) and design different patterns such as a star, an eye, a sun and so on. If the upper side of the CDs is too scratched or frosted, glue two CDs together, so that only the shiny sides remain visible.
Use a strong glue to keep the foil in place and well fixed to the smooth disc surface. The glue dries slowly, so we have enough time to make the other decorations for our project.
Allow children to choose the decorations for the wind chime. Thread fluffy pom-poms, stars of different shapes, beads etc. on a cord and attach it to the aluminum foil. You can use a needle to thread the cord through the material.
On such "strings" attach all the CDs, and every string – to one CD that will serve as a base. Ensure that the cords are well arranged and balanced.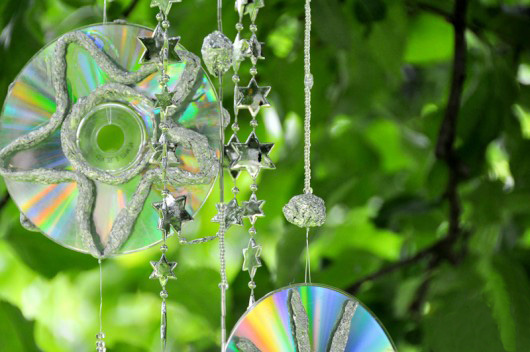 Our wind chime is ready to hanged in the garden or in the nursery.
The burst of colors and light reflections will be very interesting for the kids and will stimulate their imagination. These types of ornaments are also suitable for children's birthday celebrations and outdoor party.