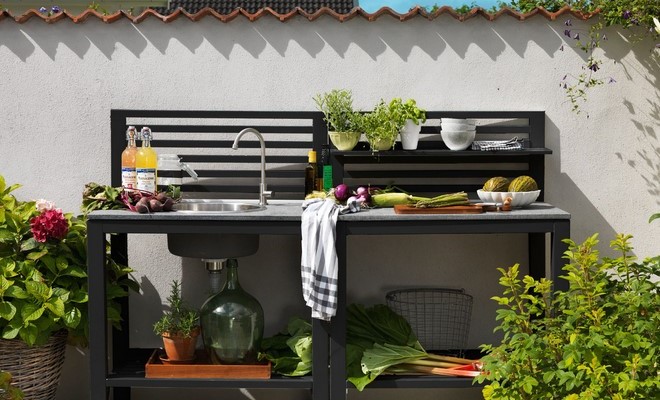 DIY Garden
How to build an outdoor kitchen with sink out of wood + building plan
Do you love spending the cool summer evenings on the patio, too? Outdoor dinners are finally here, filled with food, drink and conversation. But what to do, when the main course is finished and some plates need to be washed out for dessert? Would it not be a pity to have to break up from the company and go use the sink inside the house? Build an outdoor kitchen out there instead! With water and sewage, it's even more fun to cook outdoors! Smart storage, fresh herbs and utensils are close at hand, as well. Plus, there are no wooden floors to take into account. Wonderfully!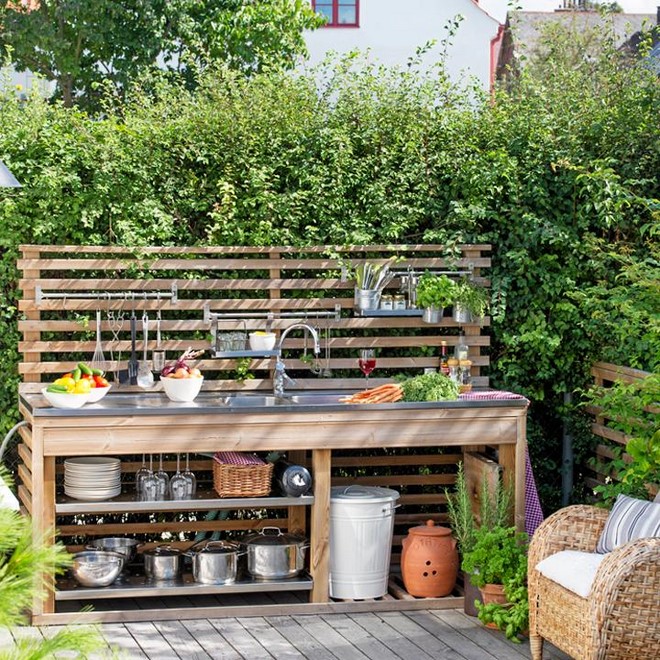 The sink, featured in this outdoor kitchen, has dimensions 600 x 2200 mm. Or this is 23 inch by 86 inch/2 x 7 ft. You can customize your bbq grill in the design, as well. If you do not find stainless steel, it is good to put your worktop in place instead of installing a lowered hood. Of course, the surface must be weather resistant – maybe concrete? You can also think of a shorter sink that is extended with a piece of hard-wearing countertop.
The drain on the image is linked to a small, simple grey water filtration system called: "Stenkista" that cleans and recycles water. Perhaps you're lucky and have a sewage nearby? In the faucet there is only cold water, the hot water pipe is plugged, as well. On the cold water pipe is a quick coupler so you can easily put on a plastic hose for incoming water.
Materials to build the outdoor kitchen:
All works are pressure impregnated
Wooden posts 70×70 mm:
6 pcs. of 900 mm (A)
2 pcs. of 1615 mm (E)
Timber/ wooden batten 28 x 45 mm:
20 pcs. of 2200 mm (B)
20 pcs. of 544 mm (C)
2 pcs. of 844 mm (F)
1 pc. of 1615 mm (G)
10 pcs. of 544 mm (H)
2 pcs. of 967 mm (J)
20 pcs. of 516 mm (K)
Board 28 x 120 mm:
1 pc. of 2110 mm (D)
One piece sink with countertop and faucet
Stainless steel or acid-proof wood screws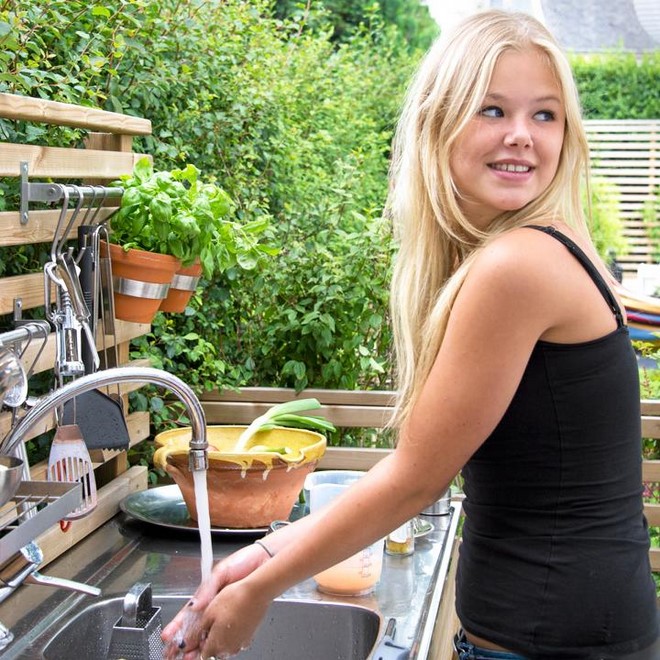 Steps to build an outdoor kitchen:
1. Screw 10 wooden batten C evenly on two posts A to create a wooden grill. Repeat for the other side.
2. Join the grills with four batten B, two on the front and two at the back at the top and bottom.
3. Attach the two remaining posts A to the four B. Where you place these two A, the space between H and K and the length of J.
4. Screw both F into A and C, and D in B.
5. Attach 8 pieces of B to A with screws. They should be evenly distributed on the backside.
6. Screw the posts E into B and A.
7. Fit the remaining batten B with the screw on the posts E.
8. Screw G against the battens B – on the back.
9. Distribute the ribs H evenly. Screw these between the front and rear B.
10. Build the first shelf by screwing the two outermost K in the legs A. Attach these to the height of one of the battens B on the back. Screw J in both K. Screw the other K with screws through J and back through batten B. Assemble the other shelf in the same way.
11. Place and fasten the sink. Then install water and sewage.
12. Put your shelves and hooks so that the outdoor kitchens suits your needs. And done!
Source: ljbygg.se/snickra-ditt-eget-utekok/