DIY Fashion
DIY T-shirt ideas and easy projects: How to refashion and embellish tees
In former times our mothers and grandmothers boldly cut and reconstruct clothes, making them more individualized. What are the reasons for this fashionable trend, which, regardless of income, nationality and worldviews, affects the minds and imagination of many people and continues nowadays? After all, the assortment of any points of sale of clothes is so rich that our mothers and grandmothers never dreamed, and you can always find something interesting for yourself without the risk of seeing such an outfit for a hundred more people from your city? The answer: people are seized by a passion for customization and  the desire for individuality. Because after introducing at least minimal changes in any garment, we get the opportunity to become the owners of an exclusive gizmo that you will not see on anyone. Plus, it's a weighty bonus in the form of an opportunity to express your creative abilities. It's a wonderful feeling for anyone to be in the role of a designer, creating something unique in its way. Many will be pleased with the fact that the primary focus is not on brand ownership, but on the possibility of self-expression. That's why we've gathered some creative DIY t-shirt ideas and easy projects to inspire you!
Clothing customization: from the beginning to our days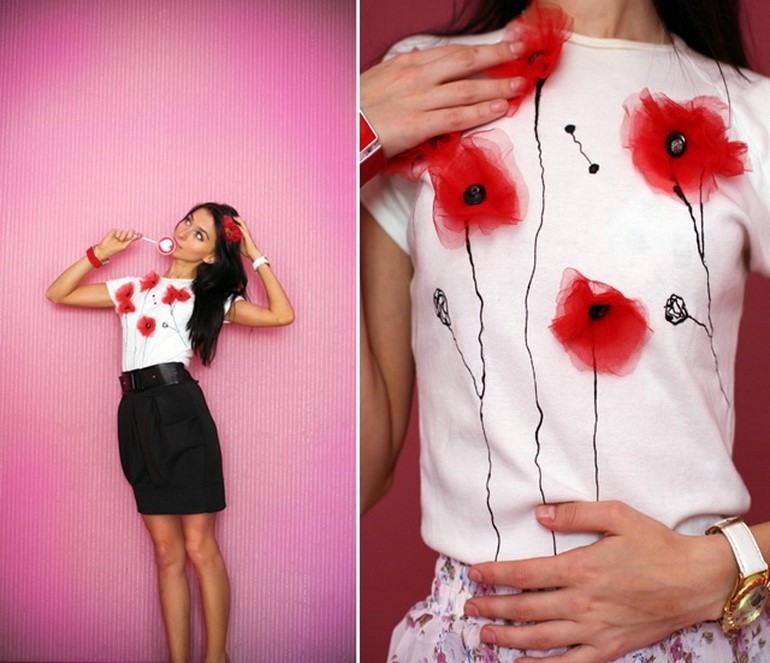 If we consider that customization is an alteration, reconstruction, a product change according to a creative idea, then this kind of creativity seems to have always existed. The generation of the 90s was engaged in customizing, making cool acid washed jeans at home. Moms of naugthy children come up with an applique or embroidery to disguise another stain or hole – this is also customization.
The simplest way to refashion a T-shirt is to decorate it with lace, beads, buttons, artificial rhinestones, sequins and any embellishments. This is something everyone can do. Redesigning and reconstruction, for example, a couple of T-shirts into a stylish dress, hand-painting with acrylic paints on the fabric or hand embroidery is already a high-level piloting of hand-made masters. This shouldn't scare you to to try, though.
Poppy flowers are great idea for summer T-shirts! Trace circles onto a red organza fabric using a pencil and a medium sized circular object (an empty jar or water glass works well). You can use circles of different sizes, as well. The number of circles depends on that how big you want your flower to be. Cut out the circles.
Light the candle and melt the edges of each organza circle above the flame. Combine all the petals in the flower and sew them together by applying beads of black and white color in the flower core. You can use just one big black button, as well.
Next, you have to paint the poppy stems on the plain white t-shirt. Basically, you can use acrylic paint on textile, but it won't bind so well to the weave of the fabric. Instead, you can buy a fabric paint or mix in an acrylic medium that turns any acrylic paint into fabric paint.
Position the flowers on the t-shirt to dicide where to paint the stems. Put a piece of cardboard inside the T-shirt so that the paint does not print on the back. Then, take a thin brush and black paint and start creating the stems. Allow to dry. Then sew the poppies to the stems. And everything is ready!
DIY t-shirt ideas using stencils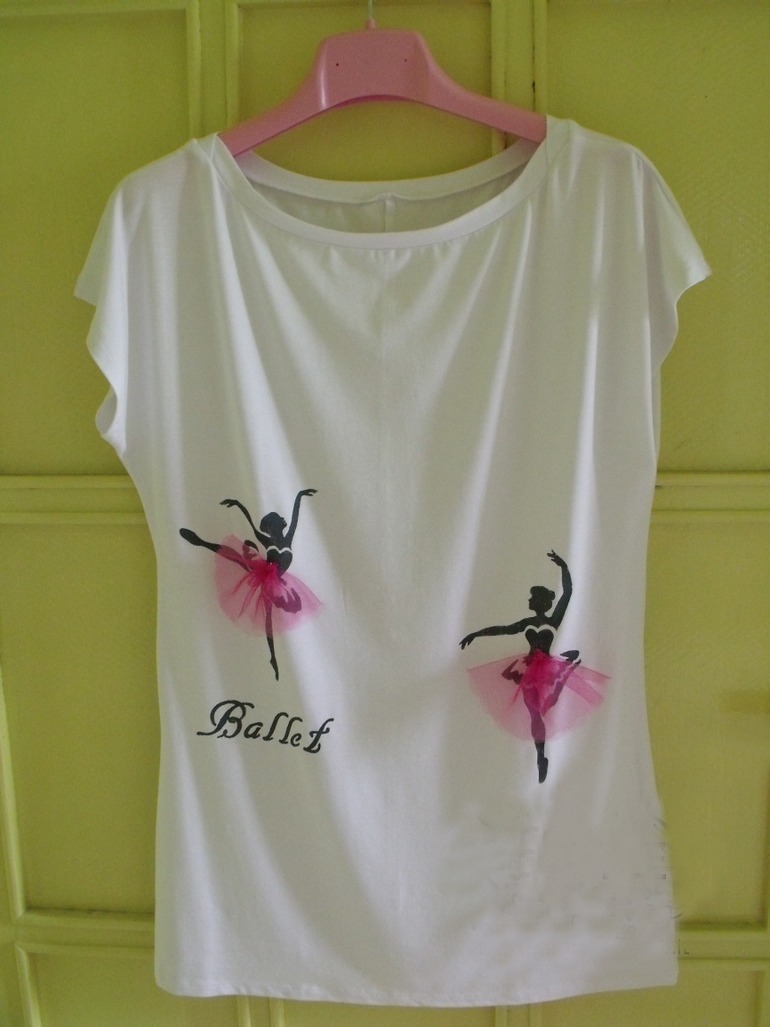 Another great idea for decorating a plain white t-shirt is stencling. But this is not enough. You can add some gorgeous 3D effects, as well. Like these pink tulle tutus that make the dancers even more beautiful. Hiere you can find the full tutorial from The Creative Lab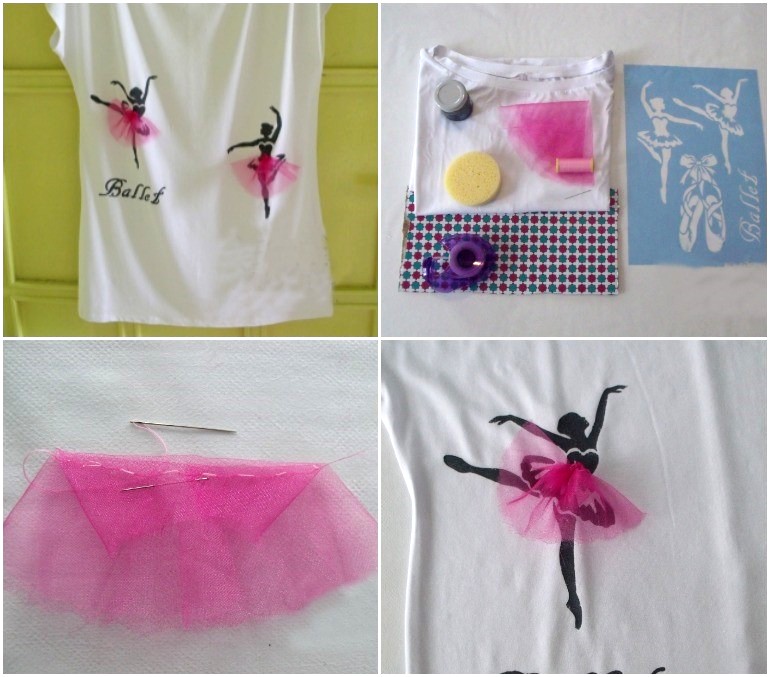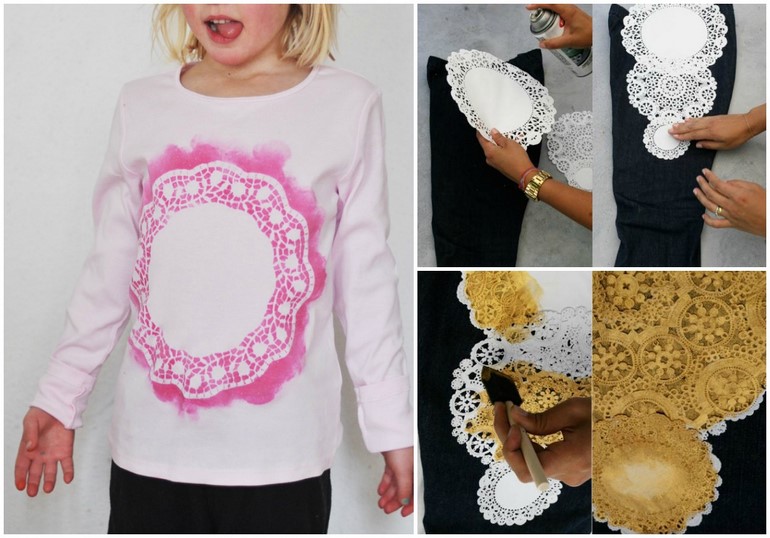 Paper doilies are great for stencling, too! The lacy pattern looks very romantic and beautiful not only on t-shirts but on jeans, as well!
DIY t-shirt ideas using textile markers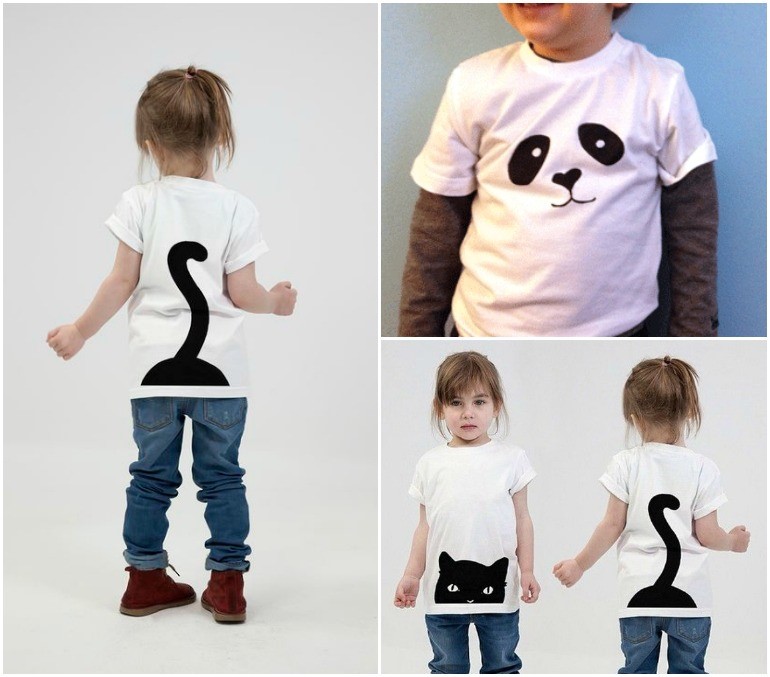 With textile markers you can draw and write on t-shirts, tote bags and canvas shoes! Textile pens are usually available in lots of bright colours but a simple black and white design works also great! For example, a cute panda face on the front or black cat tail on the back of a toddler t-shirt.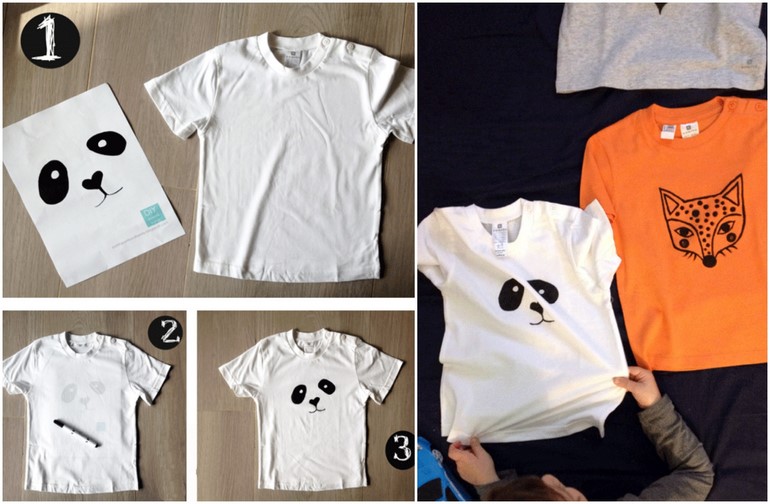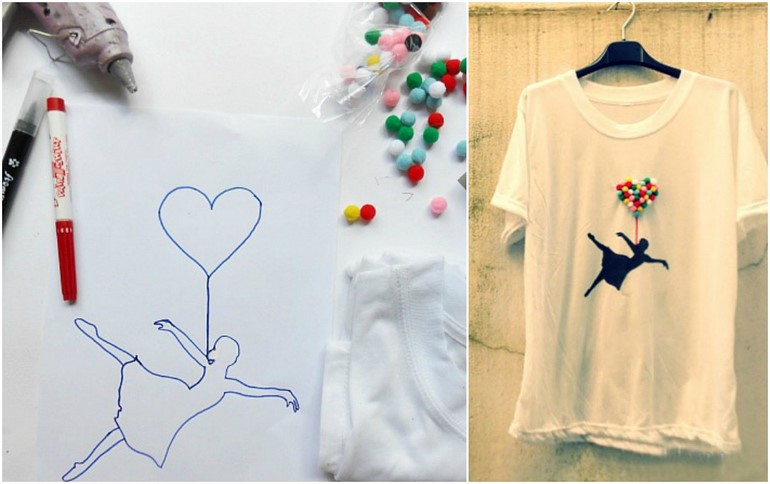 In addition, you can add a nice3D effect by using colorful pompoms. Your kids will adore their fuzziness and the bright colors! You can hand stitch the pom poms using a needle and a thread or just to glue them in place by using a textile glue.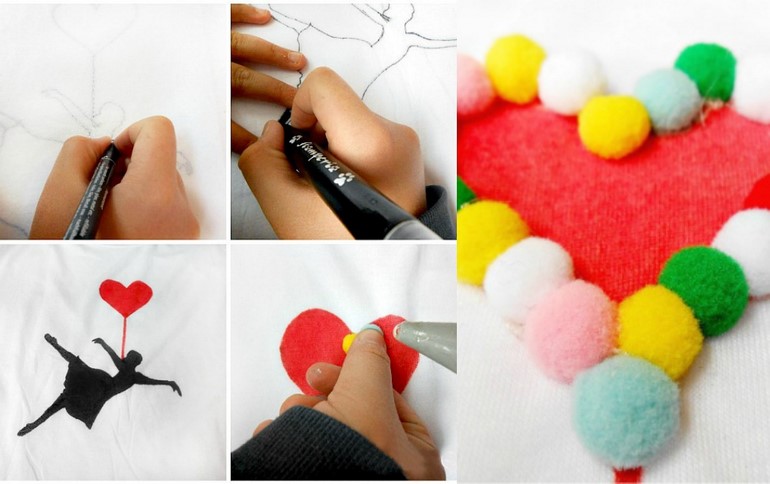 Add studs and let your t-shirt rock!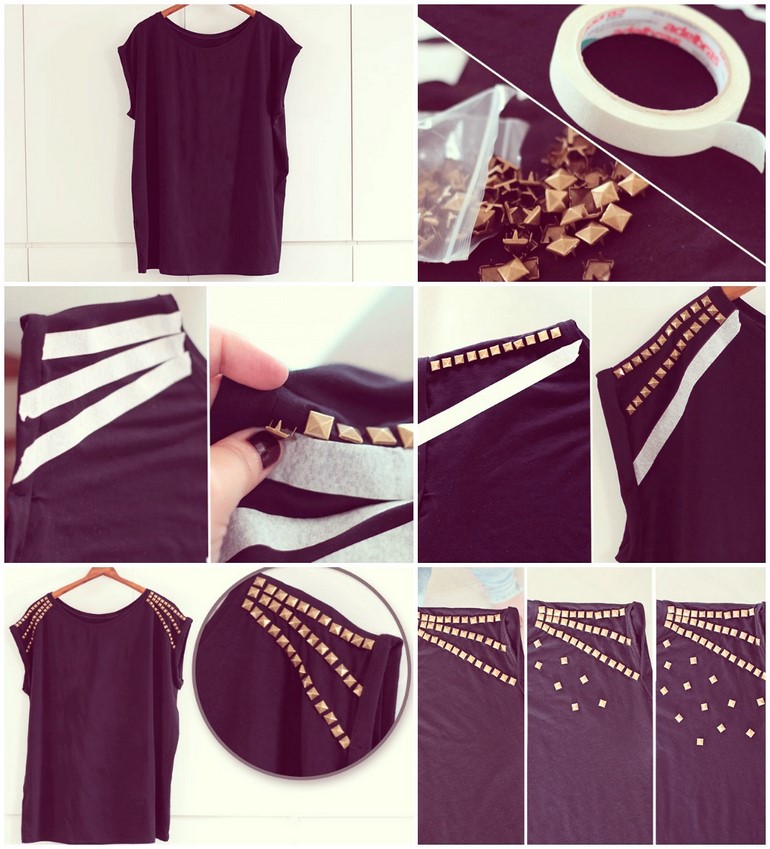 Studs are quite easy to work with and they come in a variety of shapes. If you don't like regular metal stufs, you can paint them with nailpolish. If you want to achieve straight lines, you can use a paper tape for guidance. Just take a stud and pin it in the desired place. Secure it on the inside with jewelry pliers by pushing the sharpy ends down.
Another option is to sew different kinds of rhinestones along the neckline and on the shoulders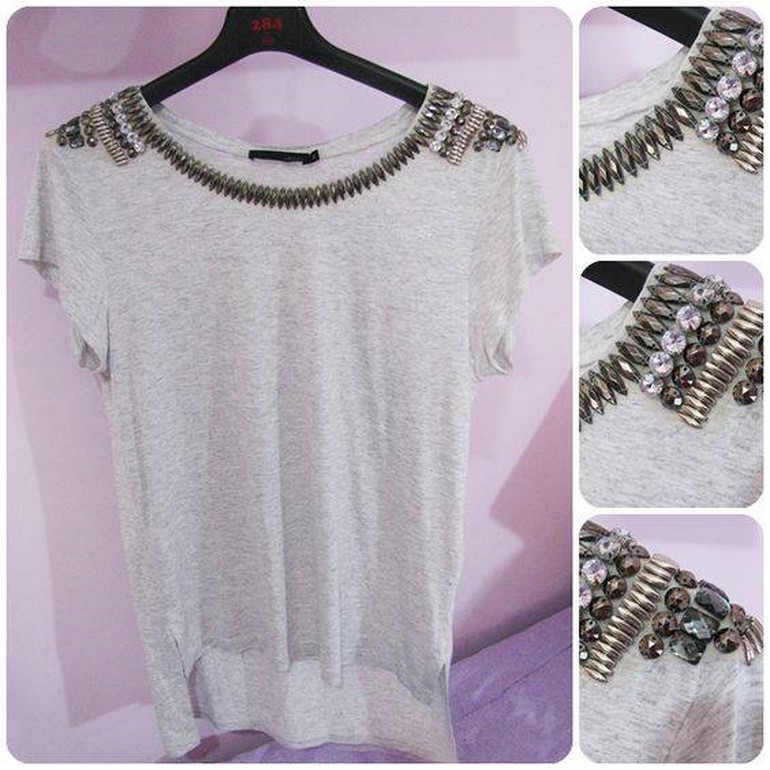 Sewing Felt flowers under neckline
DIY lace up t-shirts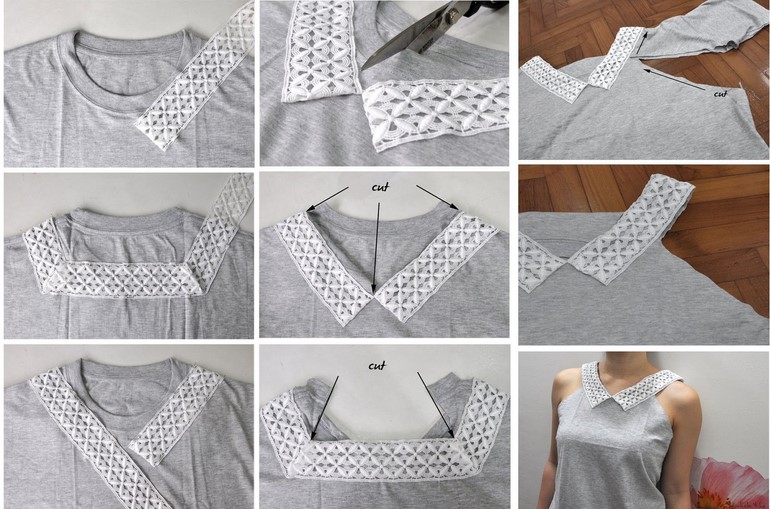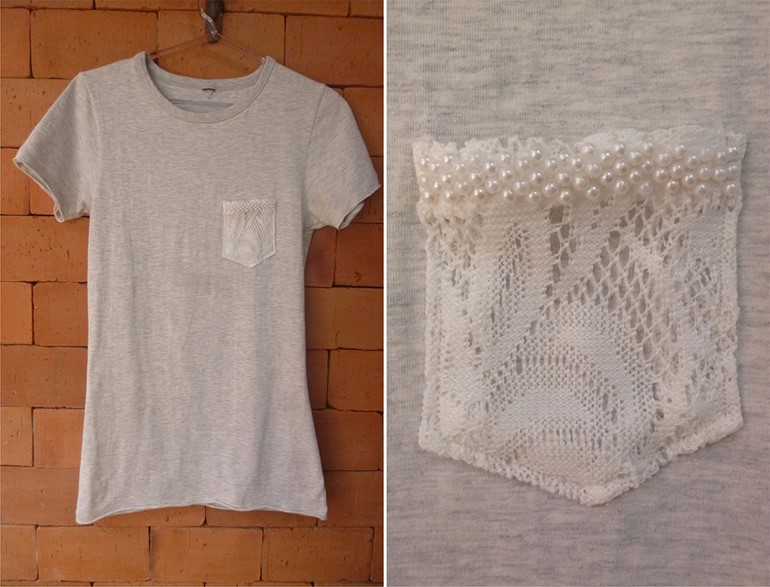 Another of these DIY T-shirt ideas suggests adding a decorative pocket. First, you need a paper template for pocket with pointed bottom. Place the template on the lace fabric and add seam allowance of about 3/8 inch (0,95 cm). You can find some free patterns online, as well.
Cut out your lace pocket and fold in seam allowance using the template as a guide and iron flat. Now use fabric glue or a sewing machine to secure the pocket on your t-shirt.
Another idea: add lace on the sleeves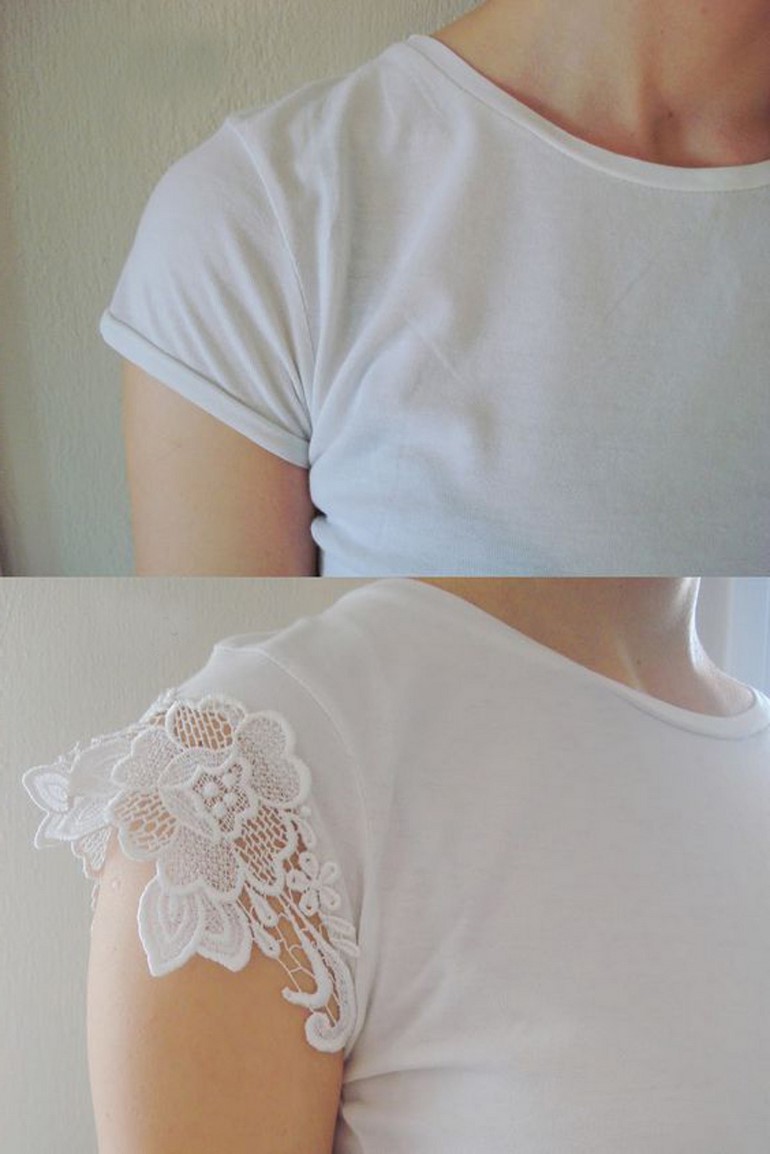 Lollipop toddler T-shirts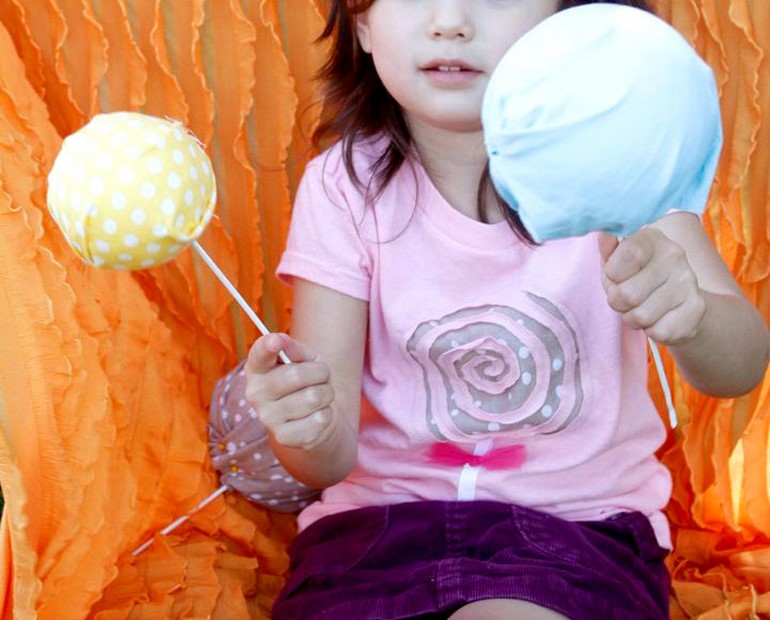 The next few projects are suitable for those that are love to sew with a sewing machine. You can find the full lollipop shirt tutorial on Ruffles & Stuff Blog.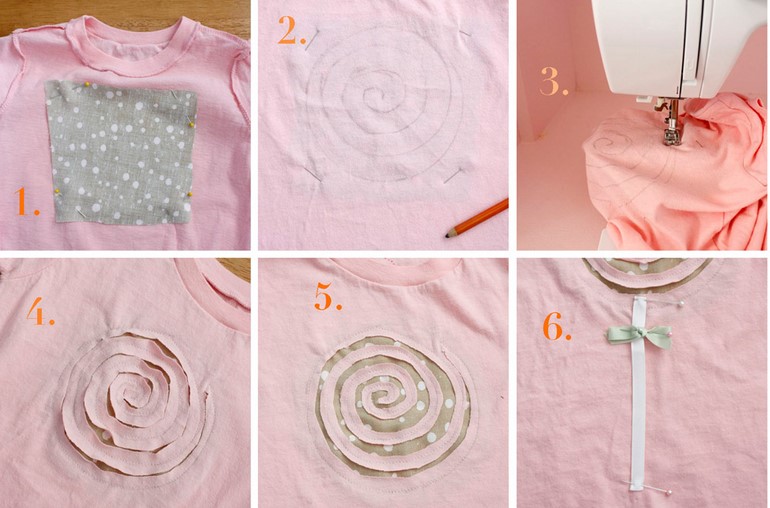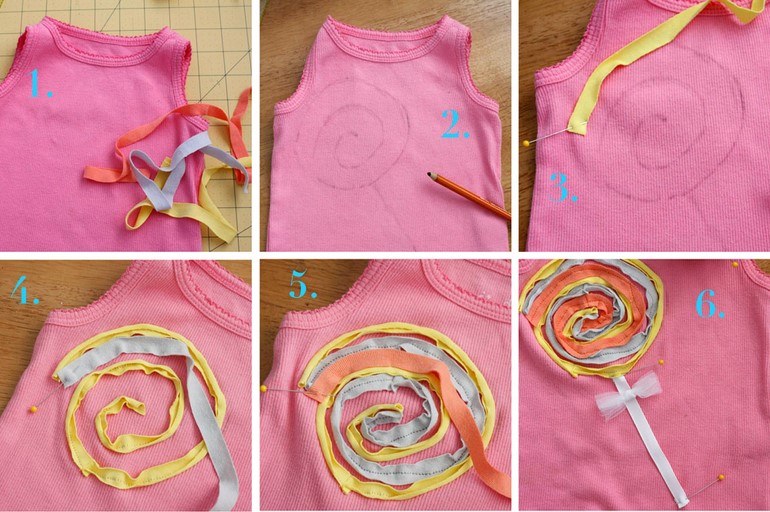 Create your own unique style, reworking clothes, quite simply. Even the most unusual ideas are welcomed, there are no restrictions for creativity. Here we have an ordinary white T-shirt. What would you do with it?