Valentine's Day
Amazing DIY 3D flower paper artwork made of folded hearts
This amazing and beautiful 3D paper artwork made of folded paper hearts will become an unusual decoration for your home interior. At first glance, you might think that such a work of art can only be done by an experienced artist or designer, but this is not entirely true. Such wonderful artworks can be done by kids, as well! In fact, there is nothing complicated at all. The main things you need are desire, accuracy and patience. A 3D framed paper artwork created by you or your kids will be the most meaningful gift for Valentine's Day, Mother's Day or for any other occasion!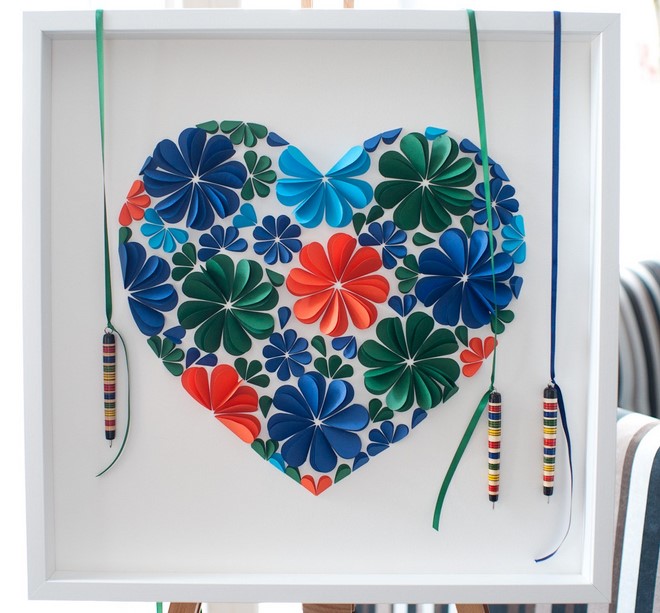 Required materials and supplies for this 3D paper artwork:
– colored construction paper (you will need either 3 different colors that go together or keep it monochromatic by using just one color)
– scissors and pencil or extra large and medium heart punch
– craft glue and small brush
– heart stencils of different sizes (optional)
– white card stock as background for the paper artwork
– basic white picture frame (like Ikea RIBBA frame)
Step 1:
The petals of every flower are made from lots of little paper hearts! So the first thing is to create them. You can either use a heart punch or cut out the heart shapes free hand.
The cutting out can be a little bit time consuming, therefor we recommend you trying this easy technique for creating lots of folded hearts in less time.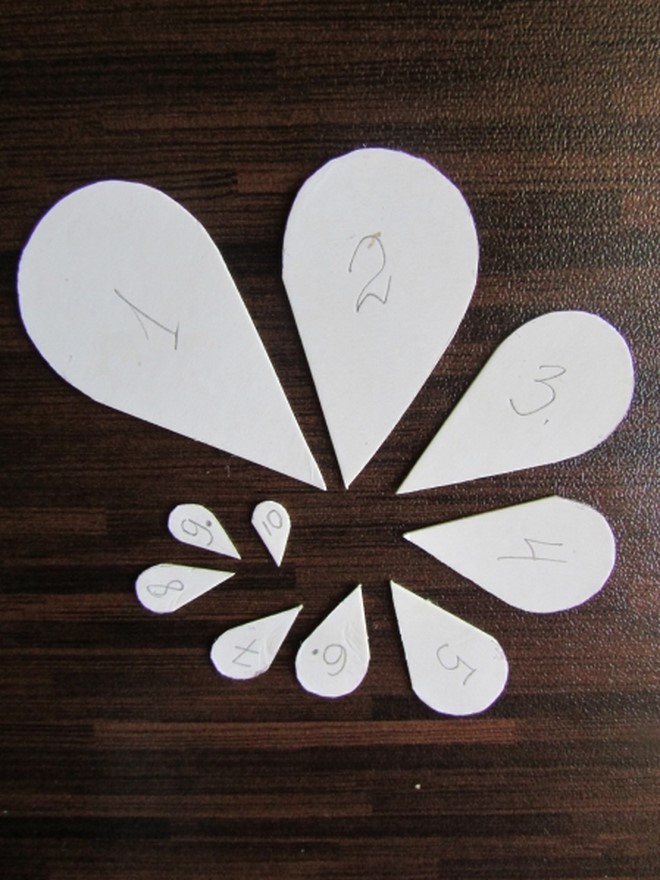 Form a card stock make stencils in various sizes. Then, take the colored paper and fold it four times. Lay a stencil on the accordion fold and draw the outlines using a pencil. Cut out the heart shapes.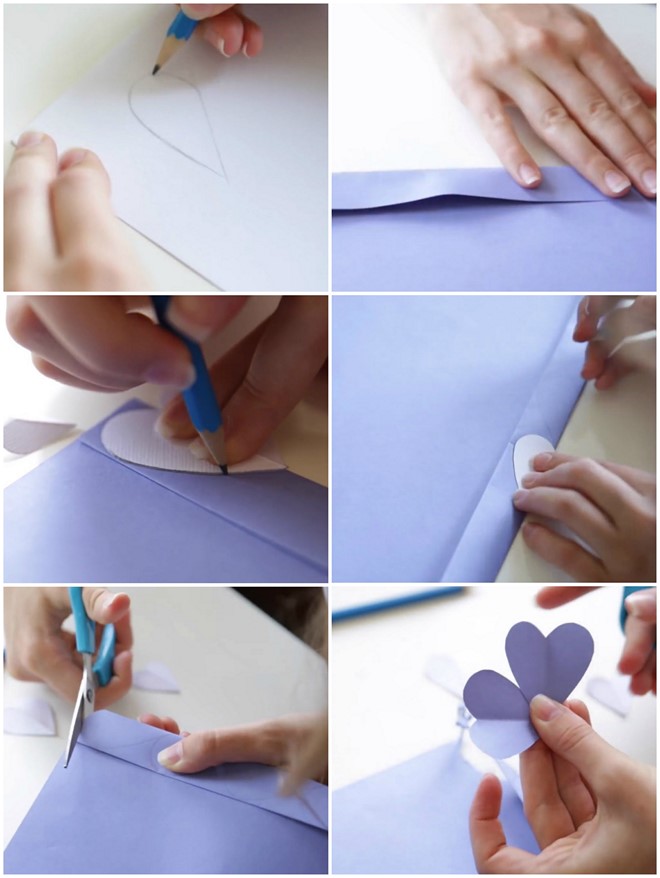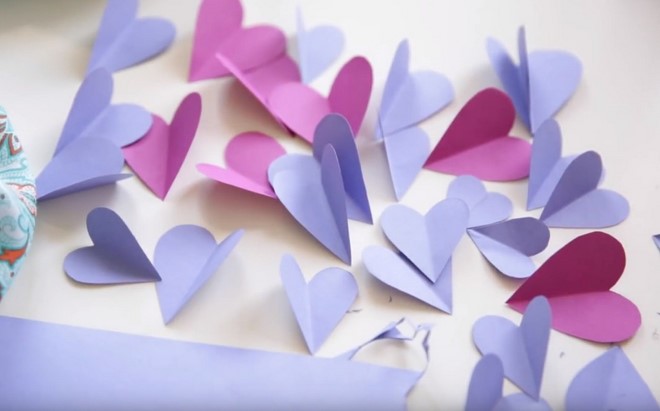 Step 2:
Once all the hearts were cut out, use a pencil to draw a large heart on the white card stock that serves as a background for our paper artwork.
Step 3:
Lay the petals of the same color and size together to form a flower. The whole flowers are made up of 8 half hearts. It's up to you how you design it and in what shape.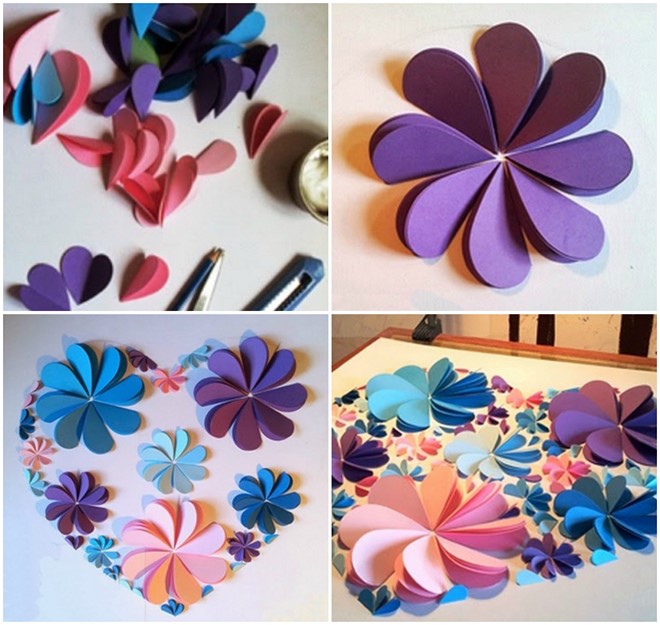 Step 4:
Before gluing the petals, it would be easier, if you mock the design on the white cardboard paper to get an idea of how many flowers you need and what the layout should be.
First, lay out a few large flowers, and then fill the space between them with the smaller ones. Use small petals along the line to form a border for the picture.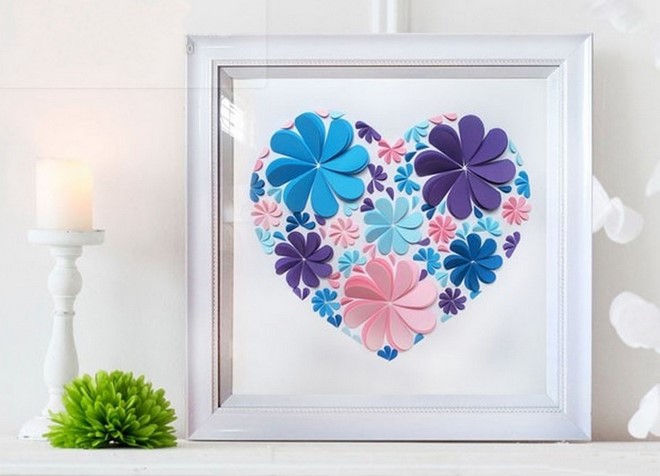 Step 5:
Using a small paint brush apply a little bit of craft glue to one side of the petal. Then, stick it to the card stock. Continue gluing all folded hearts until you are happy with the result.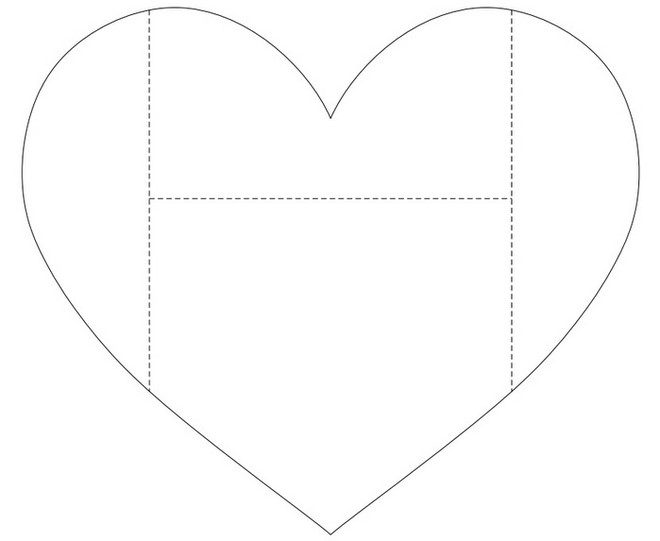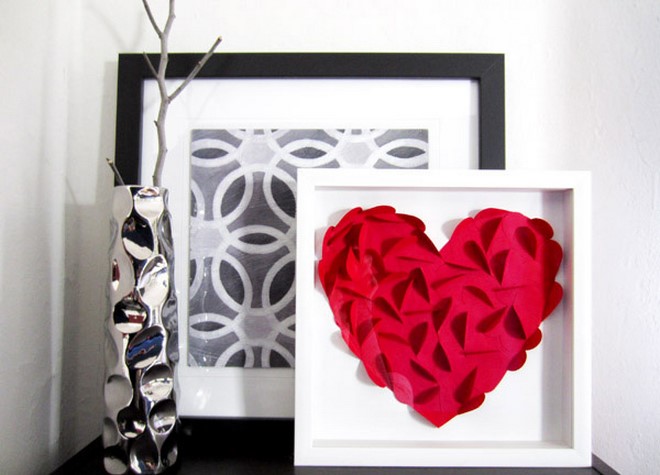 Another option is to arrange the folded paper hearts not in flower shapes, but more chaotically. This project requests less effort, because you work with paper hearts in the same size. Carefully paste hearts along the border of the heart template. Afterwards lay out the remaining folded hearts inside the large heart.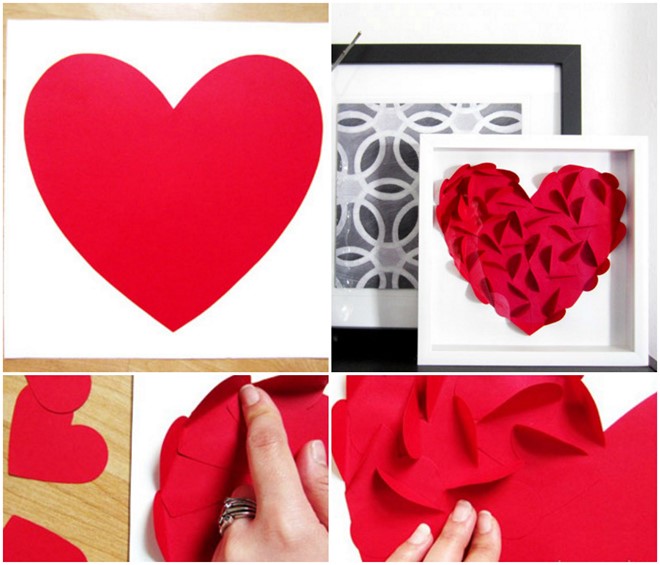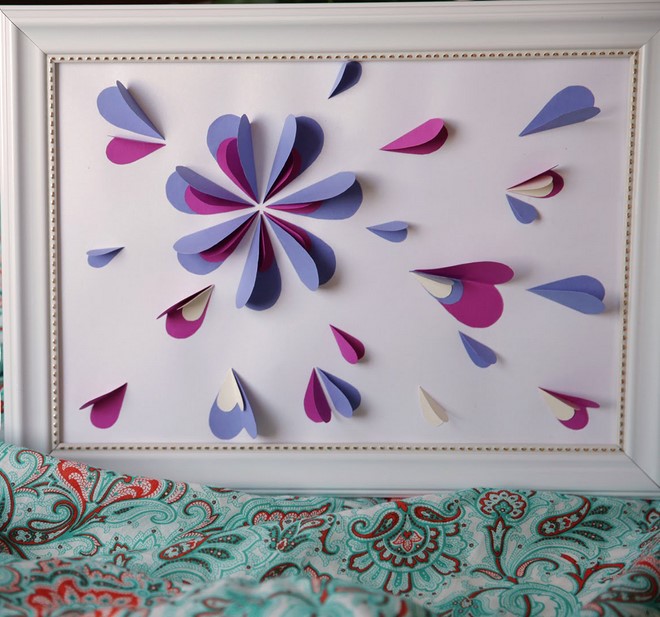 To enhance the amazing 3D effect that brings this piece of art, you can try this two-tone design by gluing smaller petals inside the large ones.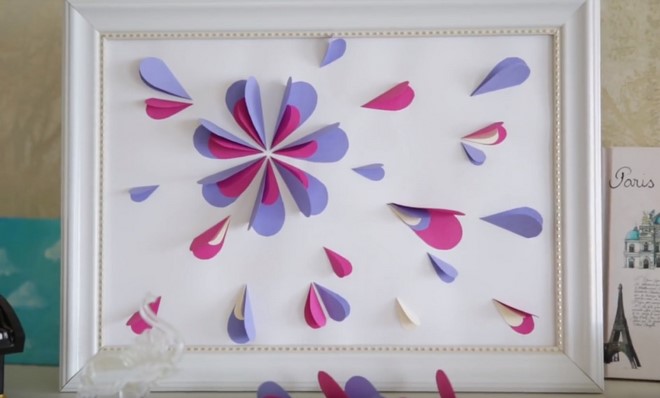 Instead of making framed paper flower wall art, you can decorate greeting cards and gift boxes, as well! Feel free to experiment with as many different color combinations as you like.