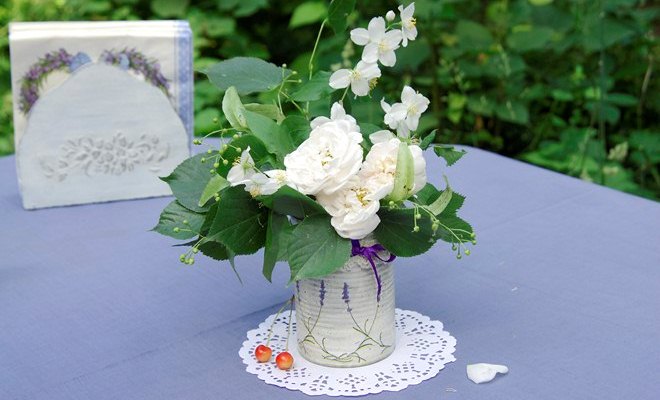 Decorating Ideas
Table decorating ideas – French Provence-themed dinner party
French lightness and freshness can be achieved easily and inexpensively on the table for a French Provence-themed dinner party. Pastel colors, simple elements and flowers, white-washed or artificially aged wood and many other small accessories – each of them can be found on the market, in the attic of a rural house or even can be created with your own hands. The main thing for the table decoration for a French Provence-themed dinner party is attention to detail. Have a look at these lovely French inspired table decorating ideas and create comfort for your guests.
Table decorating ideas with "French Provence" theme – Different styles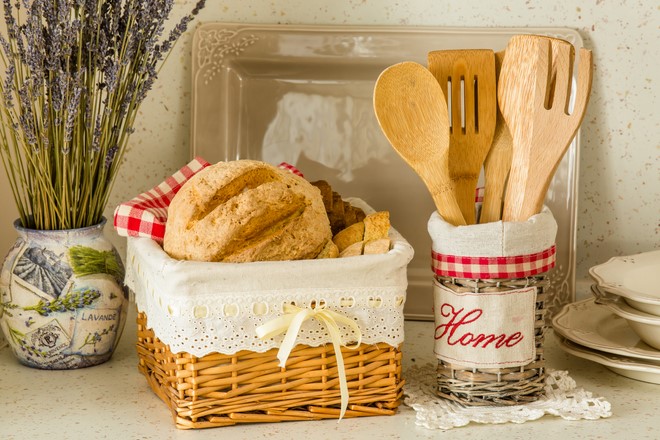 There are three versions of the "French Provence" style:
1. "Original" Provence. It takes only natural materials – not plastic or acrylic, just antiques and handmade furniture.
2. "Modern" Provence. White furniture, flower curtains like these of my grandmother tied with wide ribbons, ottomans and chests in French classics style. And of course vanity tables!
3. "Minimalist" Provence is very similar to the Scandinavian style, but it always features the same flowers on the curtains and lampshades, figurines of angels, birds and bunnies, clay pots and wicker baskets, elegant chairs and armchairs.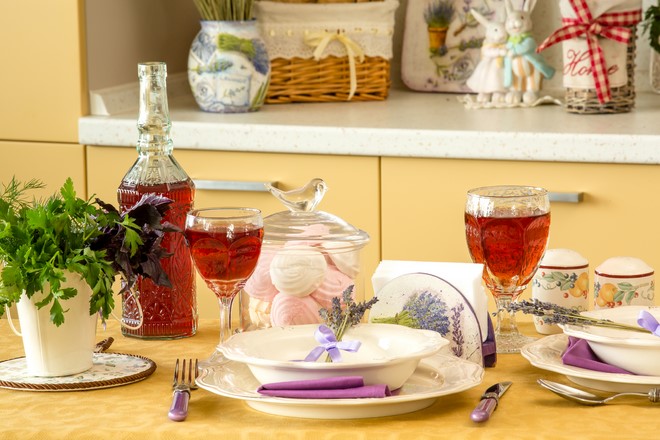 Characteristics of the "Provence" style in an urban apartment:
1. A sense of lightness.
2. Minimum furniture.
3. Fabrics with colorful prints.
4. Warm pastel shades. An abundance of white, pink and blue.
5. Natural materials: wood, clay, stone, linen.
6. A lot of medium-sized objects with decoration.
7. Atmosphere of coziness and comfort like in the house of your beloved grandmother.
Important!
– Do not mix any color and stick to one of the following options: subtle shades of yellow and red, pale pink, pale green and sky blue tones.
– Do not overdo it with floral motifs, they should not be too much.
– Do not forget about the stucco and sculptures.
– Find your own style. "Provence" can be bright, tropical featuring big flowers and colorful birds or can be reserved  – with pale young flowers, stripes, lace on monochromatic fabric.
– The more natural materials, the better and closer to the original. These include wood-beamed ceilings, stone floors, rough plaster, wrought iron candlesticks made of brass and copper. Although, these are not always appropriate for a city apartment. But hand-painted clay pots and vases, baskets, knitted napkins, bags of herbs – they are all easy to find and to display.
Kitchen and table decorating ideas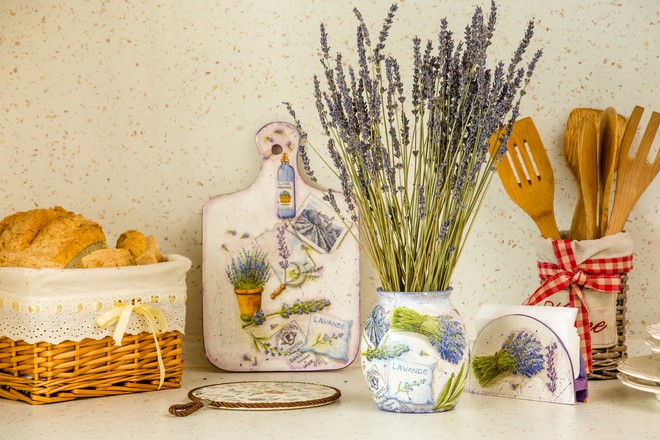 1. Lavender fields – an integral part of the landscape of French Provence. Put in a bowl dried lavender sprigs and feel the atmosphere of French Provence. Line the bread basket with lacy fabric and decorate a small wicker basket for kitchen utensils with ribbons in red and white plaid.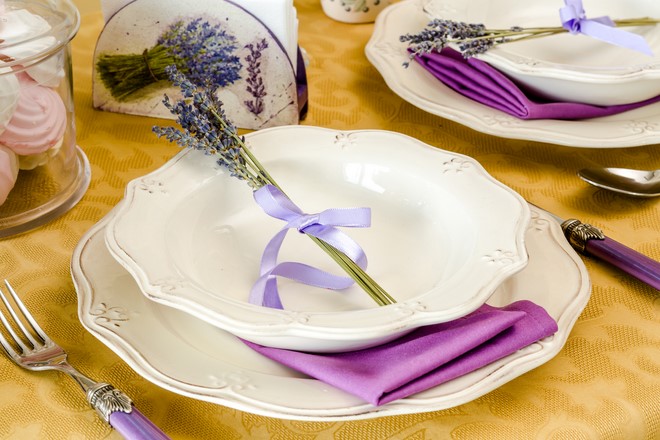 2. Take care in advance for napkins and lavender colored ribbons. Let your kitchen table features  off-whites and all shades of purple. Add a sprig of lavender on each plate.
3. Put bundles of green herbs such as parsley, dill and basil in white, pale pink or blue tin buckets filled with water and display them on the table.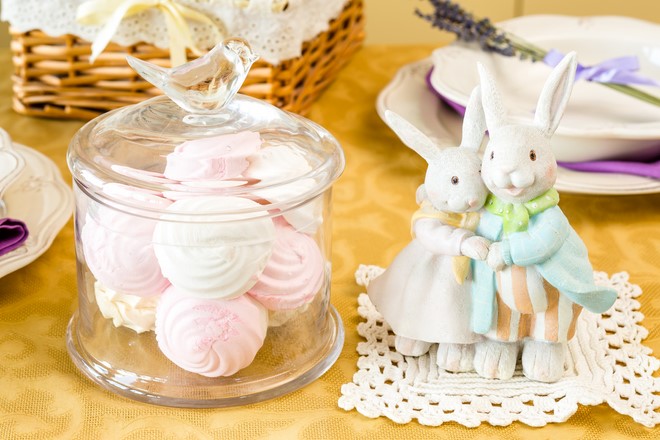 4. Do not forget about the wonderful figurines of birds and rabbits. They do not take up much space on the table, but create a sense of warmth and comfort and will make you smile.