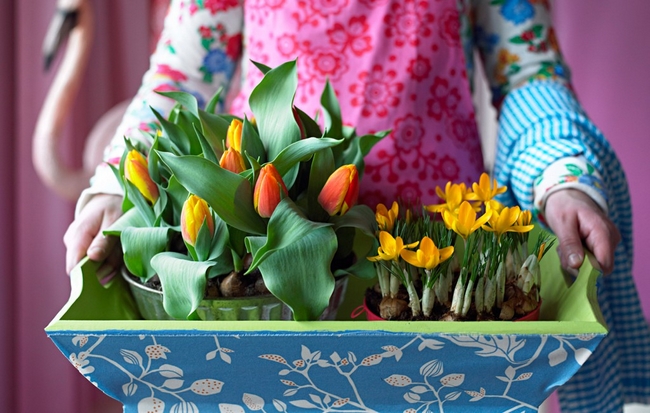 Decorating Ideas
Spring decorating ideas -Refresh your home with spring flowering bulbs
One of the most colorful ways to freshen up the house in spring is to decorate it with flowers and spring time is the time of blooming bulbs. From February you can find in garden stores numerous pots with flower bulbs that will usher the spring in your home. Cute, decorative and colorful, the spring flowering bulbs shine as a centerpiece on the table, on the dresser or adorn the entrance of the house. If you want to get creative, you can plant bulbs such as grape hyacinths, tulips, daffodils or crocuses in pots in the previous autumn to get gorgeous blooming flowers a few months later. Have a look at these lovely spring decorating ideas and colorful floral combinations that also smell spectacular.
Spring decorating ideas – How to cultivate bulbs in a flowerpot?
Typical spring flowers such as daffodils, tulips, grape hyacinths, hyacinths, snowdrops or crocuses may be planted in September or October. The bulbs do not have in any special demands on the soil therefore you can use normal flower soil. Leave the planted bulbs in a bright and cool place in the house. They don't need too much water, it's just important to avoid drying out the bulbs. The warm temperatures encourage early growth and flowering.
Spring decorating ideas for your home
Give the house a spring mood with spring-flowering bulbs potted in porcelain teapot, bowls or even cups. You can use different combinations during the planting but remember that daffodils should not be placed in one container with tulips, hyacinths and other flowers. If you prefer bright colors in home interior tulips, daffodils and purple hyacinths will fit well. In a modern interior you can use monochrome white colors like white hyacinths and tulips. Luscious floral arrangements will create a cheerful mood and your house will sparkle with new, bright colors!