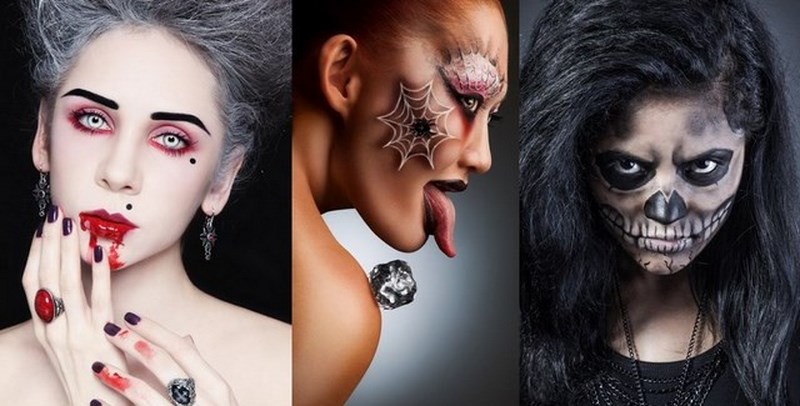 Halloween
13 scary Halloween makeup inspirations for women
You want an awesome makeup for Halloween? Depending on your costume choice you can paint your face like a vampire, a devil or a skeleton. How to do it? We present you a gallery of 13 great Halloween makeup inspirations and ideas for women.
Halloween makeup inspirations for women
 What do you need? Black crayon and/or matte black eyeshadow and black nail polish. You can choose between pink cheeks for a healthy-looking skin color or pale white face like a corpse bride. With white eye lens you will achieve the ultimate zombie look.
Just highlight the eyebrows with black pencil, draw a shape like a bat's wing on the eyelid and along the mouth corners and cut it in short stripes to achieve the effect of "a sewn mouth".
An elegant lady vampire
Vampires have a pale face so you need white face powder. Apply gently red eyeshadow on your upper eyelid while you highlight the lower eyelid. Paint eyebrows with black pencil and make distinctive moles above the lip and on the cheek. Apply a lipstick in raspberry shade. You can imitate dripping blood with a special cosmetics or lots of blood-red lip gloss.
How to make homemade fake blood? You can mix maple syrup, powdered chocolate, water and red food coloring. Do not forget the nails! Paint in shades of aubergine and burgundy. You can try to get gray hair with a special ink or hairspray, but we recommend you rather a ready-made wig.
Skull makeup for Halloween
 This pattern is a bit more time-consuming and it is for people with artistic abilities. Pay attention to the highlights, shadows and mid-tones which will make your makeup really realistic. If you are a fan of body painting then you can paint your neckline as well.
Makeup of a female vampire – artificial vampire teeth, fake blood, dark eyeshadows and faux eyelashes.
Black corset with black neck collar – both are very sexy for a vampire lady.
Halloween makeup inspirations – White, cracked skin like mummies or ghosts from the underworld. This look can try to get this look at home by using body paints.
Makeup for Halloween – female demon
Makeup and styling for hangman. Silvery-gray eye makeup and deliberately blurred from a dropped tear.
Another idea for Halloween makeup and styling for vampire. Purple eyeshadows applied on the upper part of the eyelid up to the eyebrow and and under the lower eyelids down to the beginning of the cheeks.