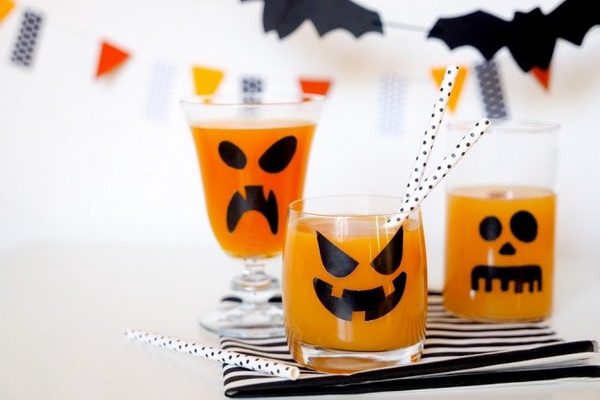 Halloween
10 quick and easy last-minute Halloween decorations to make
Halloween is approaching! Soon little ghosts and gruesome witches will move through the night …  In order to create a great atmosphere for Halloween at your home, you do not always have to buy the most expensive party supplies. Here are 10 quick and easy last-minute ideas for DIY Halloween decorations!
Halloween owl craft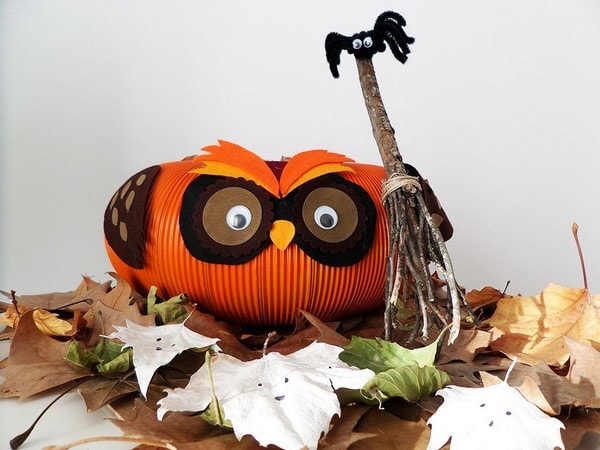 The first tutorial is about making an owl using unusual supplies. In this case for the base was used flexible aluminium air duct hose, which can be purchased in plumbing and hardware stores.
To make your owl you will need:
– Aluminium air duct hose for sale in hardware stores and on websites of building materials
– Orange spray paint
– Felt in brown, orange, and yellow
– Plywood, to make the base
– Sticks and leaves
– White acrylic paint and black marker
– Glitter of various colors
– White glue
– For the spider: black pipe cleaners and googly eyes
The flexible tube is closed in a circle and fixed at the ends with hot silicone or multi-purpose glue. Once dry, apply the orange color with spray paint. To do this, follow the manufacturer's instructions and try to do it in a well-ventilated space. Leave to dry completely. To hide the central hole that remains when making the circle with the tube, place a few dry leaves on top.
To make the face of the owl we have used some templates that are downloaded from the Internet. With them and felt of various colors, it is very simple to achieve the look of this nice nocturnal bird.
Once the owl is made, it is fixed on a base of plywood that is also decorated. For this, we need a few dry maple leaves. Some of them can be decorated as if they were ghosts, with white paint and making faces with a black marker. Others, with the glitter of several colors. For this, apply a layer of white glue and sprinkle glitter on it.
A funny detail that will give more charm to our pumpkin is a small broom. Ours is made with twigs attached with a string and, to top it off, we have placed on it a cute spider with googly eyes and made with black pipe cleaners. And if you want to complete your owl, finally you can add wings made with brown felt. As you can see the result is spectacular.
Last-minute Jack o' Lantern Drinking Glasses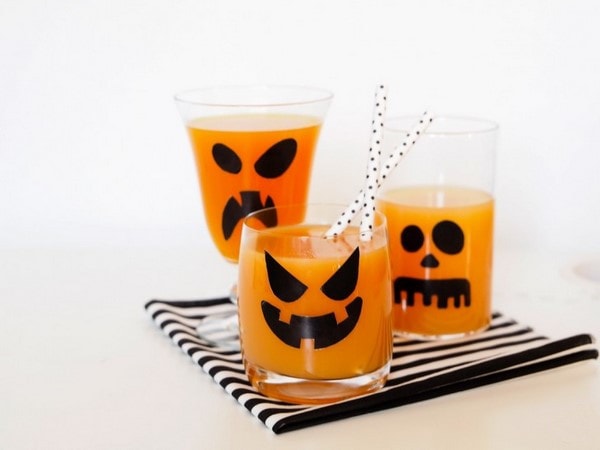 A beverage is a must at every party. Whether you are serving alcoholic or non-alcoholic drinks, you can decorate the glasses with these spooky faces.
You need:
• black self-adhesive paper (you can use just the black sheet from a pack of Multicolor Self Adhesive Sticker Sheets)
• pencil
• scissors
Cut the eyes and mouth from the self-adhesive paper, then paste them onto the glasses. Be original, so your faces will vary from one another and your guests will find it easier to find their glass again.
Play with shapes of glasses and various expressions.
Fill the glasses with an orange drink (for kids you can make freshly squeezed carrot juice) and serve with playful paper straws and black and white striped napkins.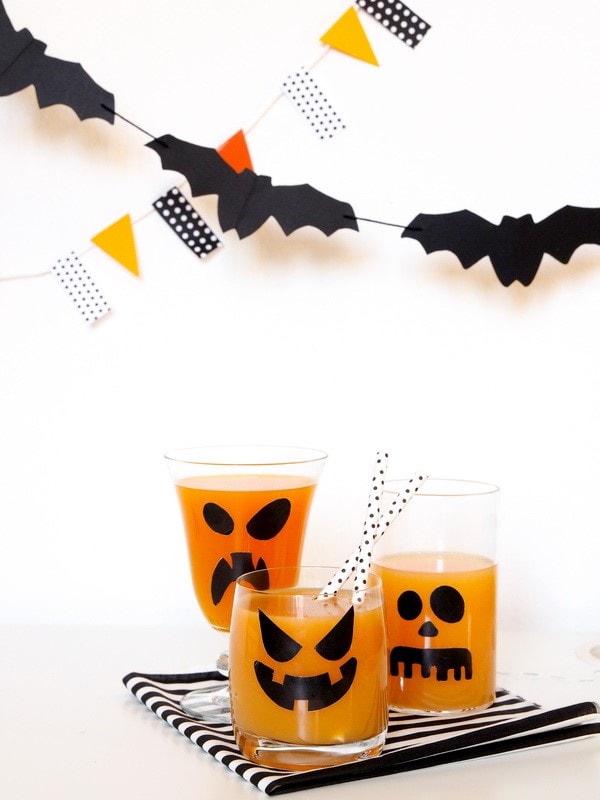 Another great idea from this collection of Last-Minute Halloween Decorations is to make a bat garland. Cut out bats from black paper and thread onto a piece of yarn to make a garland. Then cut out pieces from colorful decorative washi tape and simply wrap them around a piece of twine. You can use the free bat template from this post.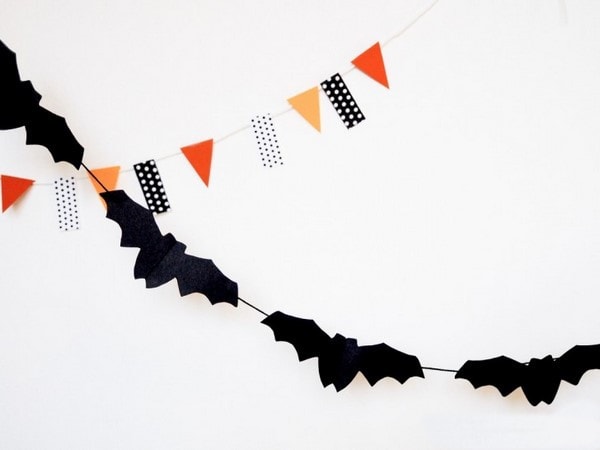 Last-minute Halloween decorations – Bloody candles


Light candles and place a few spooky accessories to create the perfect atmosphere for a Halloween party.
For this terrifying decoration you only need white pillar and taper candles, 1 red pillar candle, a few nails, and if you like a beautiful vintage candlestick.
Stick pins and nails into a white candle.
Light the red candle and wait a couple of minutes until the wax is melted.
Take the red candle and let the wax drip on white, creating the appearance of bloody red drops.
Let the wax cool completely.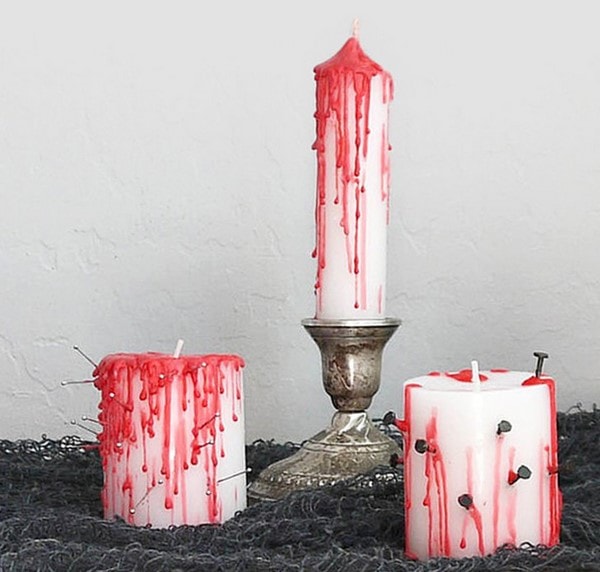 Last-minute pumpkins – Painted not carved
Instead of carving a Jack o' Lantern pumpkin, you can try to draw some patterns onto the pumpkin surface. You can either let your imagination run wild or work with templates. More detailed instructions follow below.
You need:
• pumpkins
• a thinner and thicker permanent marker
• cardboard paper
• scissors
• optional: double-sided adhesive tape
First, create templates that will help you to draw patterns.
On cardboard paper draw larger and smaller shapes like bats, circles, and petals and cut them out.
Place the templates on the pumpkin. If you want, can also tape them. Outline the templates with a fineliner pen and then color them with a thicker marker.
Draw some dots and doodles to complete your design.
IDEA: To complete the last-minute Halloween decor, you can use artificial ivy garland that you have spray-painted black.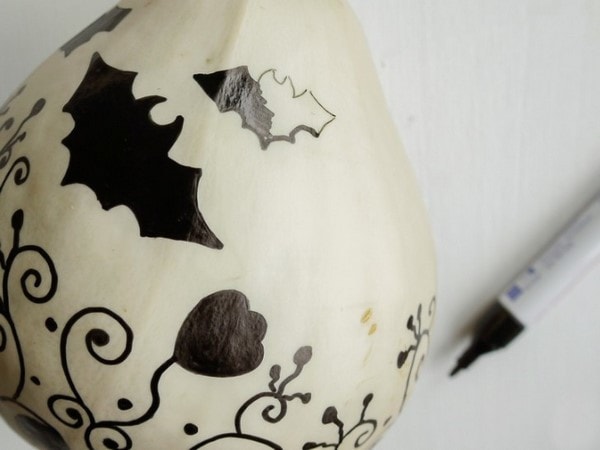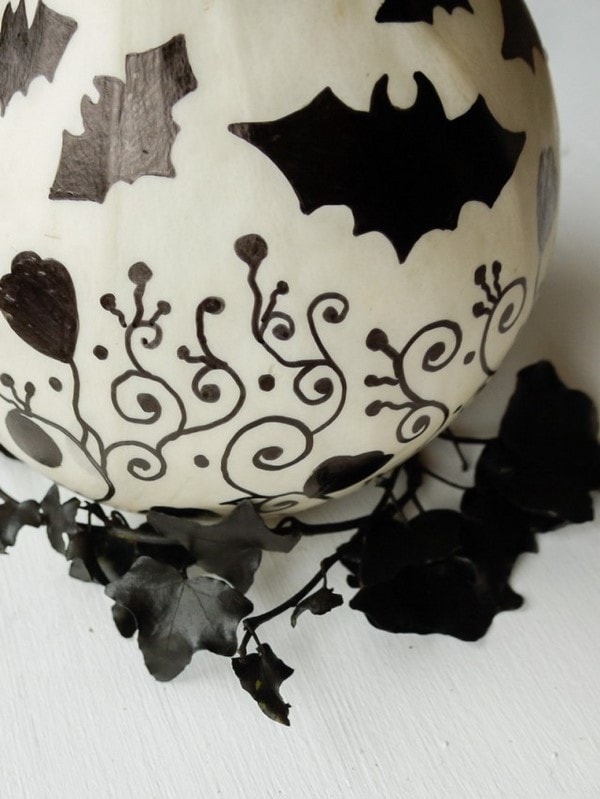 Spiders on the wall
Halloween spider webs are also very popular last-minute decorations. Using a black twine attach crocheted table mats on black embroidery hoops and sew or hang a rubber spider to complete the look. This DIY project can add some cool vintage flair to your Halloween decor or even complement a Bohemian-inspired setting. After all, celebrating a Boho Halloween is a huge trend!
Black cat string lights for the mantel

Add Halloween spirit to your living room by decorating the frame of the door, the windows or the fireplace with these cute string lights. Draw a template of a cat's head, cut it out, and use it to make several of those from black paper. Make the cats' whiskers from black yarn. Poke the lights through the cat eyes. Make sure you distribute the cats heads evenly throughout your garland.
Ghosts table runner for Halloween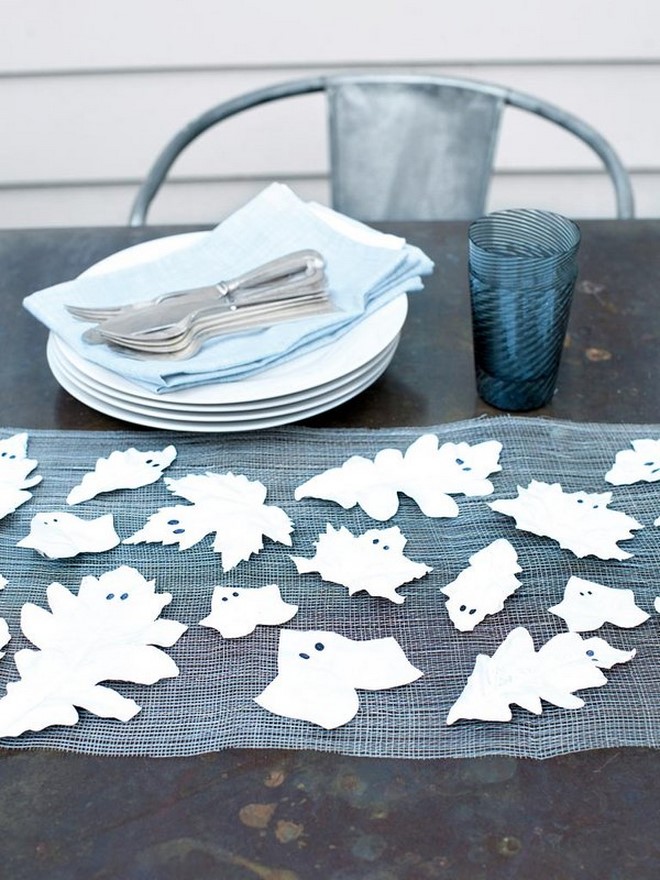 Delight your guests with a spooky runner on your Halloween table. Collect dry leaves on one of your autumn walks, paint them white with acrylic paint, and draw the ghost's eyes with a permanent marker.
Presenting cake pops and treats in Halloween style

If you always have candies ready in case kids knock on your door or you want to present your Halloween treats to family and friends in an original way, here is a cool last-minute idea. Just decorate glass fish bowls the same way as the drinking glasses and line with tissue paper to add to the theme. To make a ghost bowl use white and for pumpkins and monsters orange and red tissue paper.