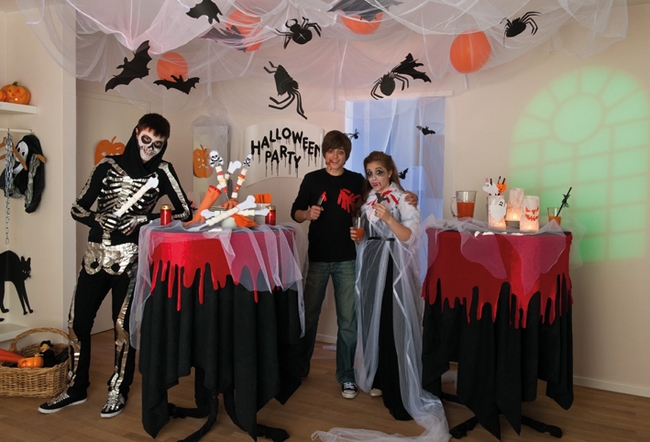 Halloween
5 ideas for kids Halloween party decorations + tutorials
On October 31, it's on again! Halloween is coming up. A good reason to throw a cool and creepy kids Halloween party. For a successful decoration use colors such as: black as the night, red as blood, and orange to match the Jack O'Lantern pumpkins. They will frighten away evil spirits. Here are some other Halloween party decorations and ideas.
Halloween party decorations for the table
To conjure up ghosts and bats on the table, you can use harmless sandwich paper bags. Stick all over them cut-out paper bats or icky spiders. Place inside a tea light to complete the horror effect. The templates for the lanterns are made of black or orange cardboard – cut out and glued to the sandwich bags. In a similar way you can easily create a "substitute pumpkin". Inflate an orange balloon and give him eyes, nose and mouth made of black paper.
Halloween party decorations and costumes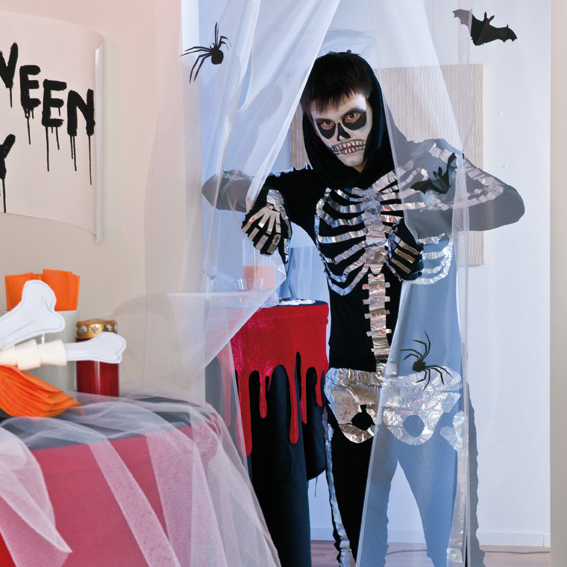 A cool kids Halloween party includes a decent costume as well. For this one here you only need a pair of black jeans, a black long-sleeved shirt or sweater and black gloves. The skeleton is made with aluminum tape. You can stick it to the clothes by laying them on a table or directly on you wearing them. Yet now paint a skull face that fit to the costume and we are ready to go!
 Halloween party food and table decor
At the cool kids Halloween party, a delicious food should not be missed. Whether you are making a pizza or choose some finger food – it's up to you. But the table decoration must be right. The beverages – decorated with spooky straws. For dessert – skull skewers and bone crusher marshmallows.
 Halloween party games
Kids Halloween parties offer the perfect stage for all kind of games with killers and CSI detectives. The "bodies" on a crime scene are usually highlighted. You can use for this a classic painter's tape. For the necessary blood dropping from the table just cut a red fabric tape shaped like blood drops and stick them on your clothes or on the wall. Cover the table with a black table cloth. Then cut a "blood-like" red cloth (red velvet is a very good option) and tape it with double-sided tape to the edge of the table.