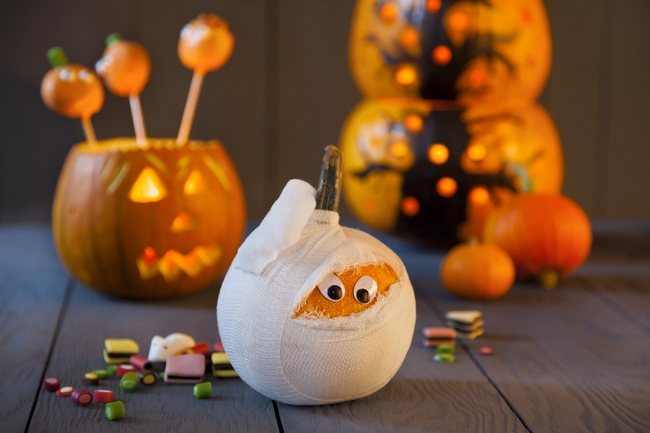 Halloween
Homemade Halloween decorations for one scary party!
Even the best party in the world is nothing without the right decor. Above all Halloween parties should be equipped with a lot of scary potential. With our Homemade Halloween decorations and decorating tips your party will be a great success!
Homemade Halloween decorations – A creepy party pumpkin
Those who think that pumpkins and Cake Pops are not a handsome couple are mistaken. Here four Cake Pop buddies are peeping out from a carved pumpkin. The shocking detail: Colorful fruit strings in the eyes and mouth bring an extra creepy factor.
Creep Flower Decorating Ideas
How could these flowers look so dusty, but they are not faded? You can get this scary-old look with the help of cotton wool and small decorative spiders. This bouquet belongs to any Halloween table and is sure to be an eye-catcher for your guests!
Homemade Halloween decorations with an eye contact
Who peeps out of the bandages? A pumpkin has decided to wear a mummy costume for Halloween. Quickly made with a glued gauze bandage from the first aid kit and a pair of googly eyes.
Tableware with Halloween look
It's really homemade! Just spray the dishes with black matte acrylic paint and let them dry well. Maybe you have some old heirlooms that need a "facelift"?
Pumpkin goodybags
In this bag in pumpkin look are hidden sweets! They not only serve as a table decoration, but even children who call at the door "trick or treating", would be happy to receive some of these! Quickly made of crepe paper and green fruit strings for tying the bag.
Witches' brooms with a secret
Little material, little effort, lots of Halloween mood! Take a rectangular piece of wrapping paper and begin cutting it into strips from two outer sides nearly to the middle. Place the candy in the middle, take a branch, lay the strips around the branch and tie with a black ribbon. Instead of a branch you can use a salt stick.