Decorating Ideas
Make easy fall decorations for home by using fruit pits
We will offer you interesting DIY ideas for fall decorations for home using natural materials. If you love to cook jams and compotes from apricots, peaches and plums during the autumn season, don't throw away fruit pits. Different fruit pits can be very interesting and decorative when used as craft material for decorating styrofoam wreath rings and tin cans used as candle holders.
Easy fall decorations for home – autumn wreath with fruit pits
To create these easy fall decorations for home, use the following materials:
– Pits of plums, peaches and apricots and cedar cones
– Styrofoam ring
– Brown acrylic paint
– Paint brush
– Hot glue gun
Paint the styrofoam ring with brown acrylic paint so that there are no visible white spots.
After the paint has dried, use a hot glue gun to attach the plum pits on the styrofoam ring so that its whole surface is covered.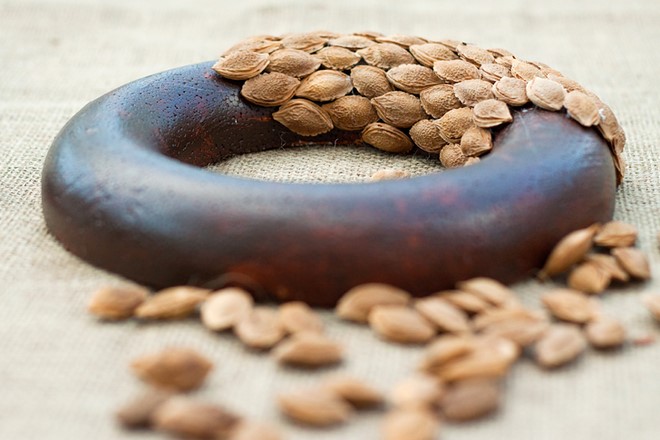 The process requires a bit more patience and precision, but the final result worths the effort. If you have additional fruit pits (eg. peaches), you can add them creating a second layer.
You can purchase these cedar roses online. Because of their colors they make a great addition to the fruit pits wreath.
And this is how our autumn wreath decorated with fruit pits looks like. How would yours?
Easy fall decorations for home – diy candle holder with fir cones and sacking
Fruit pits and cedar rose can transform a tin can in a great fall candle holder, too.
You need an empty tin can, a piece of burlap fabric and jute twine. Use again the same natural materials – pits of various fruits and dried grape vines.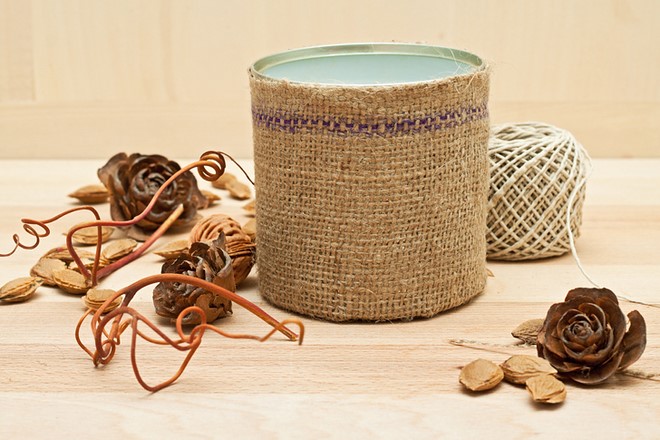 Frst, wrap the tin can with the burlap fabric to hide the shiny metal and secure the ends with hot glue.
Then, wind the jute around the tin can. On the one side glue three cedar roses, frame them with plum pins and finish the decoration with some dried grape vines.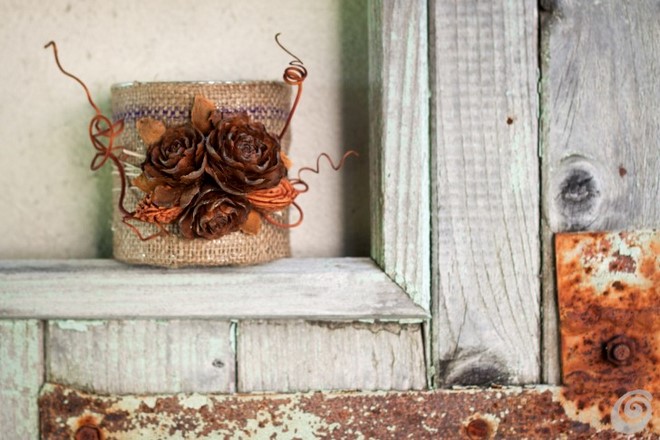 Place the decorated tin can at the window sill or use it as a table centerpiece.
Easy fall decorations for home – DIY shopping bag decorated with fruit pits
Using fruit pits you can also decorate a jute tote bag that can be a useful gift to someone. It is also an interesting way to express your creativity and environmental solutions in the use of shopping bags.
The material is very durable and biodegradable – an eco-friendly alternative to plastic bags.  Jute has pleasant natural color, too.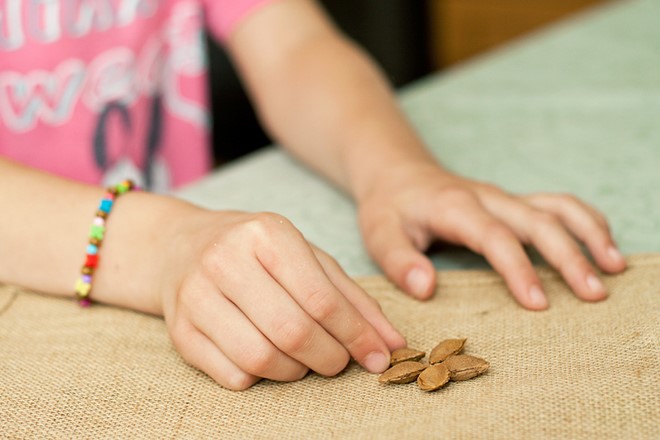 Decorate the bag with plum pits (or some other natural material, the possibilities are many) that are glued using a hot glue gun.
Crafting with fruit pits can be great fun, especially for children, but be cautious and don't let the kids use the hot glue gun alone.
Additionally you can embellish the tote bag with a decorative ribbon or anything else that comes to mind.