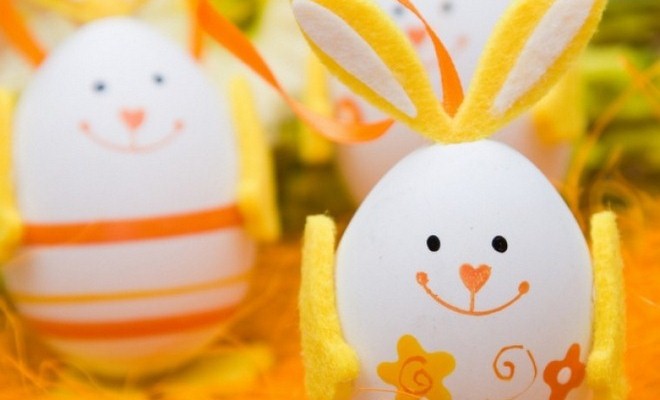 Easter
13 ideas how to decorate Easter eggs with various techniques
Everyone can work with egg dyes but this year we want to make extraordinary Easter eggs! Learn some new techniques and decorate Easter eggs in a fun and easy way!
1. Decorate Easter eggs with natural dyes
Materials: 1 kg red onions, cooking pot, 1 teaspoon alum, parsley leaves, hard boiled eggs, pantyhose, a cord, spoon, skewer, a bowl, scissors.
1. Peel the onions and place the peels in a pot.
2. Pour 500 ml of water to the onion peels.
3. Add 1 teaspoon of alum.
4. Let the mixture simmer quietly for 30 minutes.
5. Pour the mixture into a filter.
6. Allow to cool.
1. Tear a parsley leaf from the stem and place it on the egg. Wrap them in a pantyhose and tie it with a cord.
2. Carefully place an egg on a spoon for 30 minutes and dip in the mixture.
3. Take out the egg from the paint, stick the pantyhose on a skewer and hang to dry in a bowl.
4. Cut the pantyhose and carefully pull the egg off. Remove the parsley leaf.
12 Easter egg decorating ideas – Be creative and go beyond egg dyeing!
13 Easter craft ideas and decorations for kids and adults
Eco-friendly Easter – How to dye and decorate Easter eggs naturally
2. Decorate Easter eggs with paper
Decorate Easter eggs with papercuts are a real eye-catcher! Glue selected spots not so tight (like the tree leaves on the picture) so that a slight 3D effect can be created.
Materials: eggs, egg dye, templates, white paper, scissors, glue.
1. Dye the eggs.
2. Print out some templates and cut out.
3. Glue the papercuts on the eggs.
3. Decorate Easter eggs with confetti flowers
This needs some patience and sensitivity.
Materials: blown-out eggs, 1 piece of blue paper, 1 piece of light green paper, green or blue paint, brush, a paper punch, glue stick.
1. Paint the eggs and let dry.
2. Make confetti with the paper punch.
3. Glue on the egg 4 blue dots in a square and put a green dot in the middle. Make more flowers out of the remaining confetti dots and cover the whole egg.
4. How to decorate Easter eggs by using a cool marble effect!
Materials: nail polish in all kinds of shades, empty can, 5 plastic eggs, 5 skewers, toothpicks, beads, ribbon, hot glue gun and glue.
1. Fill a small container or an empty tin can with room temperature water.
2. Pour three colors of the nail polish on the water surface (approximately 10 drops). Swirl the colors a bit with a toothpick.
3. Put an egg on a wooden skewer.
4. Dip the egg slowly into the water.
5. Leave the egg about 5 seconds in the water and bring it up.
6. Stick the skewers in an egg carton and let dry.
7. Knot a pearl on a piece of cord.
8. Pour a drop of hot glue on the dried egg and push the bead.
5. Decorate Easter eggs with gemstones and glitter

Materials: 4 blown-out eggs, skewers, acrylic paint ( in turquoise, pink, green, yellow, white), kitchen sponge, gemstones ( in pink, green, silver, yellow), glitter glue ( in pink, yellow, green), glue, tweezers, beads, silver wire.
1. Place the egg on a wooden skewer.
2. Put some colorful and some white acrylic paint on an old plate.
3. Gently dab the color with a sponge, apply on the egg and let dry.
4. Glue gemstones in a flower shape on the egg. The gemstones can be set with a pair of tweezers.
5. Make dots or lines with the glitter glue. If you want to hang them on the Easter tree, thread beads on a silver wire and glue the cord to the eggs.
6. Decorate Easter eggs with decoupage!
Such patterns could never be made just with egg dyes! Fortunately, napkins help us here.
Materials: blown-out eggs, skewers, acrylic paint in green, napkins with floral motifs, decoupage glue, scissors, brushes.
1. Stick each egg on a skewer.
2. Paint some of the eggs with acrylic paint and let dry.
3. Cut out the napkin motifs precisely.
4. Remove the top layer of the napkin.
5. Lay the motifs on the egg and coat with the decoupage glue.
7. Decorate eggs with paint and thin brush

Sometimes you do not have to put a lot of effort to make really pretty Easter eggs. Simplicity is chic.
Materials: brown eggs, white waterproof paint, nest of twigs, feathers, organza ribbon.
1. Blow out and rinse thoroughly the brown eggs.
2. Draw ornaments on the eggs using a thin paint brush.
3. Lay the eggs in a nest and decorate with feathers and ribbons.
8. Quick idea with delicate paper patterns
Materials: paper stickers, red acrylic paint, sponge, glue stick, eggs, scissors.
1. Dab a few parts with acrylic paint and let dry.
2. Glue the paper stickers on the eggs.
Easter sewing crafts – How to sew a bunny sachet and a bunny treat bag
DIY Easter table decorations – Make original flower centerpieces
DIY Easter gift idea – Turning an egg in an incredible gift package
Make a cute Easter bunny basket for kids from an empty plastic bottle
9. Eggs decorated with mosaic technique
Materials for the mosaic eggs: clean out blew eggs, acrylic paint in blue and brown, tweezers, glue stick.
1. Paint the blown-out eggs as desired and let dry.
2. Crumble the shell of an egg into small pieces.
3. With the help of tweezers glue the pieces to the eggs.
10. Romantic pastel hues
The pastel tones on those eggs fit in a romantic and nostalgic arrangement.
Materials: eggs, tinting paint in pastel shades, several bowls, skewers.
1. Blow out and wash thoroughly the eggs.
2. Fill the bowls with tinting paint and mix it with some water (not too much water).
3. Dip eggs halfway into the paint and allow to dry standing, on a wooden skewer.
11. Decorated with yarn
Materials: eggs, thin double-sided tape, wool, pins with pearl head, all-purpose glue, scissors.
1. Blow out the eggs, rinse and let dry.
2. Stick double-sided tape all over the eggs.
3. Start to wrap up the egg in yarn.
4. Make a loop for hanging from a small piece of wool and secure in the upper hole with a pin and all-purpose glue.
12. Decorate Easter eggs with chalk
A huge fun for kids. The chalk, that they know only from school, could be used here.
Materials: Chalkboard paint in pastel hues, sponge, blown-out and washed eggs, chalk.
1. Dab chalkboard paint with a sponge brush on the egg.
2. Allow to dry.
3. Draw different patterns with chalk on the egg.
13. Decorate Easter eggs with cotton
This technique is really easy and each Easter egg will be unique. You need just some cotton, different colors of egg dye and a spoon. The cotton should be enough to cover the egg. Roll out the cotton on a clear plastic bag or foil and drizzle egg dye onto the cotton in the desired pattern. Use different colors o egg dye. Then wrap the egg completely in the cotton, roll it a bit in your hands and leave for 6 – 10 minutes. Then tear the cotton and pull out the egg.