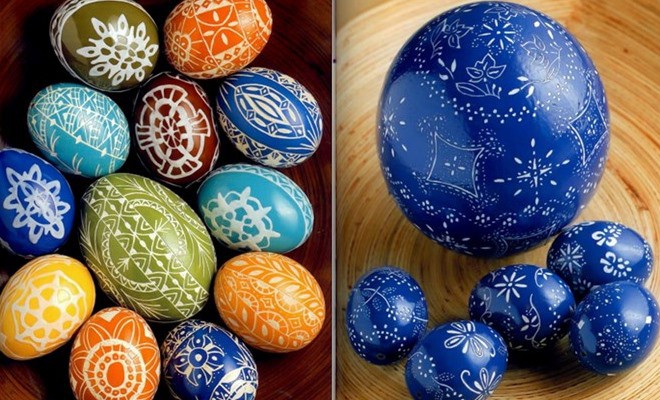 Easter
47 easy Easter egg crafts and egg decorating ideas for kids and adults
Decorating Easter eggs is a classic holiday activity that brings the family together. It can be messy, but certainly fun for both kids and adults. Celebrate the Easter egg tradition by creating these creative Easter egg crafts! They will bring you in holiday spirit and encourage kids to get off the couch and have a good time. Your children will be proud they contributed to the Easter home decoration.
Easter egg crafts for kids
 For these craft projects it would be better to blow out eggs and use only the empty eggshells. Without the egg white and your your blown out eggs won't spoil and can last for years. To hollow out eggs at home you don't need any special tools just a needle or a pin, a syringe and a bowl.
Easter egg decorations on sticks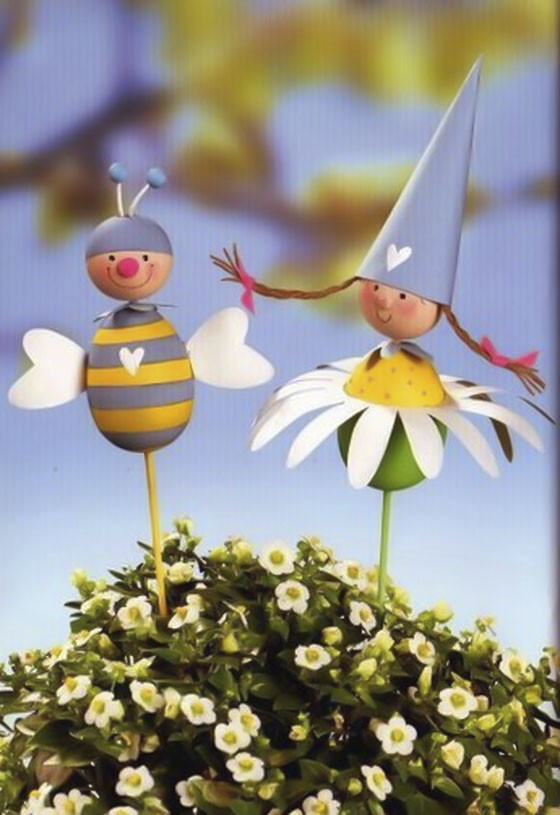 Poke two holes in the egg using a needle or pin. Make the initial hole smaller and the end hole at the bottom slightly larger. Then make the holes bigger, so you can get the egg contents out. Pierce the yolk using a needle or straightened paper clip to break up the membrane that keep it hole.
Easter egg crafts for adults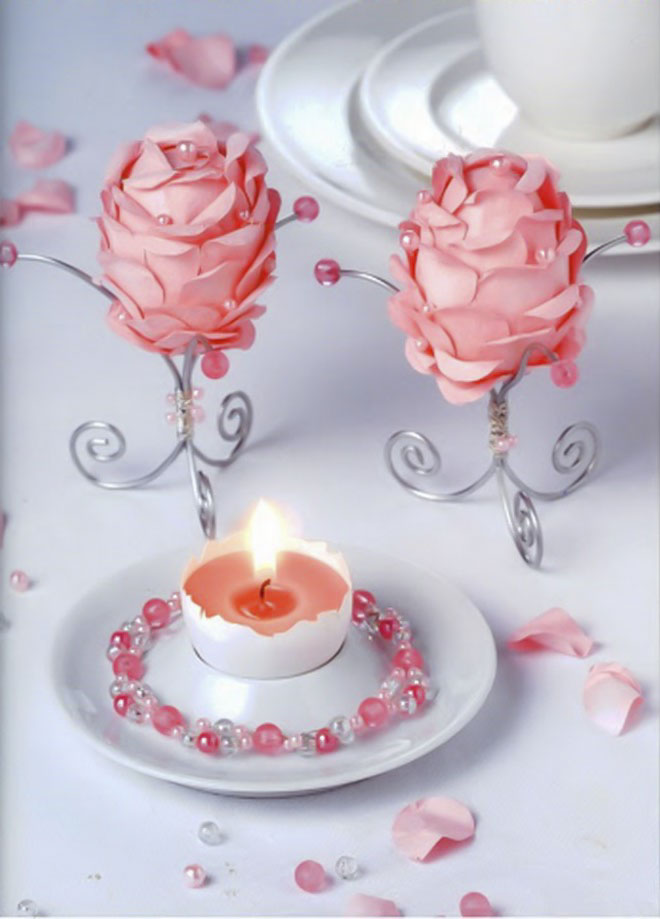 Decide how you want to hollow out your eggs – with a straw and air from your mouth or a syringe. Hold the egg straight above a clean wide bowl while you are blowing the egg. Push air or water through the hole, letting the insides flow out from the larger hole. If you use water, you may not be able to save the egg yolks and whites for other dishes. Do this until all the egg contents are out. Rinse well the empty eggshell and let it dry. Optionally, bake the eggshells in oven on 300 F or 150 C for 10 minutes to make them stronger.
Fabric covered Easter eggs looking like pine cones or artichokes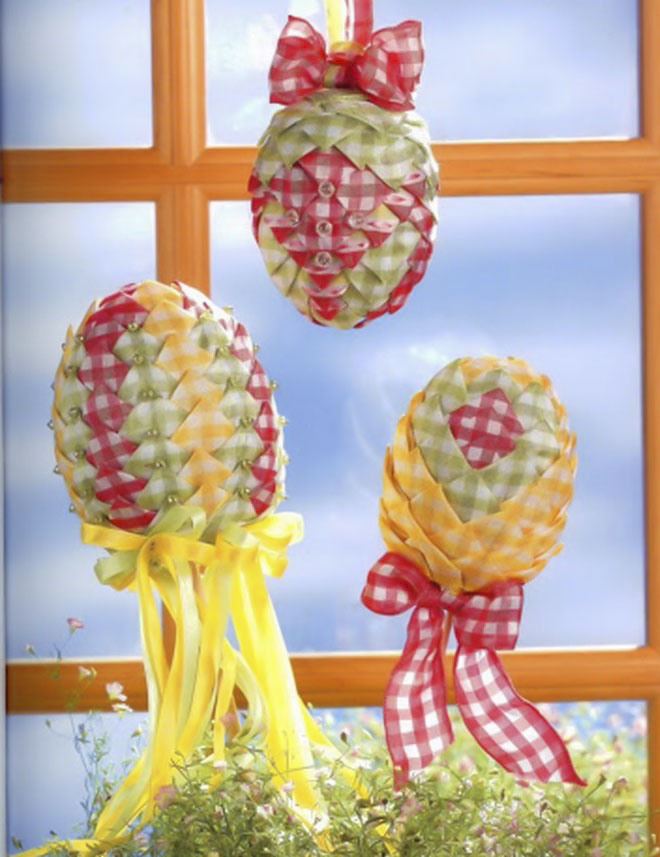 For some of the DIY projects you can use styrofoam eggs, as well. For example for these artichoke Easter eggs. The fabric pieces are attached to the egg with pins building interesting layers.
Boxwood topiary balls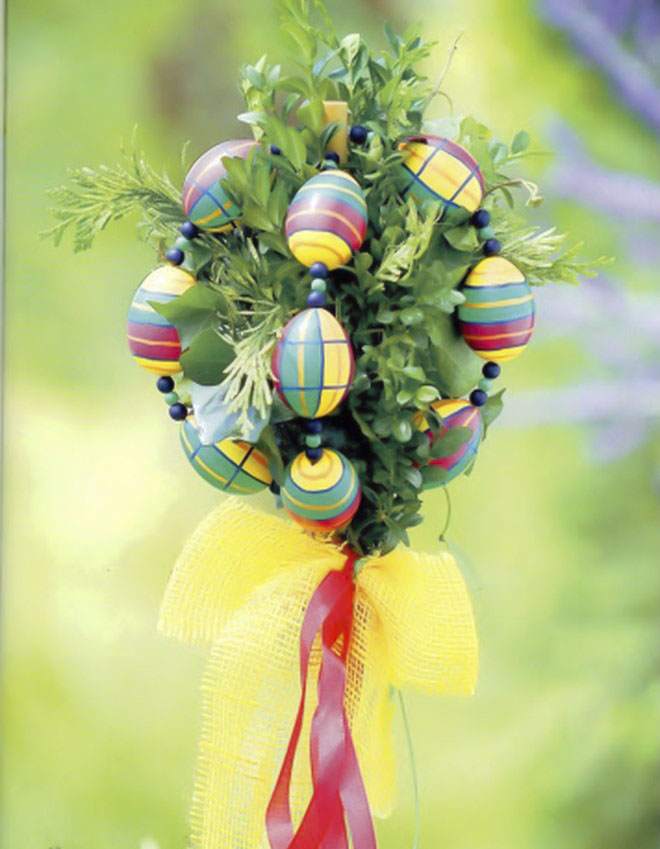 Make garlands out of hollowed out eggs and wrap them around medium sized boxwood topiary balls. Big yellow ribbon adds the finishing touch. Hang these decorative balls with thread or tie them on garden stakes to make a beautiful Easter yard art.
DIY egg fairy lights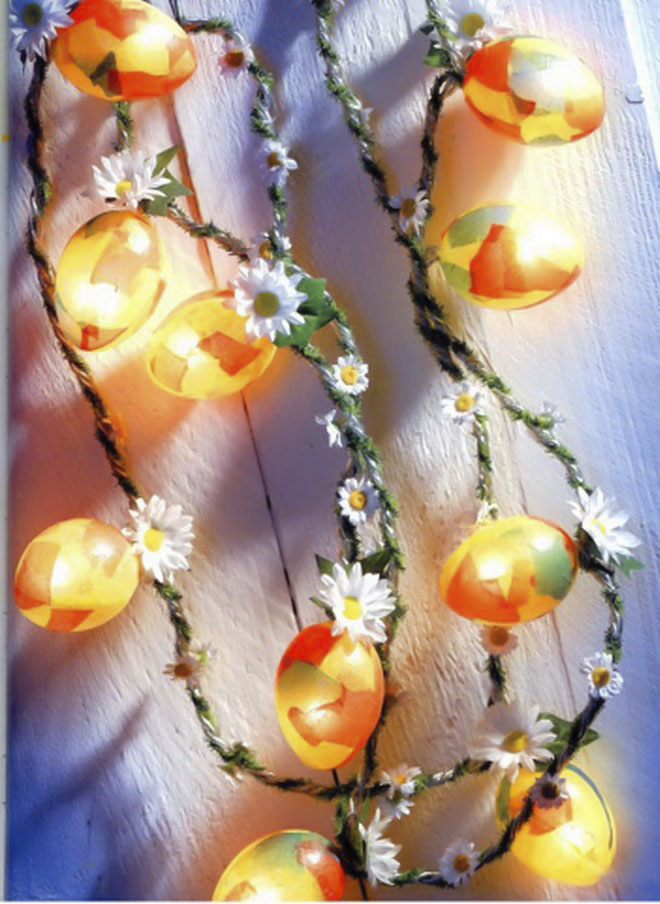 Decorate blown out eggs with overlapping pieces of tissue paper. Use different colors. Attach all the eggs to the lights chain.
Beautiful decorated Easter eggs on sticks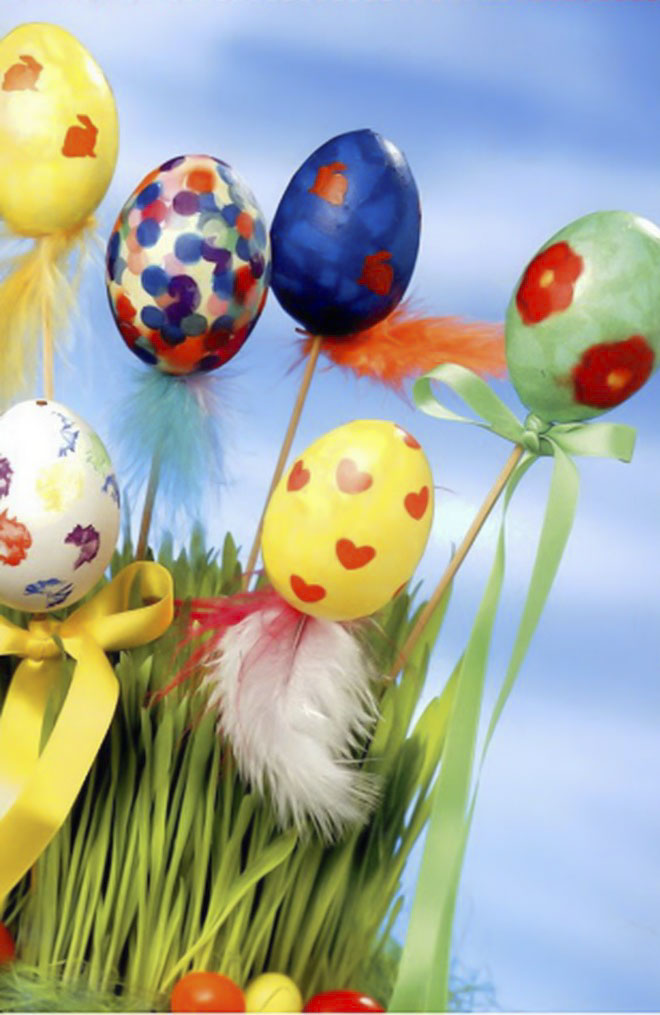 Stick these Easter decorations in a plant pot or put them in a vase between spring flowers. Use colorful craft feathers and ribbons at the point where the skewer and egg shell meet.
decorative plant pot sticks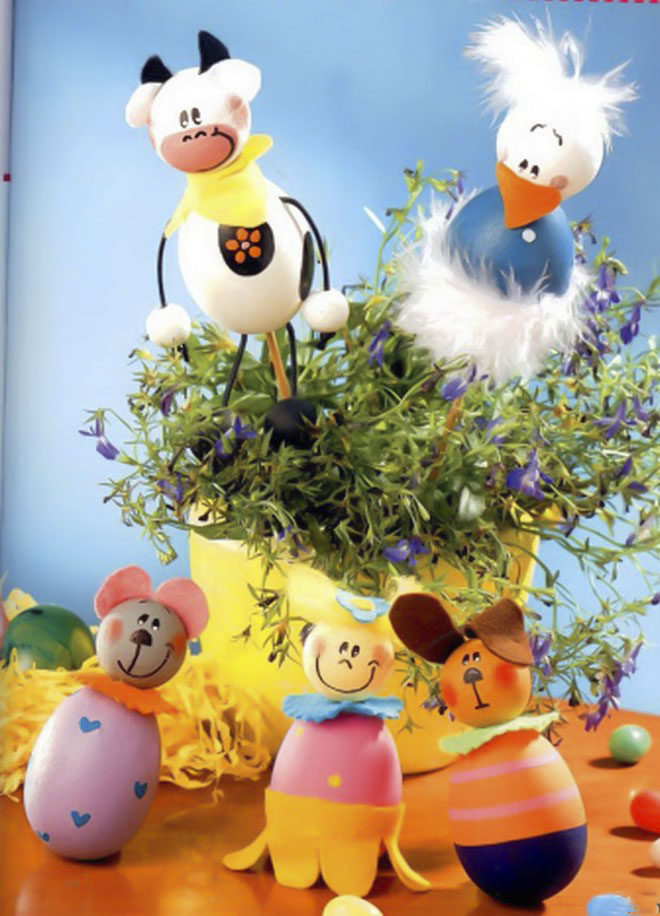 Use wooden beads to make heads for the animal puppets. Paint smiling faces and use felt pieces to make ears, beaks, hats and collars.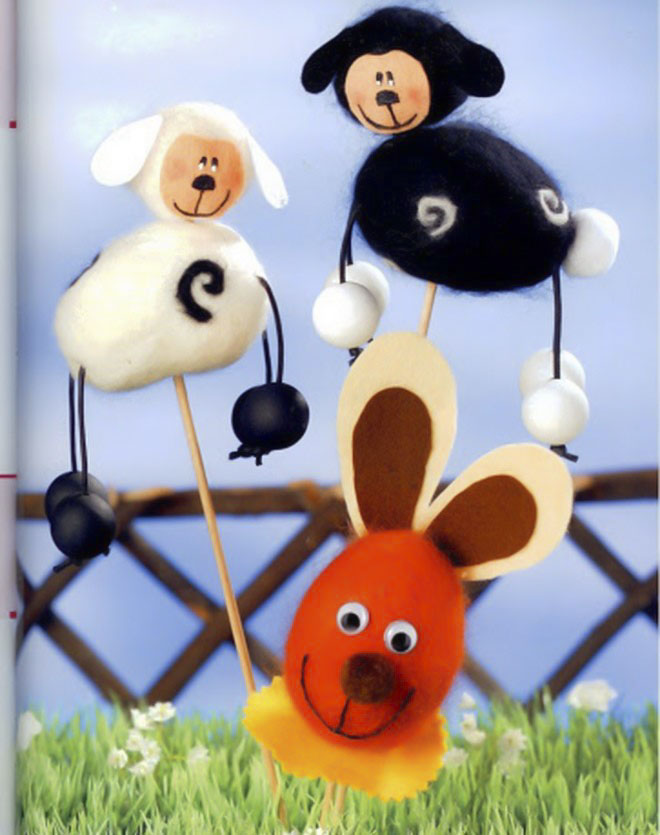 If you can't paint rosy cheeks and expressive eyes, use adhesive wiggle eyes.
Plant cress in hollowed out eggs
This cute green caterpillar is made of six blown out eggs painted in green. For a stable stand use four small wooden beads glued at the bottom of each egg. Plant some cress seeds in each egg and teach your kids how to grow them.
Hanging Easter egg ornaments
Blown out eggs are very light and perfect for hanging ornaments and decorations for your Easter tree. Here you can find some lovely ideas how to decorate your egg ornaments – with felt flowers, sequins, beads, stickers, wire and many more.