Easter
5 easy Easter craft ideas, small gifts and home decorations to make
Every year the spring is carrying baskets full of flowers, pastel color palettes, blue skies and warm weather! But we can not relax too much, time is running out and the final preparations for this holiday have to proceed! You are still looking for some special inspiration, perhaps a fanciful idea to give that touch of originality and to surprise your guests? Today we want to present you some fantastic Easter craft ideas that are easy to make but look really amazing!
Easter craft ideas – Strawberry style egg decoration
For Christians, the eggs are a symbol of rebirth and resurrection, therefore we give them as a gift on the Easter day. Though the chocolate eggs are the most coveted by children, there is no doubt that painting the eggs is a great tradition that unites different generations around a table during Easter time. With the help of colors, brushes and lots of imagination young and old craft cheerful decorations for the home and the Easter table. Painting the eggs is a fun time that precedes Easter. If you  are looking for a new Easter craft ideas, than you can try this one: painting the eggs to look like strawberries!
Supplies:
red and yellow acrlylic paint
thin paint brush
green tissue paper
scissors
hot glue gun
Paint the blown out eggs with red acrylic paint and let dry. Using a thin paint brush make small yellow dots. These should look like strawberry seeds.
Cut a rectangular strip of green tissue paper, fold it into squares and make cuts on one side. They should look like grass stalks. Using a hot glue gun glue the tissue paper strip on the painted egg and roll up the ends to shape a stem.
Here is an alternative with plain green paper
Repeat to create many more beautiful strawberries with eggs. To complete the decoration you can craft white flowers from construction paper. Arrange the strawberries in a basket and create a beatutiful centerpiece with a spring flair for your Easter table!
Bunny egg decoration – Easter craft ideas for kids
These cute white bunnies could serve as place holders for the Easter table and be a great idea for small gifts from the hostess for the guests, as well.
Supplies:
blown out eggs (with white shells)
pencil
black permament marker with thin tip
pink paint and thin paint brush
white and pink construction paper
scissors
hot glue gun
optional: ribbons
First, you should blow out the eggs. Be careful whten you empty the eggs. With the insides you can prepare delicious Easter desserts. Wash the eggs and let them dry thoroughly before proceeding. You can either use eggs with white shells or paint them by yourself using white acrylic paint.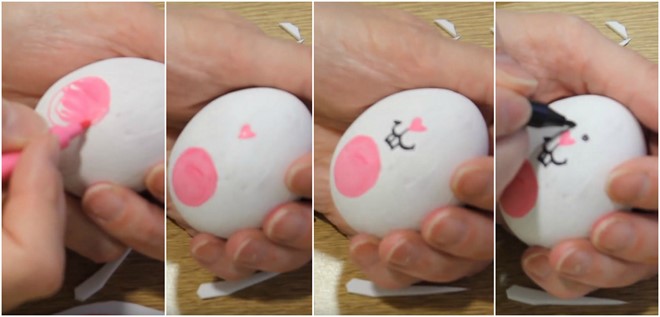 Using a pencil draw the bunny face. Then highlight eyes and mouth with a permanent black marker and paint nose and belly with pink paint.
Draw and cut out of white and pink construction paper the shape of rabbit ears and feet. Using the marker draw the fingers on the feet of the bunny. Glue them on the egg with hot glue.
If you decide to use the bunnies as a placeholder for the Easter table, you can make different ones for girls, by applying a fabric bow on top of the rabbit!
Easter craft ideas – light chain made of egg carton
And this year the Easter holidays will leave us with many wonderful memories, some extra pounds and egg cartons to be recycled!! Recycling is the best way to stimulate the imagination and create games, decorations and original home decor, using a few simple materials.
Supplies:
egg cartons
scissors
toothpick or skewer
light chain (there are different options such as white, yellow, RGB etc.)
optional: acrylic paint and a paint brush
Take your scissors and make lots of cardboard flowers! Eliminate the excess cardboard from the edges of each flower, and shape the four petals by bending them lightly with your fingers. With a toothpick or wooden skewer, pierce the base of each cardboard flower. Make more flowers as possible, you will need quite a few!
Before inserting the flowers in every single small light, you can choose whether to keep the cardboard flowers as they are, or paint them with acrylic paint. To complete this step, also ask for the help your children will be happy to mess with paint! In this example the untreated cardboard flowers are combined with bright colored lights, which have replaced perfectly acrylics, giving color and joy to the bright decor.
This romantic garland of bright flowers, made by recycling the carton of eggs and a series of bright lights is great idea for decorating children's rooms. Drape them on the side of the bed or just close to a electrical socket! Thanks to the consistency of the egg carton in combination with outdoor string lights, these can also be used to decorate verandas, balconies and gardens.
Recycling egg cartons for mini Easter baskets
Never forget that details make the difference, always! There is no need to overdo the table decoration, just choose a fine white tablecloth, or very light colors, combined with a simple set of dishes. And to give that extra touch, prepare some nice place holders, that will contain small Easter treats for each guest.
Materials:
egg cartons
thin wire
watercolors
paint brush
scissors or an awl
raffia
colorful ribbons
chocolate Easter eggs (ovettes)
From the egg cardboard cut as many "cups" according to the number of your guests. Drill with an awl or with the tip of the scissors the two opposing ends of the cup. Cut a piece of wire (maximum length of 20 cm), put it in the opposite holes and lock the ends.
Paint the outside and inside of the cardboard cups, choosing bright colors to match your Easter table. Let dry well and move on to the handle of the basket decoration. You can either simply tie a colorful bow, or wrap the entire handle  with ribbon.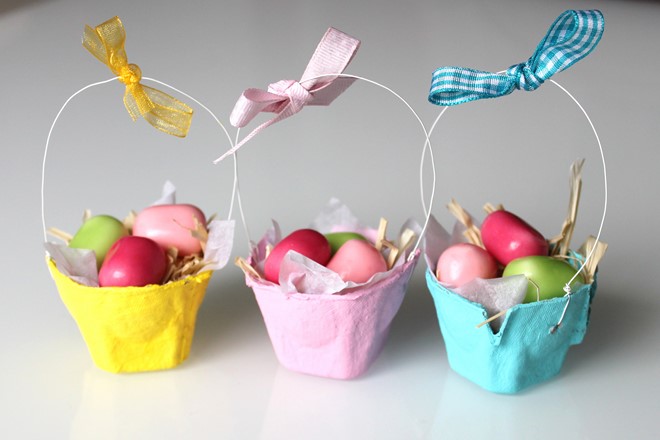 Complete the baskets by inserting a bit of raffia and ovette chocolate eggs in the cups. If you want to customize each basket by entering the name of your guests, attach paper strip around the handle. You can also customize your place holders by using everything you have available: buttons, sequins, tulle, colored paper, fabric scraps etc.!
Floral Easter table decoration in Shabby chic style – DIY egg nest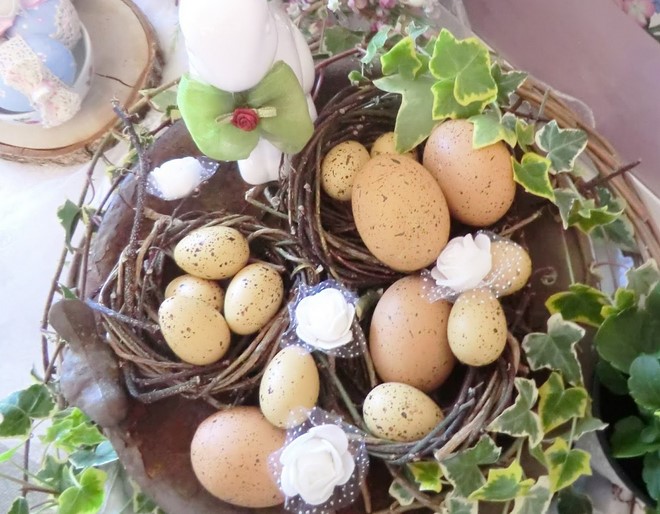 You don't have to buy expensive decorations to have the perfect Easter table. Just let yourself be inspired by nature! Bank on spring branches, flowers and soft pastels and you can't go wrong!
Sprigs of jasmine or any other climbing plant that has thin flexible branches, flowers and eggs – that's what it takes to make a natural nest to decorate the Easter table!
Gather twigs and roll just as you see in the picture. Secure them together using brown floral wire. Roll the wire ends well.
Create two wreaths of branches with two different sizes. Then, overlap them and secure them together creating a real nest of branches.
Now comes the fun part, the decoration of the natural egg nest! Choose flowers that you like, create fresh and delicate combinations. Match the colors of the flowers to those of table line, but please, no fake flowers, the beauty of this Easter centerpiece lies in simplicity.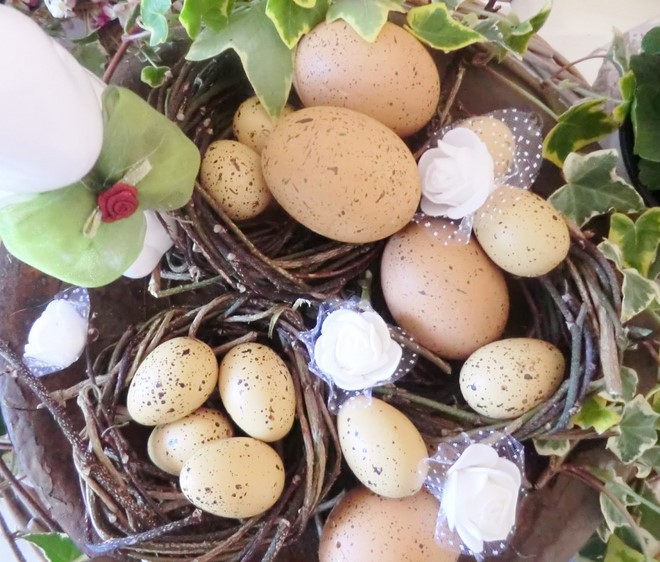 Inside the nest you can lay real eggs or chocolate eggs. Using a permanent marker you can paint eyes on your eggs, as well.
We hope that you enjoyed this small collection of Easter craft ideas! Have a wonderful holiday with your family and friends!