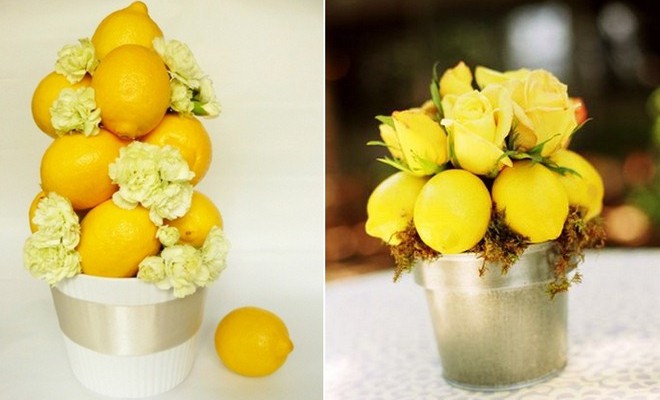 Decorating Ideas
Home decorating ideas with lemons – Sunny yellow for a summer mood
Everyone knows the feeling when you bite into a fresh lemon and grimace. The lemon is a very sour fruit, but gives us lots of vitamin C that is important for our health. We usually mix the juice in drinks or add it to sauces and salads but lemons would add an unique twist to any table arrangement. We thought about the things that we could do with lemons because the color and shape of this citrus fruit is really nice and will instantly create a sunny atmosphere in your home. Get inspired by our home decorating ideas with lemons!
Fresh decorating ideas with lemons as vase fillers
Limes and lemons look great with flowers like camomile, white sweet peas, Lady's Mantle, Baby's breath, Lilly of the valley, yellow roses, daffodils and tulips. Place whole lemons in the vase or use lemon slices between a smaller and a larger vase. The acid in lemons will prolong the life of your flowers and reduce the amount of fungi buildup in the vase.
Use wonderfully fragrant lemons as place cards. Use toothpicks, ribbons, pins or yarn to attach the slip of paper with the name of the guest.
Table decorating ideas with lemons
The limes and lemons are an exotic idea for candle holders.
Use lemon grass, rosemary and mint sprigs as a companion to the lemon slices in vases and candle holders.