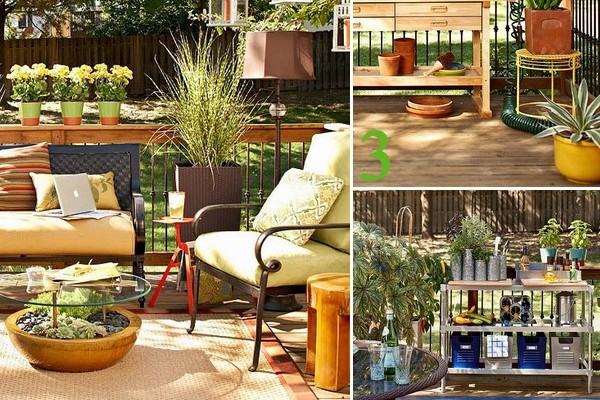 Decorating Ideas
Deck decorating ideas – How to plan and design an outdoor living space
Even a very small terrace can be planned and design in the most functional and beautiful way. What do you prefer? Pleasant communication? To show your culinary talents? Active gardening work? Each of these activities requires a special environment that will provide practical convenience and beautiful appearance. With these deck decorating ideas you can arrange the terrace, depending on your needs.
Deck decorating ideas for your outdoor room
Sure that your terrace set up for lots of fun long summer evenings? Turn it into a cozy living room in the fresh air! You will need:
• wrought iron or wooden armchairs or sofa + chairs ( with soft seat cushions);
• eco-rug made of sisal or bamboo;
• unusual elegant table, which you can build by yourself (large ceramic pot, 4 copper pipes and a round glass top with professionally finished edges, attached to the pipes with rubber linings and adhesive for glass). Plant succulents and plants in the pot and decorate with pebbles.
• candlelanterns, thatcan be hung on the tree branches or on a high fence around the deck
• ceramic pots with colorful flowers or fragrant herbs.
Deck decorating ideas with natural hues and materials
Love to entertain your guests and family, delighting them with food, cooked in the open air? You will need:
• Compact wicker dining furniture (table and chairs);
• Metal outdoor sidetable with three shelves
•  large wooden cutting boards with special grooves for mounting on the table top;
• 3-4 metal containers for tools, towels, dirty dishes and garbage;
• tin cans for herbs or utensils and tools.
If your favorite activity in your spare time is gardening, then create a comfortable garden center on your deck. You will need:
• wood console table with drawers and bottom shelf (for outdoor use);
• stone countertop, that will protect the table from dirt and dust;
• Panel with hooks (for hanging garden tools ) or single hooks are attached to the side of the table;
• wooden or bamboo lattice or grid attached to the back of the table, creating a spectacular display and preventing objects from falling;