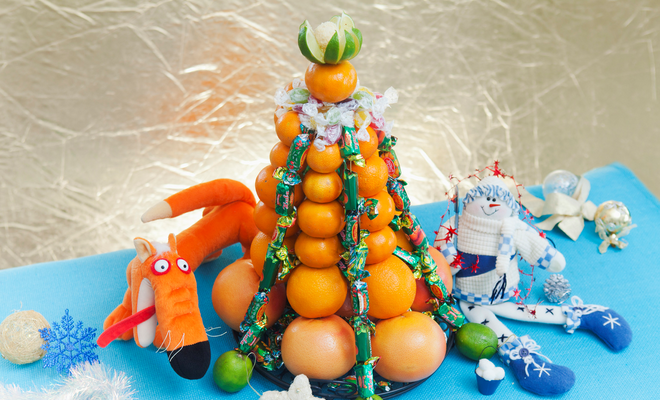 Christmas
Unique DIY Christmas tree made of citrus fruits and candy
New editions of magazines are full of designer Christmas trees. Why don't you make one unique DIY Christmas tree with original design and out of inexpensive supplies with your own hands? You can put it either on a side table in the living room or use it as a centerpiece on your Christmas dinner table. Instead of citrus, you can use any other solid fruit for example pineapple, mini apples, pears, dried fruits and nuts.
DIY Christmas tree – Citrus table centerpiece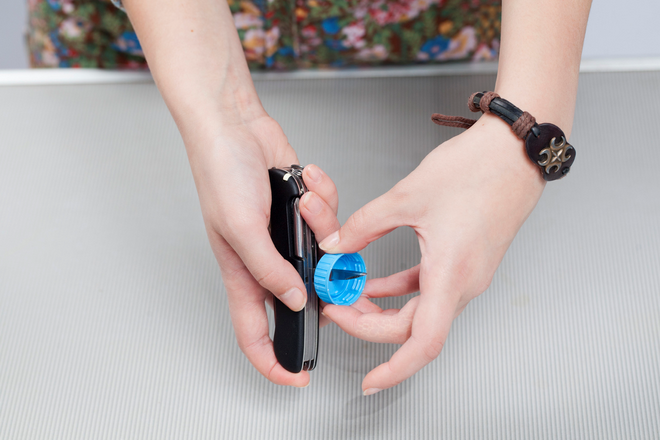 What you need:
– Citrus fruits: 6 grapefruits, 6 oranges, 6 limes, 25 tangerines (preferably with twigs and leaves)
– 48 soft chocolate candy in green packaging
– 30 multicolored candy in transparent packaging
– Plastic bottles of 2-2.5 liters
– Thick elastic cord – gold or silver
– Pencil
– Long needle with wide ear
– Awl
– Scissors
– Toothpicks
1. Remove the cap from the bottle. Using the awl make a hole with a diameter of a pencil.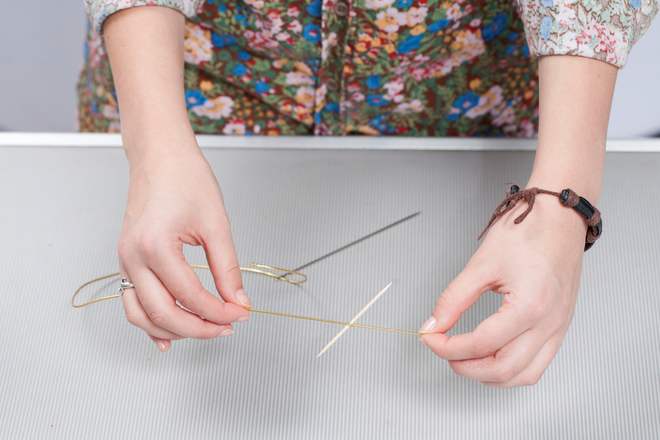 2. Сut 40 cm of the elastic cord, insert the needle, tie a knot at the end and tie it in the middle of a toothpick. You will need 12 of these.

3. Make 6 strings of citrus fruits. Thread the fruits in the following order: grapefruit, orange, four tangerines.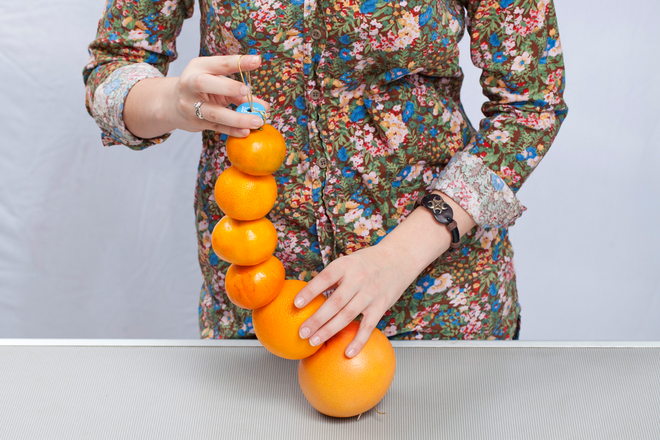 4. Thread the four tangerines, cut the elastic cord, string it with little effort – citrus fruits should be close to each other –  so as to form a line. Thread the cord with a loop through the hole made in the bottle cap and tie a tight knot.
5. Make six garlands of lime and candy. Thread in the following order: one lime, eight chocolates, five pieces of candy. Since you can't puncture the multicolored candy, just wrap the cord around or through the packaging. Attach the rubber band with a loop in the same way as shown in the picture.
6. When all the twelve garlands are attached, insert the pencil into the hole of the cap so that the sharp end is sticking out from the cap by 2-2.5 cm.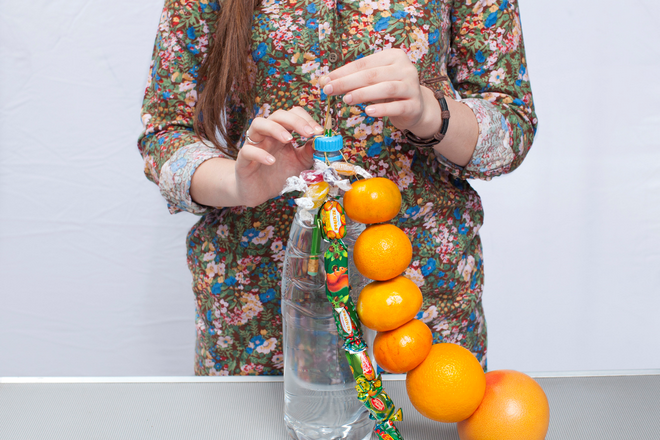 7. For stability, fill the bottle with water (or sand). Stick the long end of the pencil in the bottle. Put on the bottle cap but don't twist it. Fix the stopper. Attach the elastic cords at the sharp end of the pencil and secure.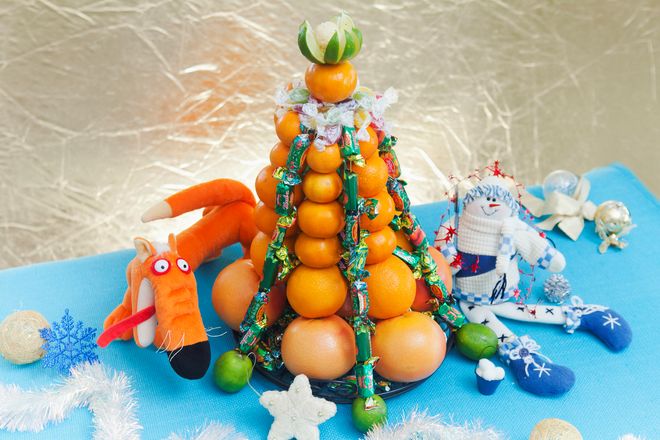 8. Distribute the citrus garlands evenly around the bottle. Between them put garlands of candy.  Make a Christmas tree topper by sticking a tangerine and lime on the sharp end of the pencil.