Christmas
Outdoor Christmas decoration ideas – 30 simple yet festive displays
Despite the bitter cold outside, you can create a warm and welcoming holiday atmosphere at your doorstep with these bright and beautiful outdoor Christmas decoration ideas. Give your snowy garden a new festive look using candle holders, Christmas lights, red berries and evergreens.
Outdoor Christmas decoration ideas
A few glass candle holders filled with berries and candles can look great hanging on snow covered fir branches.
Homemade bird food always looks better than this in the store. This star is made from seeds and melted lard.
Rustic charm! Fill a basket with Christmas balls and pine cones. Add big and small glass candle holders and leave it on your porch.
Give your family and friends a warm welcome. Fir and boxwood trees in a pot, as well as glass lanterns and a few Christmas ball ornaments complete the holiday display.
Make candle lanterns from jars and fill a bowl with pine cones and a few branches of blue berries.
If it is cold but quiet outside, you can enjoy a hot tea in a thick winter jacket and ski pants outside in fresh air. A cozy pillow and blanket will protect you from the fresh winds.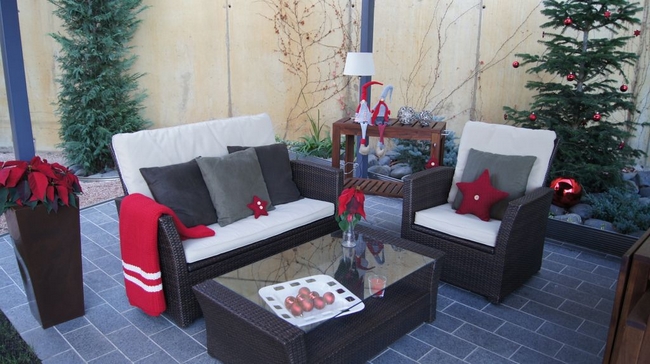 The garden bench is the perfect place for an outdoor Christmas display. Cushions, candle  lanterns and ornaments are simply pretty.