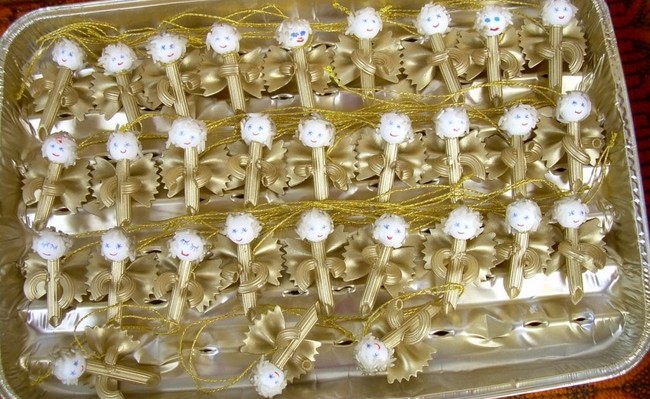 Christmas
17 homemade Christmas decorations made of pasta
Pasta is not only favorite dinner option for kids but a fun craft supply. When we were kids we used to make jewelry and artwork using dry pasta but this year you can start a whole new holiday tradition by making homemade Christmas decorations.
Homemade Christmas decorations made of pasta
Pasta is a fun and cheap craft item and comes in a variety of shapes and sizes.There are rigatoni, fussili, farfalle, garganelli but for kids they are just tubes, spirals, bowties and ribbons. Use different types of macaroni, a hot glue gun, paint and your imagination to create adorable Christmas trees and ornaments. Get inspired from our small collection here.
Easy homemade Christmas decorations
Use gold metallic yarn or a thin ribbon to tie together the gold glittered bowties.
Stick a styrofoam ball on a wooden skewer and glue pasta stars all over it. After the glue is dry, spray paint the ball and secure a loop for hanging your ornament.
Here you can find other Christmas ornament crafts using styrofoam balls
Use different kinds of macaroni
Pasta angels
Decorate small Christmas trees with pasta
and red pearls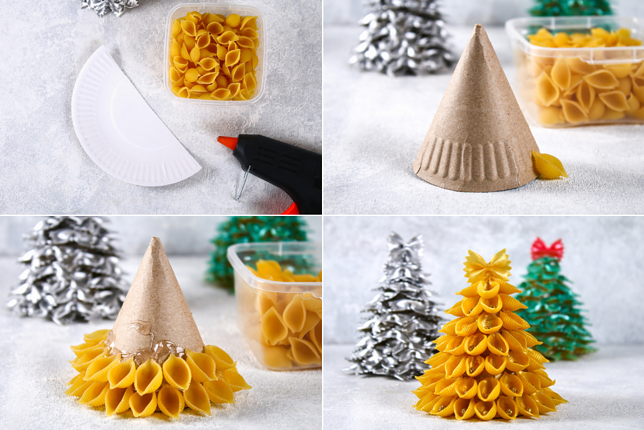 Snowflake pasta ornaments