Christmas
The Christmas Countdown begins! DIY Advent Calendar for Tea Lovers
There are many different advent calendars on the market to choose from. But the most beautiful are still the homemade countdown calendars with unique and personalized design. If you are looking for an easy and cheap craft idea, then this Advent calendar is definitely the right thing for you. Instead of chocolate there is a tasty and special tea for every day till Christmas Eve! You can give this tea advent calendar as gift to a friend that eats healthy and try to avoid sugar and candies. Or to your husband or boyfriend who enjoys a warming cup of tea in a cold winter evening. Make the Christmas season extra special!
DIY advent calendar gift idea for adults
What you need for the DIY advent calendar:
24 individually wrapped tea bags (choose different flavors as a small surprise for each day)
Christmas themed scrapbooking paper
printed numbers 1-24
pencil
ruler
scissors
glue stick
office stapler
a tea storage box or another suitable container
How to proceed in making the countdown tea bag calendar
Step 1: Draw
Using a pencil and ruler, draw 24 rectangles of 4.5 x 14 cm (1,7 x 5,5 inch) and 24 rectangles of 3 x 6 cm (1,18 x 2,36 inch).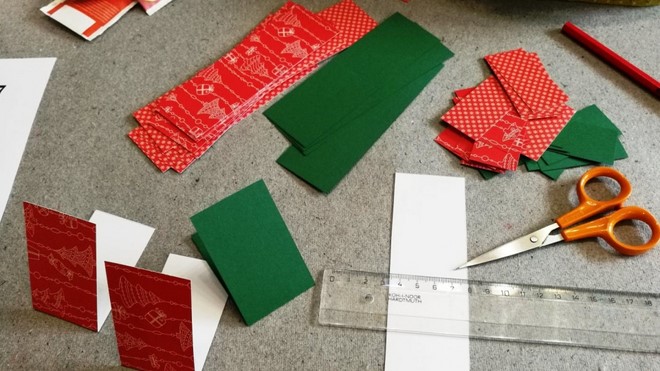 Step 2: cut out
Cut the rectangles and fold over the middle crosswise.
Step 3: Glue
Cut out the individual numbers and glue them on the front side of each rectangle.
Step 4: Staple
Open the tea bag packaging to take out the string. Then lay the tea packets between the two scrapbooking layers and and close using the office stapler. Be careful not to damage the original tea bag. Then use the smaller folded rectangles to hide the tag on the string. At last, you can carefully cut the corners of the scrapbooking paper bags.
Step 5: Presentation
Put the finished tea bags in a suitable storage box.