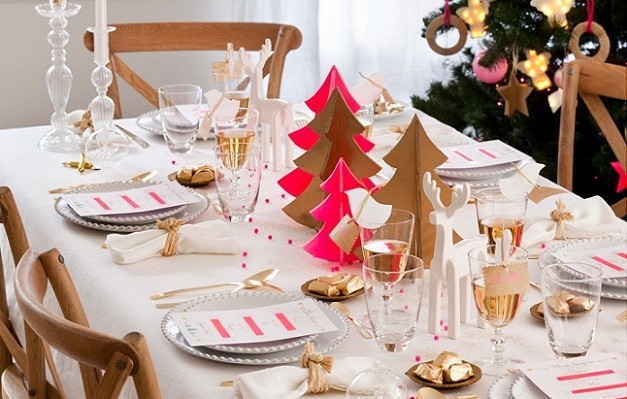 Christmas
5 Christmas table setting ideas in different styles
Christmas table decor is not just a demonstration of your imagination and creativity, it is also a reflection of your good taste and the ability to turn a regular dinner table into a masterpiece with aesthetic appeal. In today's article we will talk about serving and how you can use interesting Christmas table setting ideas in a variety of styles to create a unique mood for the holidays.
Christmas table setting ideas in a contemporary style
Simple forms, luxurious materials, fur and feathers, decorations with shimmering rhinestones and crystals. The picture is completed with an abundance of mirrors.
White color is the base for this Christmas decor. It looks both simple and elegant, can be easily combined with other colors and creates the proper mood. In this example, the white color has been combined with pink and gold but you could use accents in bright shades of turquoise and baby blue as well. If your Christmas tree is close to the dining table, then it would be better to use tree ornaments and package decorations in the same color palette.
The table is covered with a white tablecloth, the dishes arranged according to the expected number of guests. The contemporary style uses simple dinnerware, gold cutlery and white napkins. The bright pink accents adds that certain something to the table decor.
In this example, the role of Christmas table centerpiece perform small Christmas trees in pink and gold-brown. With their simplicity and bright colors they add flavor to the festive Christmas  table. These miniature trees can be made from cardboard and painted in any desired color.
Another original decoration on the table are these homemade snow globes below with animal figurine inside. Just take a few glass jars, glue the toy figurines at the bottom and add coconut powder, which will play the role of snow. Fill the jars with water and decorate the lids with brown paper and ribbons.
Another great idea for your Christmas table decor is the making of personalized place cards for your guests. You could cut out the bird silhouettes out of styrofoam or cardboard and attach them to the wine glass.
Christmas table setting ideas in Scandinavian style
Scandinavian style can be described as natural, simple and elegant. The emphasis is set on natural textures and materials. All these features can be harmoniously combined for the holiday table decor. Use natural and fresh colors such as green, gray, shades of aqua, turquoise, sky blue, black and beige.
White linen tablecloth and gray place mats would be perfect for a start. For the table centerpiece were used young bulb flowers planted in a metal bowl dish and decorated with moss and pine cones. Evergreens are lined along the table.
Plates can be decorated with white cloth napkins and metal napkin wings with snowflake or a deer ornament.
The perfect addition to a Christmas table setting in Scandinavian style is the use of different candle holders made of wood, glass or concrete, as in this example.
A homemade place card will help every guest to find his place at the dinner table. An ornament ball could do a great job.
Christmas table setting ideas in rustic natural style
For this style the beauty of natural materials should be revealed. For example, if the table is wooden, it should not be covered completely with tablecloth, because its worktop is already part of table decoration. The items don't have to be all made of wood, but any natural materials such as shells, flowers, fruits, vegetables, natural fabrics. The traditional color palette includes green, beige and brown.
As mentioned, if your table is a wooden don't use tablecloths, just a table runner or place mats. You can arrange the dishes directly on the table and place the napkins on the plates. In this example small pots, tree branches and white pillar candles are composing the table centerpiece.
This natural decorating style loves the simplicity. Therefore, it will be enough to add color by decorating the topiary trees form with red festive bows.
Burlap fits perfectly here as decoration for the napkins. Gingerbread cookies could be a small gift for each guest.
Christmas table setting ideas in classic style
A true classic with copper shine. No bright colors, just eye-pleasing shades of beige and cream.
 For classic style, the tablecloth should be snow white. Christmas wreaths on each chair were additionally decorated with a place card for each guest.
Gilded candle holders, dinnerware, cutlery – every detail speaks of fine taste and sense of style housewife.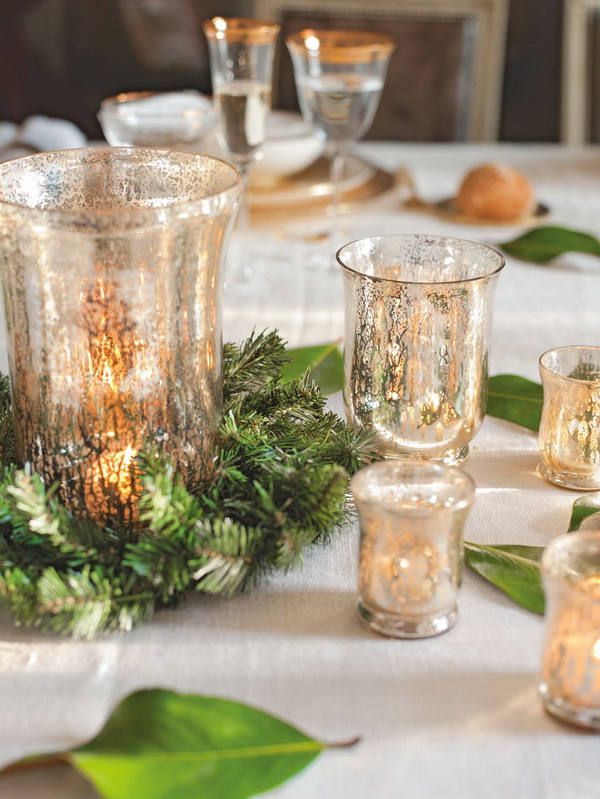 Central composition in this example was the exquisite vase to match the other accessories on the table. It was placed in a green wreath.
Christmas table setting ideas in country style
Natural, slightly rough fabrics such as linen, cotton and flannel, burlap ribbons, porcelain dinnerware and clay flower pots are perfect for this style. Discreet shades of neutral colors like burnt orange go well with bright green and red.
Perfect for tablecloths are white and beige tones. All the bright colors should be left for the table decorations. Bird cages filled with Christmas balls, pine cones, moss, decorative balls of vines and many others create a festive atmosphere on this New Year's table.
Flowers and candles are important details for any nice table setting. Red and green colors complement each other perfectly. Dinner plates are placed on round rattan placemats.
Each guest is surprised with a muffin in a tiny clay pot and a sprig of rosemary, which certainly is spreading a divine aroma on the table.
The table centerpiece consists of many elements such as Christmas ornaments, vases and evergreens.
We hope that we gave you plenty new ideas!