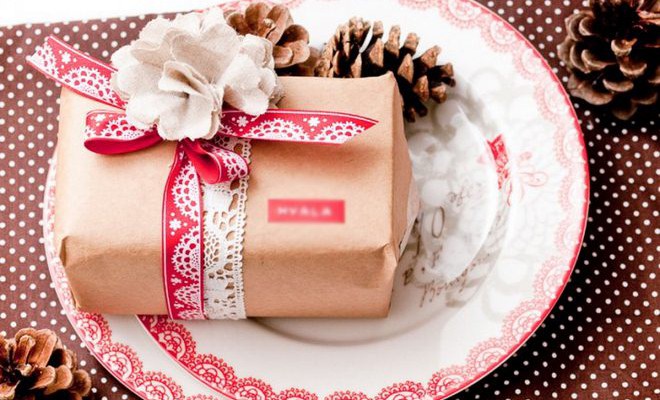 Christmas
7 easy Christmas gift wrapping ideas with minimalist appeal
The holiday shopping is finally over and you have bought the perfect thing for your loved ones. But have you thought about how to wrap your Christmas gifts? Sometimes a beautiful wrapping paper and a big bow is enough but for a great presentation you can try some of these ingenious Christmas gift wrapping ideas. Make your presents stand out and create the perfect unboxing experience for everyone on your list. Clothes make the man, but a good wrap makes the gift!
Christmas gift wrapping ideas with brown paper and crochet ribbon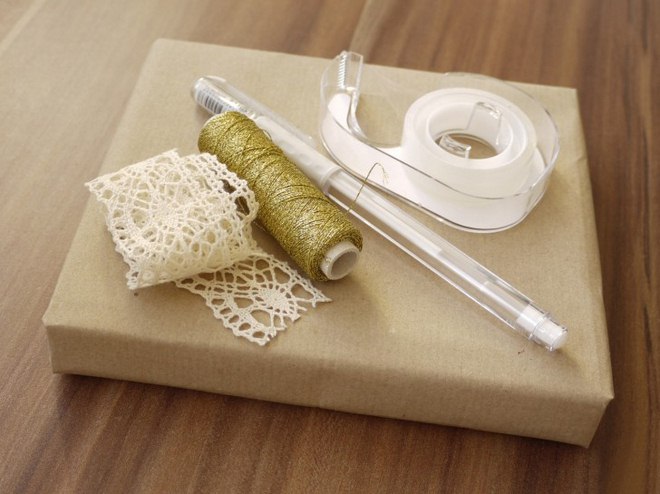 Even the plain brown wrapping paper can be jazzed up with some interesting accents. Add a personal touch with crochet ribbon and white ink pen.
You need:
– brown kraft wrapping paper
– white crochet or lace ribbon
– golden thread
– white ink pen
– double-sided tape
– scissors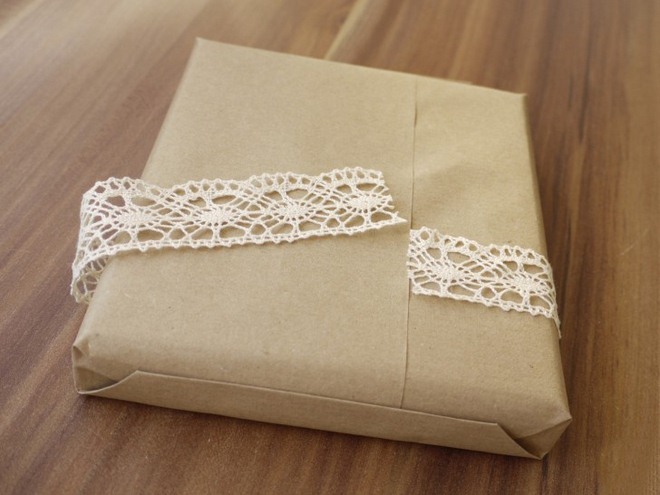 Wrap your gift boxes with the brown kraft paper. Use double-sided adhesive tape to attach the crochet ribbon. On the front side draw different sized dots with the white ink pen.
Add a gold thread that complements the crochet ribbon.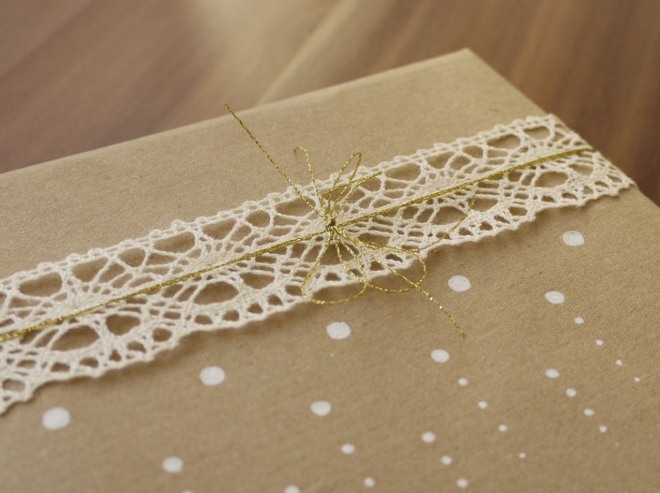 Christmas gift wrapping ideas with brown paper and doilies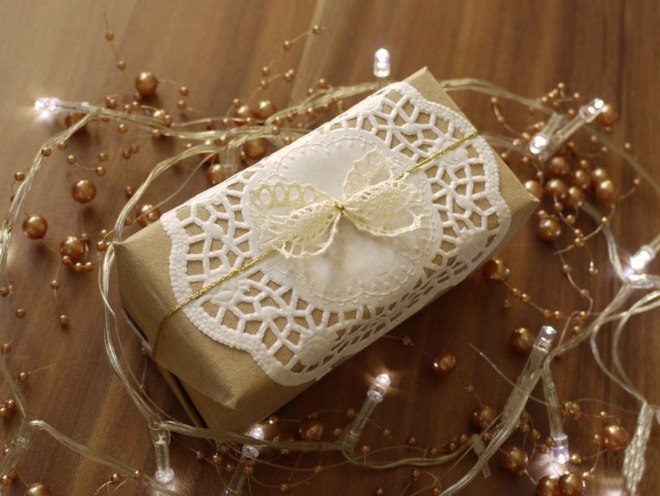 The doilies will add a romantic touch and vintage appeal to your Christmas gift.
You need:
– kraft wrappink paper
– paper doilies
– small piece of crochet ribbon
– gold thread
– double-sided tape
– scissors
Wrap the gift box with kraft packing paper and secure with a two-sided adhesive tape.
Glue a paper doily on the gift box. If its bigger than the box, fold the edges on the sides.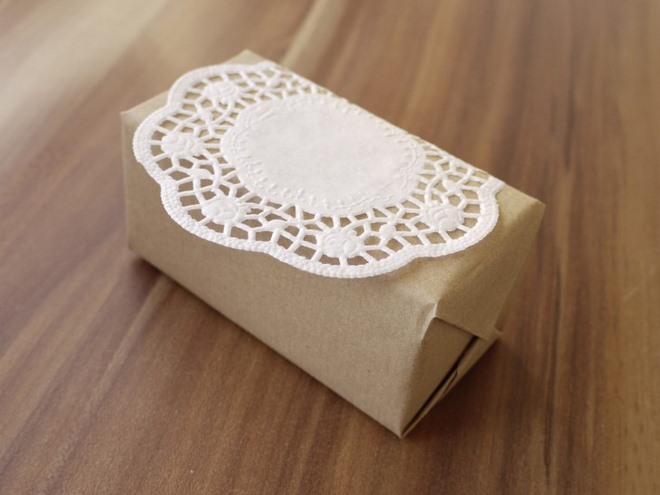 Wrap the golden thread around the gift box and make a knot at the top. Before you cut the excess thread tie a piece of crochet ribbon, which will serve as a ribbon.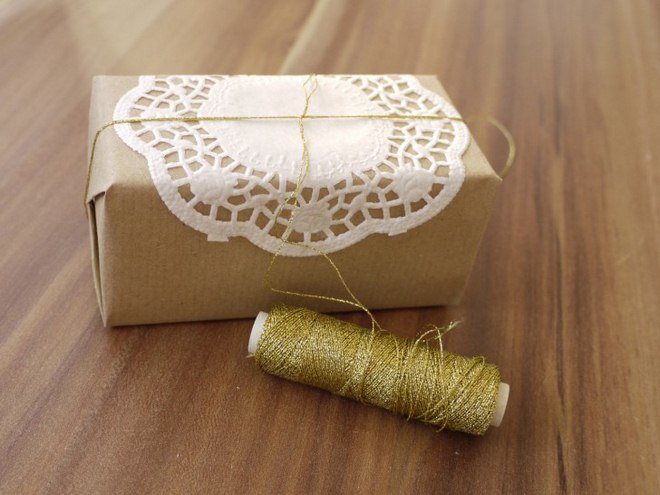 Christmas gift wrapping ideas – red-brown combination
You need:
– a sheet of brown kraft paper
– decorative ribbons – one in red and festive printed and the other in white, with lacy design.
– linen fabric
Wrap the box with brown wrapping paper. Wrap the strip of white lace once around the box and secure with double-sided tape. Next add the red ribbon, but finish it with a bow.
Now make the flower. This requires a little more work, but do not be afraid. When you see the final product and the satisfied faces of the recipients, you will quickly forget the time spent.
You will need a cotton or linen fabric in natural color, felt and a hot glue gun. Cut out from felt a circle with a diameter of about 4 cm. This circle will be used as a basis for the flower from cotton cloth. Then cut out from linen fabric five flowers. It is not necessary that they are completely symmetrical and perfect.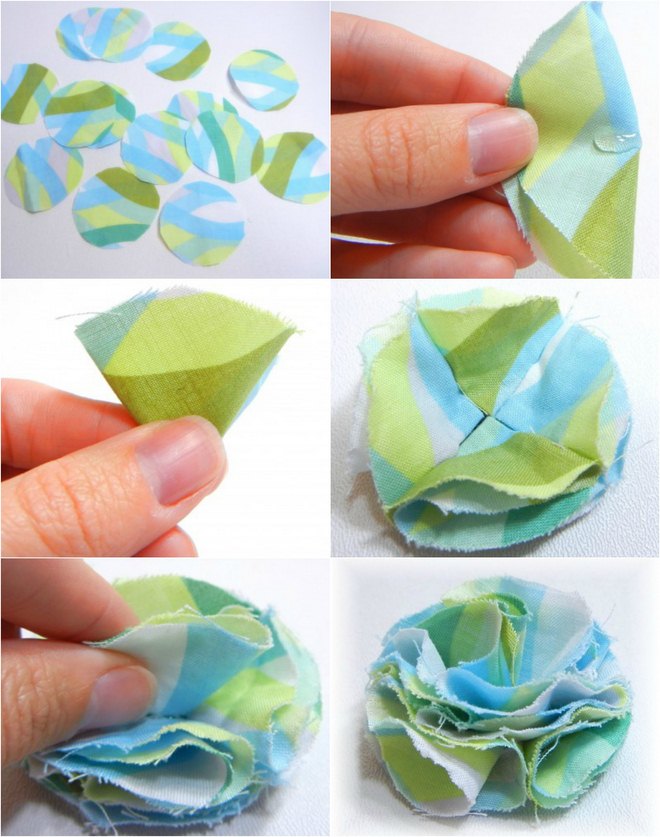 Take the first flower, fold it in half, apply a drop of hot glue and fold again. Glue the four triangles on the felt circle that serves as a base for the flower as shown in the picture. Glue the last folded flower in the middle. Unfold a bit the fabric pieces to give your flower a volume.
Wrap gifts with kraft paper and decorate with washi tape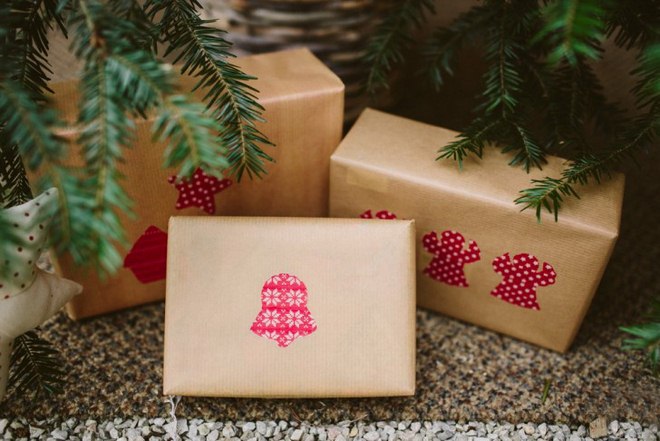 You can use washi tape to create stickers with personalized design. Apply strips of washi tape on a piece of wax paper. Cut out different shapes such as bells, angels, stars, houses etc. Peel wax paper backing from cut out forms and apply it on the wrapped Christmas gifts.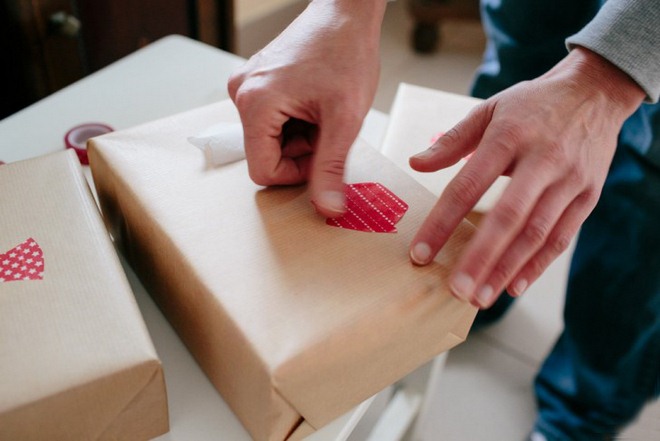 Decorate plain gift boxes with green branches
Evergreen branches can liven up your gift wrap.
You need:
– white paper,
– gift ribbons in natural shades,
– green branches (boxwood, rosemary, olive, etc.)
– Free gift tags.
The whiteness of the paper and the natural shades of evergreen branches will have a calming effect on us. They are contrasting to the brigt colores and festive lights, which are surrounding us in every store. The white color reminds us of the snow-covered streets in the park. Winter idyll, peace and serenity that we all want during the holidays.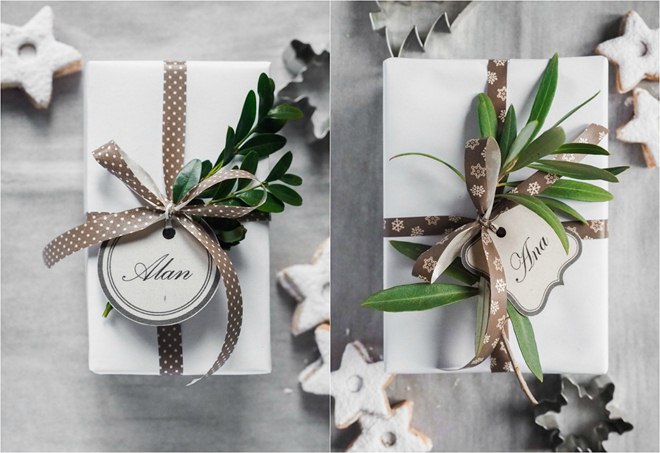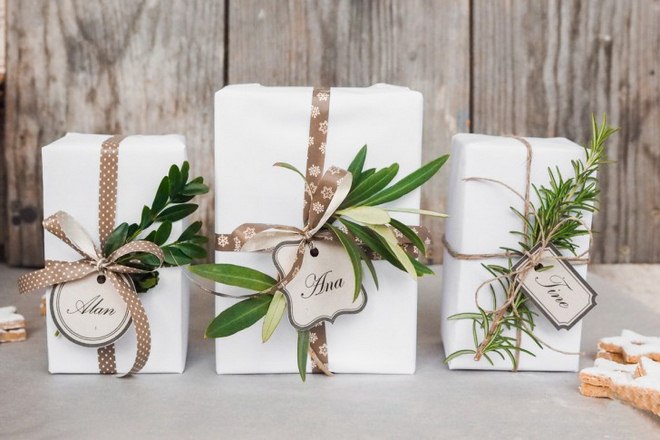 Gift boxes hidden in unusual package
Imagine how all be surprised to learn that their Christmas gift is hidden in a cute ball of yarn or a box decorated with fir branches.
You need: jute twine, tape, small Christmas ornaments
Attach the end of the twine on a cardboard box using the tape. Begin wrapping the small box with the twine until it is fully covered.  Secure the end of the twine and decorate with a fir twig and Christmas ornaments.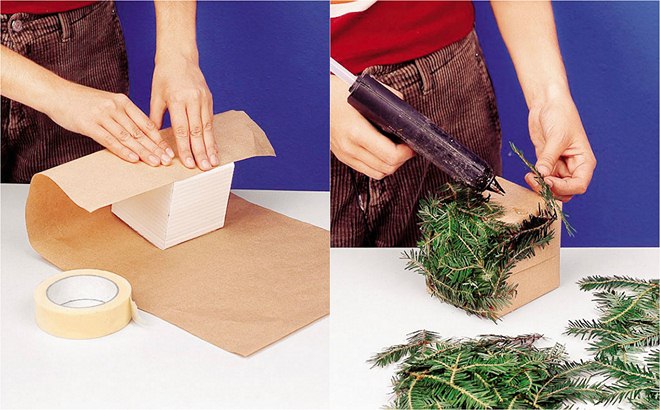 You need: brown packaging paper, a hot glue gun, evergreen fir branches and wide ribbon with festive holiday pattern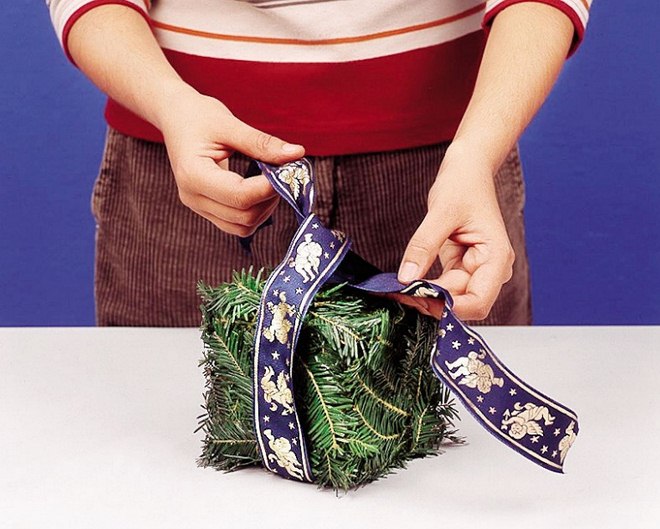 Wrap your gift box with a brown packaging paper and secure with tape. Cover the whole box with fresh evergreen branches. When your hot glue is dry, tie a beautiful ribbon to finish your Christmas design.