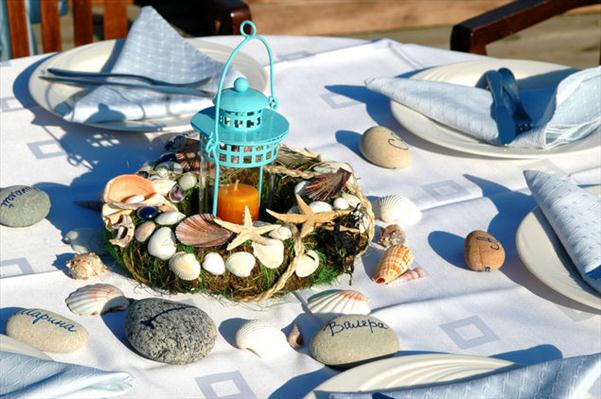 Decorating Ideas
Sea inspired table setting and ideas for your beach themed party
Turquoise, white and navy blue – the colors of the sea. Enchant your guests with a sea inspired table setting and get some amazing ideas for your beach themed party or wedding.
Beach themed party and nautical table setting
The transparent organza ribbon in turquoise loosely draped over the table, symbolizing the sea waves. The elegant sailboats in white / gray look very noble. Small felt sea shells and starfish are scattered between the organza and complete perfectly the martime table decoration.
Beach themed party and coastal table setting
A warm summer evening invites you to a fish dinner outdoors. Stretch a (fishing) net across the tablecloth, sea shells and starfish symbolize the sea and beach.
Decorate each plate with a starfish, tied with a blue cord on the napkin.
 Embellished with a handmade shell necklace a simple glass candle jar gets a maritime touch.
When having dinner outside you'd better cover the drinks, so that nothing falls into them. Flat shells manage this task in a great decorative way.
Drill holes in pieces of driftwood. Cut the old cutlery with a hacksaw, push into the holes and glue.
Instead of salt and pepper mills you can use sea shells in this coastal beach decoration. You can convert them into bowls for coarse pepper and sea salt – supported on a bed of dark pebbles.
The collected shells of sea urchins can become a beautiful candlesticks for your sea inspired table setting.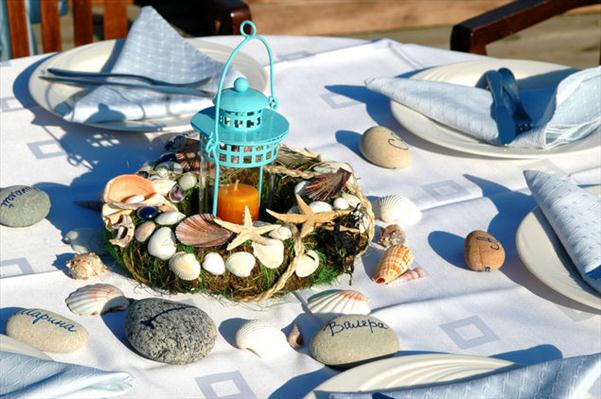 17 beach wedding decor ideas – Ceremony and reception
20 Beach wedding bouquet ideas – Seashells and flowers